There is a volcano in the middle of Vancouver. It's called Little Mountain. Part of it was a quarry for some time, now the peak of it is a park.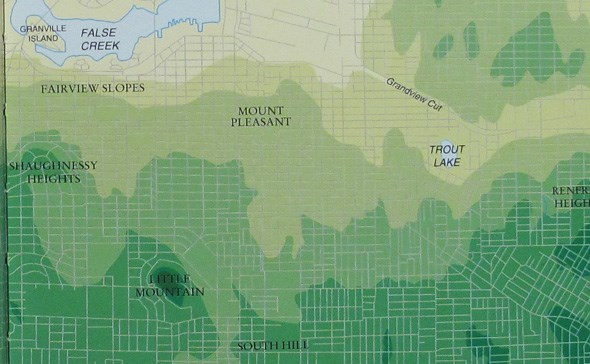 But you knew that.
And the Brewery Creek Liquor Store?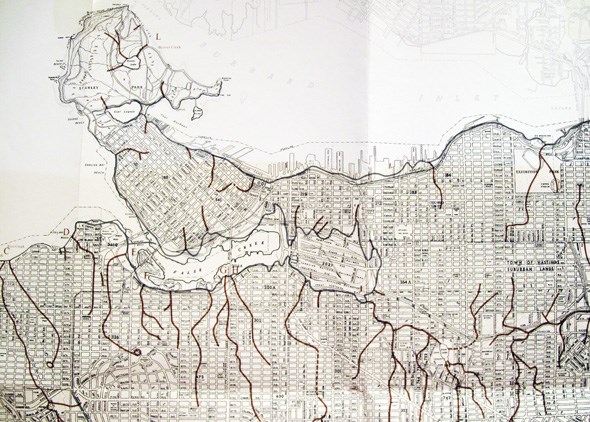 Named after an actual creek. But of course, you knew that too.
This is a very short post just to announce an event tomorrow night that I am very excited about, though not able to attend. Bruce Macdonald, the creator of the wonderful decade-by-decade maps of Vancouver and the book Vancouver: A Visual History, is teaming up with Vancouver's fish-and-stream lady Celia Brauer for a special talk on "The Natural Landscape of Vancouver" on March 24 -- Thursday night (tomorrow!) -- at the Museum of Vancouver (1100 Chestnut Street), at 7:30 p.m.
And the event is free (but you knew that). This is the description posted on the Vancouver Historical Society events page:
The amazing original landscape of Vancouver is almost entirely gone today, but our city is so young we have an unusually good record of what has been lost. The surface of Vancouver supported an impressive variety of plants and animals, bird life and sea life. local rainfall formed numerous creeks and swamps and supported an old growth forest that grew some of the largest and tallest trees in the world.

It was the fabulous fir trees of Vancouver that could be made into the finest lumber in the world that brought the first group of settlers here. there is some evidence the fir trees that were fed to the Hastings Sawmill may have included the tallest trees in the world, and the Fraser's estuary provided a feeding ground for 200 species of migrating birds on the Pacific Flyway.

A new wall chart produced by Celia Brauer, a cofounder of the False Creek Watershed Society and advocate for Pacific wild salmon, celebrates the lost natural history of Vancouver. It is based on a major book project sponsored by the Vancouver Historical Society, Bruce MacDonald's, Vancouver: A Visual History.
Next week on this blog: An actual post... about sugar, about the police, about lumberjacks? Who knows, except it will be about something old and awesome.