He's talented and charming, the star of a slew of Hollywood movies in all different genres, a one-time New York Marathon competitor, husband to Scarlett Johansson... oh, and a graduate of Kitsilano Secondary! Ryan Reynolds is a national and regional treasure, born and raised in this fair city and always a fan of it. We're proud to bring you a few of the things that Ryan finds the most awesome about Vancouver...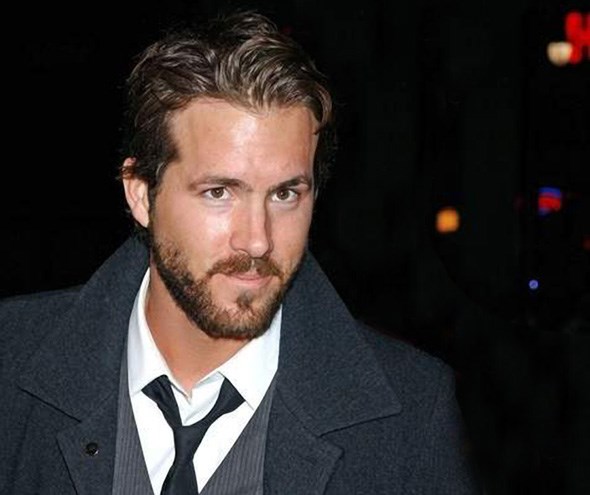 What makes Vancouver awesome?
Well, it's my home - but that isn't what makes the city awesome. To me, it's the progressive nature of the city's people. Not to be overlooked is the overwhelming, jaw dropping, retina-searing beauty of world class mountains literally minutes from downtown.
Who's your favourite Vancouverite?
My favourite Vancouverite? It's a toss up, between David Suzuki and Raymond Burr. David Suzuki introduced me to the concept of environmentalism at a very young age. He helped galvanize a movement that became a lifestyle for which I've carried over to every aspect of my world. And Raymond Burr was on the popular 80's legal drama, "Perry Mason." He had a cool beard.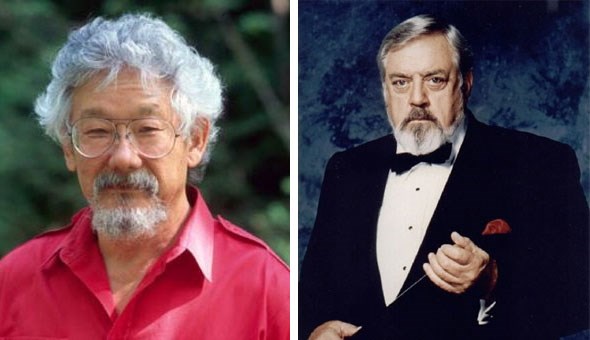 SUZUKI AND BURR
What's your favourite new band from Vancouver? "New" being from, like, the past 5 years.
My favourite new Vancouver band would have to be "The New Pornographers." Now, I realize they're not necessarily NEW, but they have the word "new" in their title which must count for something. Also, they happen to be quite awesome. My only critique? Their name is more than a little misleading. As far as I can tell - via 35 seconds of intensive research - is that they've contributed exactly zero erotic entertainment to the world, new or otherwise. So in summary, the New Pornographers are really talented musician/liars.

VISIT THE NEW PORNOGRAPHERS WEB SITE.
What's your favourite Vancouver band of all time?
My favourite Vancouver band of all time? Well, it's a toss up between Spirit of the West and Raymond Burr. I used to enjoy "the drink" quite a bit and Spirit of the West has some of the greatest drinking music of all time. I've also discovered they sound pretty damn good sober. And Raymond Burr doesn't play music, but he was on the popular 80's legal drama, "Perry Mason." He had a cool beard.
What's your current favourite restaurant to visit when you're in town?
It's not a trip to Vancouver without a late night stop at Benny's Bagels. Tucked away upstairs, I've made a number of significant life decisions while cramming an inhuman amount of bread into my face. Pretty much everything on the menu is good. The bagels are on par with anything you'd find in New York; which I think we can all agree, is the bagel capital of New York.

A BENNY'S BAGELS MEAL YANKED FROM OUR FRIENDS AT VANCOUVERSLOP.COM
Growing up, what was your favourite restaurant here?
Growing up, my favorite restaurant was probably "The Patty Shop" in Kitsilano. It's a small family owned Jamaican Patty shop on Macdonald Street. I'm pretty sure it's still there. My friends and I used to fill up on beef patties and then wander around the neighbourhood showcasing expertly performed acts of hooliganism.
Please put these TV shows filmed in Vancouver in order from your favourite to least favourite. If you want to comment on each of them, that would rule: Danger Bay, Macgyver, The Beachcombers, The X-Files.
I was on the X-Files. I played a character named, Jay "Boom" DeBoom. If I remember correctly, I played a high school student who was murdered shortly after having sex with two female demons. Which, you know, is a metaphor for dating in Hollywood. I liked the remaining shows in this order: Beachcombers (because it was on forever. The show was un-killable). MacGyver (Because Richard Dean Anderson made me believe in magic born of necessity) and finally, Danger Bay (Because you put it on this list).

What's the best thing about filming projects in Vancouver?
I get to spend time with my 3 older brothers. Being punched in the thorax by your siblings is a luxury not to be taken for granted. Ever.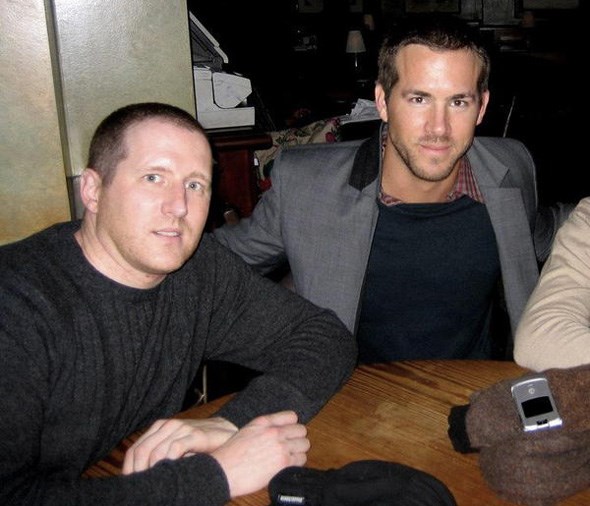 RYAN WITH ONE OF HIS BROTHERS, SHORTLY BEFORE A PUNCH TO THE THORAX
What's the best neighborhood in the city?
The Commercial Drive area. It's possibly the coolest neighborhood in North America. Great shopping, restaurants and live music. My other favorite neighborhood is Gastown. Throughout its renaissance the area retained the "rough around the edges" flavour which made it cool to begin with. In Kits, suckers pay 5 dollars for a latte. But in Gastown, you can pay 5 dollars for a latte while watching somebody who just drank a bottle of mouthwash have an argument with a parked car.
What's your fondest childhood memory of Vancouver?
One of my fondest childhood memories is heading up to Murrin lake and diving for old bottles. Murrin is just off the Sea to Sky Highway and is a perfect place to swim, picnic or rock climb. For some reason, the bottom of Murrin was teeming with old soda bottles from the 50's. (I wonder if that's still the case.) I remember diving down about 30 or 40 feet and finding all sorts of old trinkets among the bottles. Most of it was garbage, but to a 14 year old Indiana Jones wannabe, it was like finding the Holy Grail. Nonetheless, I can claim only a handful of perfect days in my life and at least one of them belongs to Murrin. Another belongs to a bottle of Southern Comfort and an INCREDIBLY realistic looking lawn gnome. But that happened in Alberta.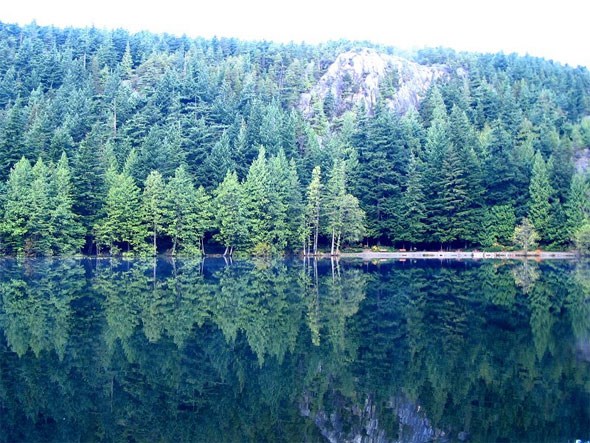 MURRIN LAKE, PHOTO: PANORAMIO
How was your experience running the New York Marathon?
I was shocked to discover the mental challenge outweighs the physical. A lot of chatter in one's head. The whole thing was so damned emotional. For the most part, people are running the race for somebody else... A family member they've lost, a family member they're going to lose, or in my case, a father battling Parkinson's Disease every day. The 26 mile course stretches across all 5 burroughs and is a great way to see New York at its best; in Autumn. I think the most significant wisdom I gained from the experience is how important it is to create new goals for yourself. When you reach those goals, it's just plain good for your soul. The marathon brought this notion to the forefront for me. And that's what I limped away with. But before I congratulate myself too much, it's important to note that during the race I was passed by the following people: A blind man, a one legged woman, an elderly person, a speedwalker, and an overweight guy from Pittsburgh named Steve, who was inexplicably dressed as Batman. I wish I were kidding.
Will you be doing it again next year?
Yes. But only if Elvis Presley releases a new record. And tours.
Have you ever kicked it with Michael J Fox in Vancouver?
Not in Vancouver. I've kicked him in New York a few times.
If you were in Vancouver and I handed you 100 bucks, where would you spend it?
I'd spend the first 99 dollars at Wreck beach. And the rest? Foolishly.