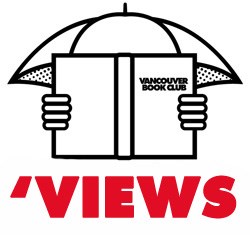 ReVIEWS, preVIEWS, interVIEWS, and overVIEWS: here's where you'll find out what the Vancouver Book Club team thinks about the literary scene in Vancouver. What you should read, where you should go, who you should sit up and notice.
This past week local author JJ Lee was announced as a finalist for the Charles Taylor Prize for Literary Non-Fiction. Nikki Reimer takes the measure of Lee's book.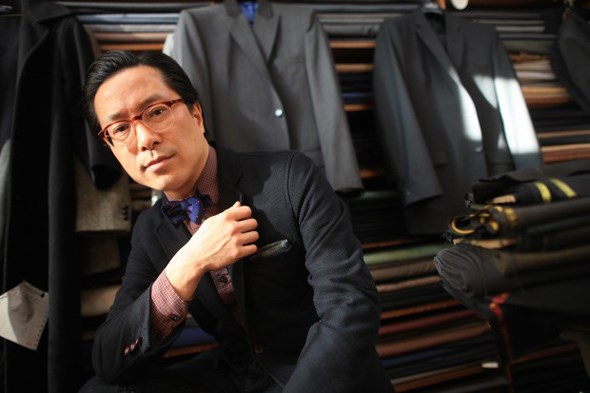 JJ Lee at Modernize Tailors. Photo by Simon Hayter for National Post (C).
I take the jacket off and hold it to my face. After all the steam and tears and cuts and pricked fingers and knotted loose threads, the scent lingers, if only in my imagination—cigarettes, sweat, vanilla, him.

Lee, 284.
Today I am wearing a vintage black-with-white-polka-dot polyester blouse. Two buttons fasten tightly at the wrist. Wide pointed collar. The shirt is genuine 1970s vintage and doesn't really breathe, though I appreciate the way it fits me better than most modern dress shirts: it's more fitted in the underarms, bust and waist and more generous in the hips. (They don't make clothes for pear-shaped girls like they used to.)
Hipster bonus points: like nearly half of my current wardrobe, the blouse belonged to my dead grandmother. Though I've washed it countless times since it came into my possession in the late 1990s (she died in 2008), I still sense—or imagine I sense—her aroma: Anais Anais cut with cigarettes and musk. When I wear her clothes I am also wearing her. Kids, take note: clothing, and scent memories, are powerful, heady stuff. To put on somebody else's clothes is to engage in homage, revision, reinvention, necromancy.
JJ Lee, local fashion critic, true gentleman and stylish man-about-town explores the black art of inherited clothing in his recent non-fiction work, the GG-nominated and Charles Taylor shortlisted The Measure Of A Man: The Story of a Father, a Son, and a Suit (McLelland & Stewart, 2010) with wit and humility.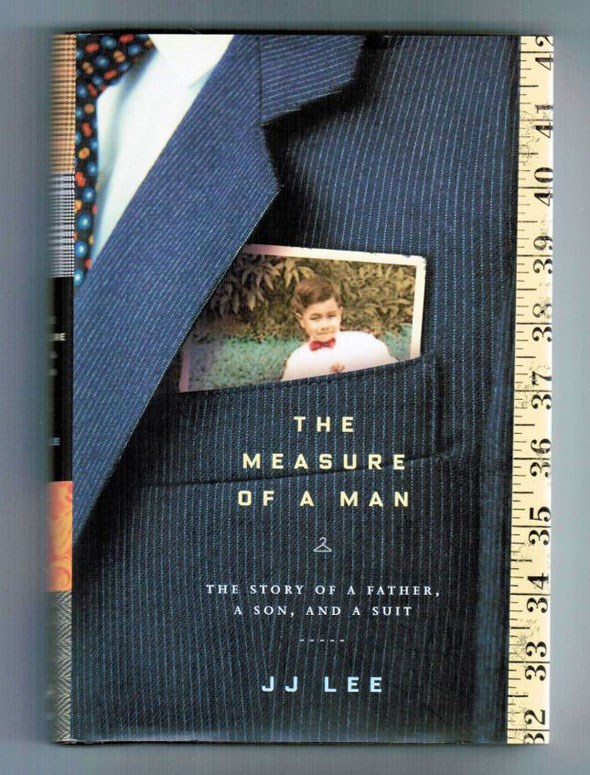 Part biofiction, part historical survey of the modern suit, The Measure Of A Man traces Lee's journey from childhood to manhood in the shadow of an imperfect father. It begins with the story of his parents' courtship and marriage, continues through his childhood and adolescence—full of tumult due to the mercurial fortunes and mercurial moods of Lee senior—into early adulthood and an apprenticeship at Chinatown's renowned Modernize Tailors; and ends in the present day where Lee himself is the father to young twin boys. Throughout this journey he watches his father, wanting-and-not-wanting to be his father's kind of man, wanting-and-not-wanting to don the same kind of suit with the same flashy masculine presence.
Lee traces his biofiction against explorations of tailors past and present and the story of suiting: the one particular cloth garment inherited by Lee after his father dies, and the suit, the modern day suit of armor in all of its adaptations from the original suit of the knight into the suit worn by nice guys and sharks alike in our postmodern corporate era. Lee's drawings of figures such as Beau Brummel, the late eighteenth century London fashion critic who made ultra-tight pants and dandyism respectable, sprinkle the book with charm.
Tie sketch by JJ Lee
I found the story eminently relatable, entertaining, informative and moving, sometimes for very personal reasons: my personal style icon was my grandmother, a demanding woman who was sometimes hard to love, and I share Lee's passion—though not his expertise—for the inherent romantic power of clothes. He stitches a good tale together from the layered threads of personal narrative and historical fact—reading it reminded me of watching Baba lay out a pattern on tracing paper. I am quiet, and I watch, and though I don't learn a damn thing about how to thread a needle or make a piece of clothing, despite her best efforts to teach me, I do learn that clothes are so much more than simple garments to cover the naked body. Clothes are about art, emotion, gender, sex, status and power: who we are and who we want to be.
-by Nikki Reimer
http://www.youtube.com/watch?v=AcEFBI3fpag&feature=youtu.be
http://youtu.be/z7bo7KkWMRU