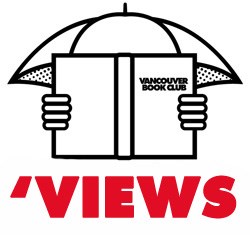 ReVIEWS, preVIEWS, interVIEWS, and overVIEWS: here's where you'll find out what the Vancouver Book Club team thinks about the literary scene in Vancouver. What you should read, where you should go, who you should sit up and notice.
Vancouver steps up its game this weekend with the launch of the Vancouver Art/Book Fair at the Vancouver Art Gallery and locations throughout the city. Bringing in publishers, writers, artists and exhibitors from near and far, the VA/BF will highlight the work being done by those in the local art book publishing scene. Fair co-founder and OCW Magazine Executive Director Tracy Stefanucci talked about the origins of the fair, and what it means for Vancouver.
When did the idea of having an Art/Book Fair start?
A book fair has always been something OCW has talked about, long before we opened Project Space. The itch to start an art book fair as been increasing since 2010, reaching some sort of concrete status when I purchased the web domain in summer 2011 (it felt like the beginning of a commitment, though I had only told my partner Jaz Halloran about the idea; it takes a while to coax these kinds of ideas out of hiding). This reluctancy, coupled with just being incredibly busy, saw the art book fair idea getting a clumsy start around last fall after a research trip to the New York Art Book Fair.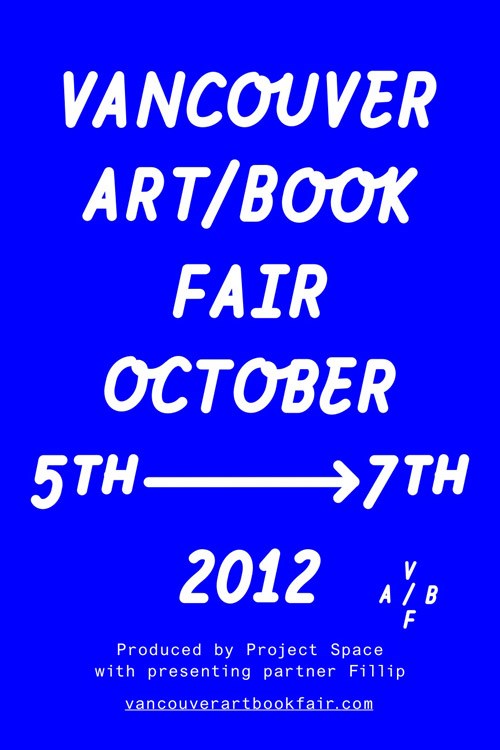 Why now and why does Vancouver need this?
Vancouver has a really vibrant art publishing scene. We have three bookshops dedicated to artist books (how many bookshops, in general are left in Vancouver?): Project Space, Motto Books and READ Books. We have a number of artist-run centres who are also publishing books. Many local artists, designers and writers are creating books. Just last week a new publisher and distributor made up of local artists, Show & Tell Press (S/T Press), launched their first title, Made In Vancouver, and opened a month-long pop-up bookshop at Satellite Gallery.
And that's just Vancouver! This energy is also going on across Canada and around the world. The Internet has made this international community increasingly connected. However, the only international book fair in North America—arguably the largest in the world, I believe—is the NY Art Book Fair. We felt that an art book fair was needed in Canada, particularly on the West Coast. With Vancouver and Canada's role in the development of art publishing (listen to this to learn more), we also felt that Vancouver was an appropriate setting.
How difficult (or easy) was it to pull all the elements together?
It came together surprisingly auspiciously. I almost wrote a grant application for this project last fall, before I really got the nerve to act on the idea of the book fair, but I felt silly projecting that we would be able to bring on people like Charlotte Cheetham (who I had envisioned, back then, as a guest presenter at the fair) and venues like the Vancouver Art Gallery, considering the short lead time and our being pretty unknown in the art publishing community. However, once the idea was out there, it kind of took on a life of its own despite the challenges inherent to an event's first year. Our relationship with Fillip—and the mentor-mentee relationship I've developed with its publisher Jeff Khonsary—was crucial to our ability to throw a fair like this. Really, the biggest challenge has been fitting in the time to do all of this work on the fair outside of our "real" work and, lets not kid ourselves, all of our other unpaid gigs (as the event is currently being put on on a volunteer basis); luckily, we have incredible interns and talented friends who ware willing to help us.
Why the relationship with Fillip?
Fillip has been really integral to making the Vancouver Art/Book Fair happen because of their place in the international art publishing community. Since Project Space is pretty new to this area, we felt we needed to partner with an organization with more knowledge and relationships in order to really make the event what we envisioned it to be.
At what point did the VAG get involved?
We contacted the Vancouver Art Gallery to come on as a partner venue, modeling after the New York Art Book Fair's relationship with MoMa PS1.
What percentage of the exhibitors and presenters are local?
Just over a quarter of the exhibitors at VA/BF are local, and include publishers, bookshops, artist-run centres, artists, designers and writing collectives (such as Publication Studio, READ Books, Artspeak, Presentation House Gallery, Or Gallery, Patrick Cruz, Maggie Chok and Wolf Mountain Writing Collective). The number is about the same for presenters on DAY ONE of the fair, including locals Kathy Slade of Publication Studio and artist Germaine Koh, alongside presenters from Montreal, Paris, London and Los Angeles.
On DAY TWO about 80% of the presenters are local, with international guests Elana Schlenker (Gratuitous Type, New York City) and Brian Kennon (2nd Cannons Publications, Los Angeles) amongst those participating in discussions and performances throughout the day.
How much sleep have you had this week?
Very little. But every bit I get feels incredibly luxurious.
The Details
The Vancouver Art/Book Fair launches tonight at 8 pm with the opening reception of  The Wandering Art Metropole Publications and Ephemera Archive: Part 2 at Project Space (222 E. Georgia St.)
Tomorrow (Saturday) from noon - 7 pm at the VAG is the Book Fair with books, magazines, zines and printed ephemera by more than seventy local, national and international publishers, as well as the Symposium with presentations, lectures, discussions and a book launch (Fallow by Germain Koh.)
Sunday's Event Series takes place at multiple venues through the city and includes discussions with publisher Brian Kennon (2nd Cannons Publications), a look at graphic design and publishing, a Show and Tell of S/T Press's Made in Vancouver, and Body/Image/Text with Alex Leslie and ??? listen chen.
Full event details and descriptions can be found at vancouverartbookfair.com