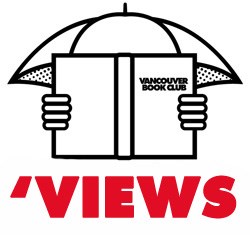 ReVIEWS, preVIEWS, interVIEWS, and overVIEWS: here's where you'll find out what the Vancouver Book Club team thinks about the literary scene in Vancouver. What you should read, where you should go, who you should sit up and notice.
blank
It's time for the annual Word on the Street this weekend. Here's the first of two previews of the event, looking at what's happening today (Friday) and tomorrow.
Last week might have be the "official" start of fall but the Word On the Street festival this weekend marks the start of the Autumn Literary Season in the Lower Mainland. Started in 1995 and attracting 18,000 lovers of the written and spoken word, the festival has grown to almost double that number and close to 200 writers, performers, and storytellers. Last year the festival went from its one day main event at Library Square to encompass three days of events at various location and this year it continues with an expanded program.

Tonight the festival kicks off with two events. Starting at 6:30 pm at Banyen Books & Sound, American prize-winning journalist and author Peter Zuckerman and mountaineer and alpine historian Amanda Padoan talk about their book Buried in the Sky: The Extraordinary Story of the Sherpa Climbers on K2's Deadliest Day.
From 7:30 - 9:30 pm at the Historic Joy Kogawa House, playwrites Marcus Youssef and James Long will present a preview of their theatrical piece Winners and Losers. Starting off as a game in which they name specific people, places or things and debate whether these things are winners or losers, the conversation between Youssef and Long develops into an examination of wealth and privilege and how they form a person's world view. Youssef will also preview his work How Has My Love Affected You? 
Saturday is full of workshops and readings. At the Central Library  the Literary Translators' Association of Canada presents a full-day workshop on Writing and Copyright, particularly as it applies to book publishing and translations. More details can be found here.
A full day of activities at the Carnegie Centre include workshops in chapbook making, poetry, and how to improve your live reading skills. Throughout the day there will be readings from the writers of Megaphone Magazine and V6A:Writing from Vancouver's Downtown Eastside.  In the evening there is open mic poetry.
All of these are FREE and open to all.
For more details go to the Word on the Street website and check back tomorrow for our preview of Sunday's events at Library Square.