Meet Emily-Anne Griffiths, co-founder and VP of Backpack Buddies, a local charity that feeds over 800 kids every month. Their model is unique in that instead of simply feeding kids in need in Vancouver they partner with private schools and recruit kids who AREN'T hungry to fundraise and to help shop for and deliver food. Not only does it provide the obvious benefit but the kids doing the work also benefit; they get instilled with the importance of giving and philanthropy, and hopefully some day some of them will end up doing work like Emily-Anne does.
She's holding in her hand a cheque for $500 from Sumac Ridge Estate Winery which I presented to the charity last week. Sumac launched a pay-it-forward initiative celebrating their 35th vintage where over the next year they'll be randomly rewarding people who do good in their communities in BC. They asked us to help kick it off by nominating a person and a charity to help out and Backpack Buddies was the one that first came to mine. The charity gets the money to help feed more kids, she gets wine and flowers as a thanks for what she does and we get to feel good about connecting the two. Win/win/win.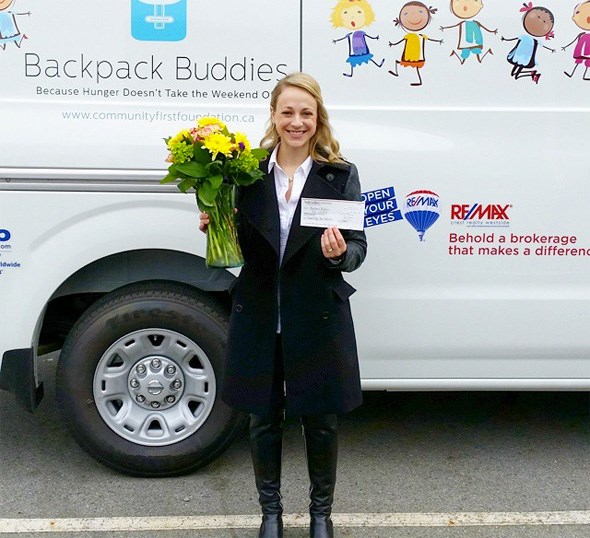 Check out this video below that explains what B.B. is all about and check out sumacridge.com to learn more about how they're paying it forward in 2015.