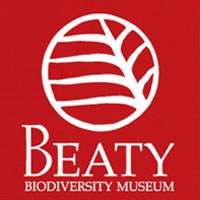 The Beaty Biodiversity Museum is Vancouver's natural history museum. We work to promote a greater understanding of, and collective responsibility for, the biodiversity of BC, Canada, and the World. Come visit us on UBC campus - we're located at 2212 Main Mall, Vancouver, BC. You can find more info at beatymuseum.ubc.ca. Follow us @beatymuseum on Twitter & Instagram and like us on Facebook.
While chatting with artist Colleen McLaughlin Barlow as she puts the finishing touches on her exhibition Whale Dreams it soon becomes clear that she holds these large marine mammals in deep reverence. How could you not when you take the time to study an entire skeleton of a dwarf sperm whale and draw every single bone. Every. Single. Bone. That's hundreds of bones.
Drawing my way through the whale is at the heart of the exhibition. Colleen used chalk because it is a safe substance to take into places like the Beaty Biodiversity Museum curatorial work space where Colleen drew the dwarf sperm whale. Other materials could have damaged specimens so they aren't allowed. The medium in this case tells the story of her behind-the-scenes work - bringing things from inside museum cabinets to light through art.
Colleen has thought a lot about the symbolism of this exhibition. Some of the first pieces visitors see are painted on plaster board which is made with calcium - the same building blocks as the whale bones she is depicting.
A highlight (pun intended!) are the beautifully lit cast lead crystal glass. These pieces are inspired by whale bones but also morph into other similar shapes like a whale vertebra that looks like a propeller. The bright colours are deliberately meant to look like jewels to communicate the preciousness of these creatures.
https://instagram.com/p/8RM5nqD9Aw/?taken-by=beatymuseum
Visit the exhibition yourself when it opens to the public tomorrow. Dress up like a sea creature, use the selfie stick at the station, and tag your photos with #whaledreamsbc.