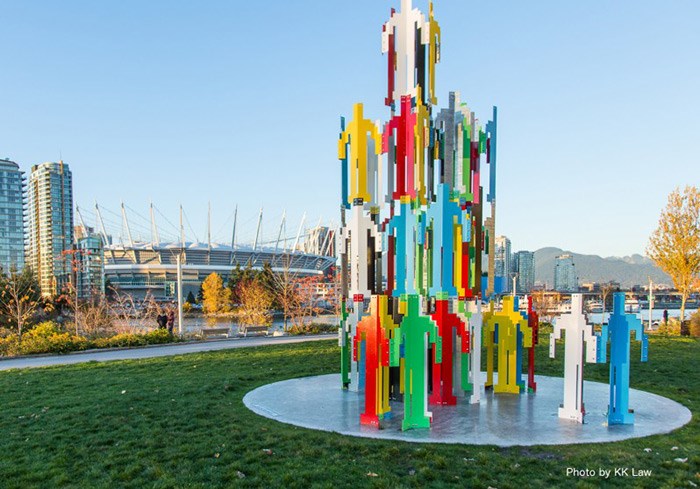 Love it or hate it, public art is one of Vancouver's most defining features. Have you managed to find them all?
1. Trans Am Totem by Marcus Bowcott  (Quebec Street and Milross Avenue)
2. Digital Orca by Douglas Coupland (Vancouver Convention Centre)
3. Stanley Park Totem Poles (Brockton Point)
Rose Cole Yelton Memorial, Oscar Maltipi, Chief Skedans Mortuary, Chief Wakas, Thunderbird House Post, Kakaso'Las, Beaver Crest, Ga'akstalas and Sky Chief Totem Poles.
4. The Birds by Myfanwy MacLeod (Olympic Village)
5. East Van Cross by Ken Lum (Clark and East 1st Avenue)
6. Walking Figures by Magdalena Abakanowicz (Cambie and Broadway)
7. WOW Westminster by José Resende (Pier Park)
8. Engagement by Dennis Oppenheim (Sunset Beach)
9. A-Maze-ing Laughter by Yue Minjun (English Bay)
10. Love Your Bean by Cosimo Cavallaro (Charleson Park)
11. OSGEMEOS Silos by Gustavo and Otávio Pandolfo (Granville Island)
12. Human Structures Vancouver by Jonathan Borofsky (Hinge Park)
13. Tian Tian by Danny Yung (Nelson Square)
14. Melting Clock by Salvador Dali (West Hastings and Hornby)
15. Abbott & Cordova, 7 August 1971 by Stan Douglas (Woodward's Building)
16. Everything's Going to Be Alright by Martin Creed (Wing Sang Building)
17. The Drop by Inges Idee (Canada Place)
18. The Present is a Gift by Drew Young and Jay Senetchko (Main and East 10th Avenue)
19. Let's Heal the Divide by Toni Latour (Vancouver Community College)
20. 217.5 ARC X 13 by Bernar Venet (Seawall at English Bay)