Every week our friends at The Georgia Straight provide us with a preview of what you'll see on - and in – their paper that week. They are the source for lifestyle and entertainment in our city and along with their robust online presence they've always released a print edition, distributed everywhere each Thursday.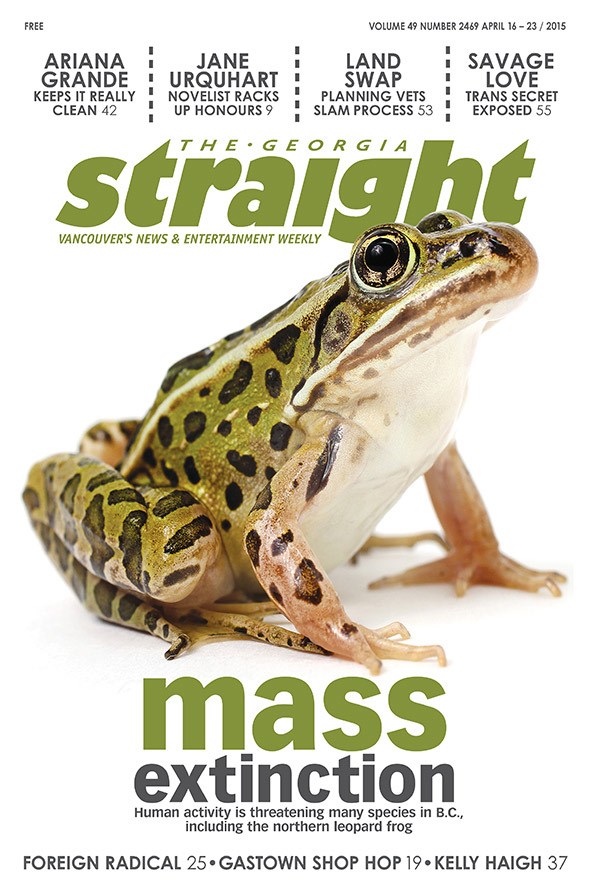 This issue is their 2,469th and on the cover this week is Earth Day, Mass Extinction: In an epoch defined by humans overtaking nature as the dominant force on Earth, climate change and habitat destruction threaten a vast array of species in BC.
Here are some links to stories highlighted on the cover:
- Humans versus nature: the Sixth Extinction hits B.C. coverstory by Travis Lupick
- Ariana Grande keeps it respectable by Mike Usinger
- Jane Urquhart continues upward with The Night Stages by George Fethering
- Urban planners and academics wade into Yaletown land swap fight by Carlito Pablo
- I treated my trans lover like an embarrassing secret by Dan Savage
And some more stories for Earth Day:
- Greenpeace International boss Kumi Naidoo says Bill C-51 attacks democracy by Charlie Smith
- Wild About Vancouver festival highlights benefits of outdoor education by Stephen Hui
Pick up a copy of the Straight when you see it!