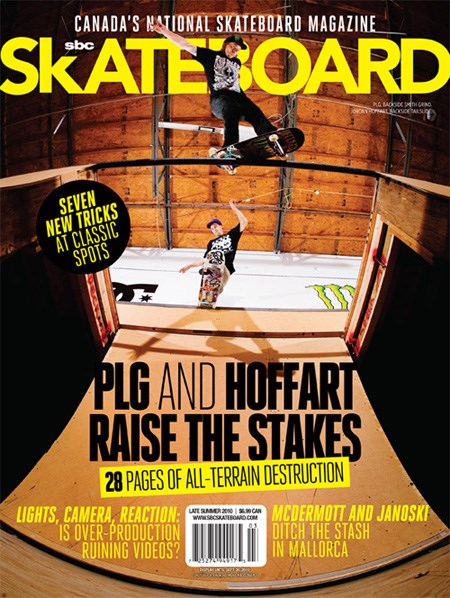 SBC Skateboard magazine's late summer issue is about to hit shelves very soon. The cover features Vancouver's Jordan Hoffart running a backtail while MTL's Pierre-Luc Gagnon goes backsmith during a doubles sesh at the DC/Monster ramp in Cali. Photo: Jody Morris. In other Canadian skate mag release news, Color is set to put out issue 8.3, and they're having a party tonight to celebrate.
Get clicky with some of this week's highlights:
•Vancouver's Lee Saunders is good company, and you'll find him in an entertaining "Day In The Life" video on Push.ca. Also, Vancouver-to-Vegas-and-back-to-Van transplant Cameo Wilson shows off a day of his skating right here, and it's impressive.
•Centre Distribution is located in North Van and they supply a grip of skate brands to retailers across Canada. Danny Marshall is a father in the biggest way because he has a daughter of his own while also managing the 48-member skate team that Centre sponsors. It's quite the gig, and you can learn more about it right here.
•The Red Bull Manny Mania Canadian final went down under the viaduct at the plaza on July 17th, and Winnipeg's Jamie Suppes is the guy who gets to skate the big one in NYC on August 21st. Here's some footy from the day.
•BLVD skateshop on Commercial Drive just added the talented Nick "Nugget" Moore to their hefty shop team. Check out Nugg's awesome "Welcome" video.