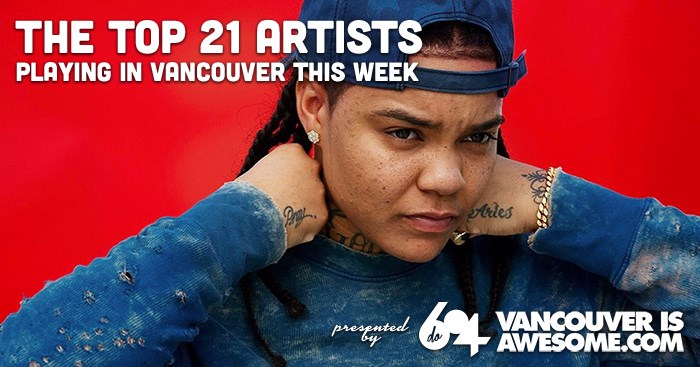 Ignore the hate and grab your henny, because it's about to go from zero to a hundred when Young M.A. takes over Venue! Since we've got a long weekend coming up, we've added 1 more show to our weekly Top 20.
Here are 21 of the best artists playing in Vancouver from tonight till Victoria Day Monday.
The Top 21 playlist - hear this week's best artists here
https://open.spotify.com/user/do604/playlist/3JZh1e5yI2WQI5zTZPLZ9s
Subscribe to the playlist, or return back every Monday to hear who's the best of the best playing Vancouver.
Come out and see Vancouver's dark indie band while supporting Girls Rock Camp Vancouver!
Bringing old school thrash metal with a mix of new wave of thrash metal to give you the full on metal experience while raising money for Metalocalpstick Festival 2017!
When two of trap music's most innovative producers come to MIA you know something's up and it's going to be epic!
His futuristic underground music will eat you up at Celebrities.
Sleep Science's melodic rock is full of surprises that will keep you on your toes all night long!
You won't be able to stay still when you hear their infectious rhythmic base and upbeat melodies. Horns galore!
You'll be drowning in their black metal savagery.
Already making waves around the world, Borgeous will be creating a tsunami in Harbour Event Centre!