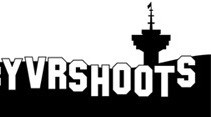 This series had its genesis when I began photographing Vancouver area location shoots in the summer of 2010 to get over a post-Olympics funk. Film and TV productions like Mission Impossible -Ghost Protocol, Fringe, Supernatural and Once Upon a Time showcase our city in similar fashion and sometimes put a celebrity actor or two in the frame.
Wow. The CBC is kicking simulcast-American-show butt this winter with its made-for-Canadians-by-Canadians dramas, comedies, unscripted and current affairs programs, led by set-in-Yellowknife aerial adventure series Arctic Air and set-in-St. John's father-and-son private detective series Republic of Doyle. Both dramas premiered in the Million-Canadian-Viewers-Plus Club earlier this month and remain there after three episodes apiece, although Arctic Air dipped below a million viewers for its second outing before climbing back up.
While nothing is going to touch this country's love for CTV's simulcast of American comedy hit The Big Bang Theory, CBC shows like Dragon's Den, the Rick Mercer Report, new comedy series Mr. D. and a rejuvenated Marketplace have all hit the Million-Plus Club and are winning or placing well in their time blocks. As is Global's new hit mini-series Bomb Girls, filmed in Toronto. So what happened to CTV, proud home of Corner Gas, during this resurgence of homegrown shows? Well our most financially-successful Canadian TV network has no Canadian dramas or comedies on its prime time 2011-12 schedule so far although it remains a giant in covering Canadian news and sports.
Why are CBC's dramas so popular this winter? Just as The Beachcombers represented B.C.'s West Coast to the world for almost twenty years, Arctic Air and Republic of Doyle showcase a specific region of Canada with adventure and humour, plus something new -- sexiness. Feel free to argue, but Bruno Gerussi with his giant medallion on his overly hairy chest on The Beachcombers did not exude sexiness like today's CBC leading men -- Adam Beach of Arctic Air and Allan Hawco of Republic of Doyle.
Adam Beach has said he likes that the Arctic Air creators made his character Bobby Martin a "player", especially because -- in a sweet twist -- Bobby's first hookup on returning to Yellowknife is Frontier Hotel receptionist Candi played by Leah Gibson, who became his real-life girlfriend. Gibson is on Beach's right in the photo below (the pair even kissed for the cameras). And Allan Hawco has been juggling dozens of women for two seasons and counting as swaggering Jake Doyle on Republic of Doyle in Newfoundland. Last week's episode ended with his character in a hot kiss with his remarried ex-wife.
I was fortunate to be invited  by the CBC to the red carpet premiere of Arctic Air at the Vogue Theatre  on January 10th and an Actors Studio-style session at the Vancouver Film School with Republic of Doyle star and Newfoundland native Allan Hawco a week later.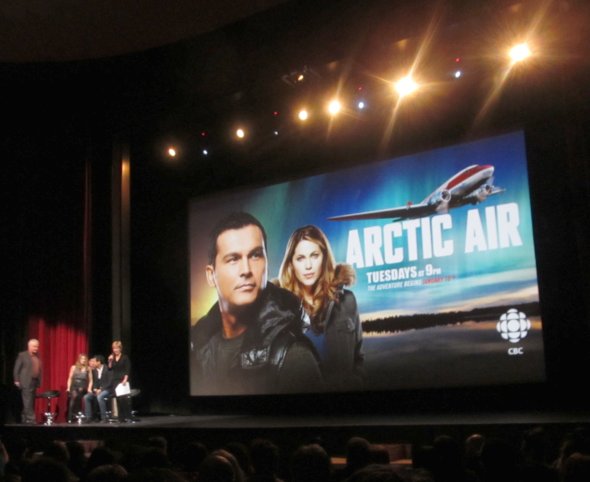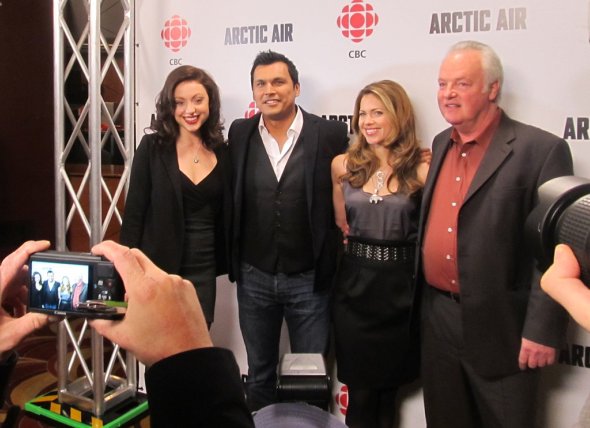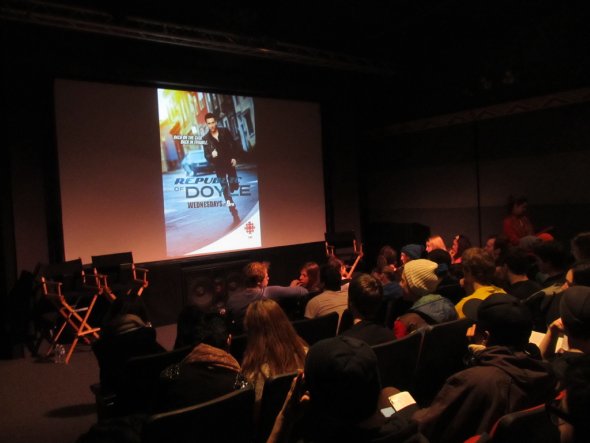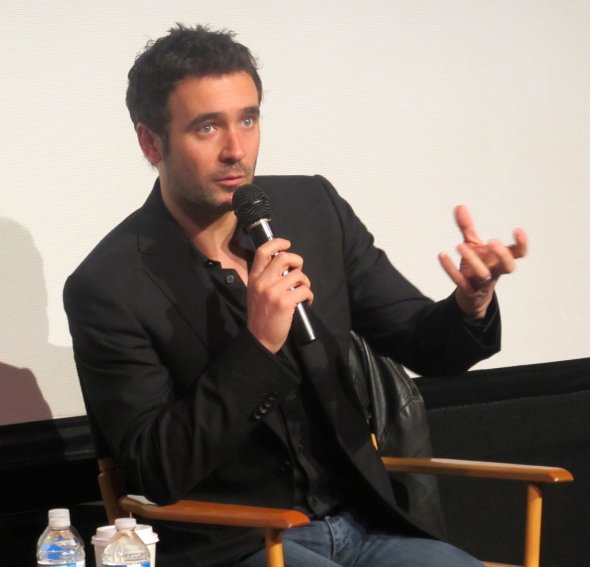 It all began late last November when I got the chance to meet the stars of CBC's 2012 Winter Season out in Aldergrove and go on a guided tour of the Arctic Air set. I opted out of one-on-one interviews with stars from Little Mosque on the Praire, Republic of Doyle, Mr. D and Redemption Inc. because my YVR shoots series  is about TV shows and movies that film here. I did write about and photograph Arctic Air's interior sets in Aldergrove for my post  Vancouver as Yellowknife.  And I did make an exception for Marketplace, chatting briefly with Vancouver-based host Erica Johnson and her Toronto-based co-host Tom Harrington (who joined last year and is someone I know slightly from my time as a CBC news producer) about the amazing resurgence of this 39-year-old investigative program.
But of all CBC's Winter Season shows it's Arctic Air which got the big promotional push for its January 10th launch. Everywhere I went over the holidays I saw bus stop ads, billboards, TV and movie theatre teasers and Beach seemed to be a permanent guest on The National ahead of the premiere. CBC later sent me an e-vite for the red-carpet premiere screening at the Vogue Theatre on Granville Street.  While it's common for American TV networks to throw big premiere screenings, it's pretty much unprecedented for Canadian shows to get a red carpet rollout with stars, cameras, fans and other celebrity hoopla.
Asked to arrive before 6:30 p.m., I showed up unfashionably early to take photos of the lit-up theatre and a lineup stretching north on Granville Street. Inside the lobby, I spied  rows and rows of CBC Live popcorn boxes and then found a spot in the small media area, squeezed in beside the enterainment media and late-arriving news photographers. CBC asked us to "play nice", which basically meant giving way to the pros. Fine by me. All I needed was a vantage to sneak a few photos and live-tweet the red-carpet event on #CBCPremiereVan, with tweets about the lineup, the popcorn boxes and some arriving local celebrities like actor Steve Bacic. A combination of Twitter jail and Auto correct slowed me down but I  did manage to tweet about the roar of  "Woo Hoos" greeting Adam Beach outside the theatre, as he stepped out of a black limousine with co-stars Pascale Hutton and Kevin McNulty.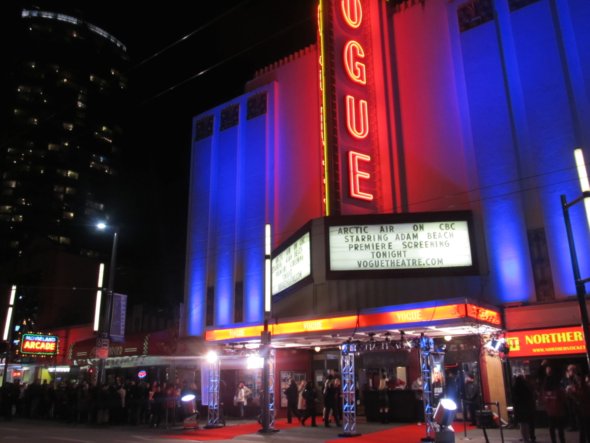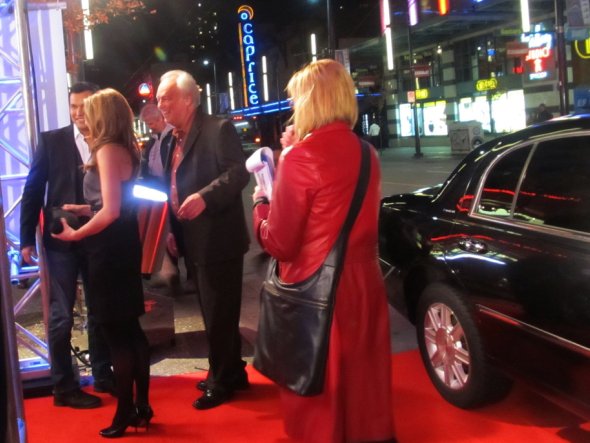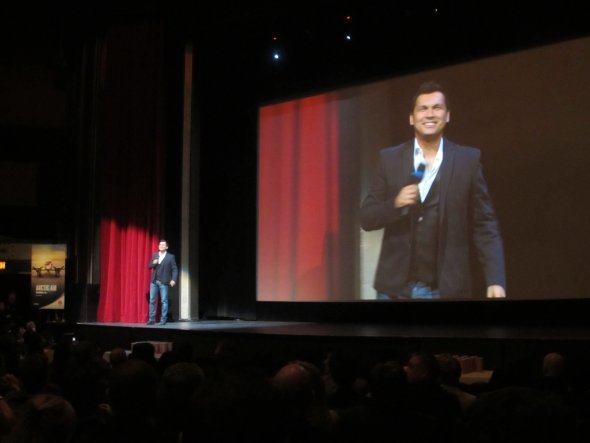 Just before 7 p.m., Big Adam Beach and Little Adam Beach (credit for Big and Little to TVEh!) took to the stage in front of a packed house, including producers, cast and crew as well as special guests like Vancouver 2010 Olympics CEO John Furlong and several Olympic athletes, to introduce the visually-spectacular premiere of Arctic Air.
The story: Bobby Martin, the headstrong son of the now-dead partner of a renegade prop airline, returns to Yellowknife after a decade down south where he reunites with Pascale Hutton's Krysta Ivarson, his childhood friend and Arctic Air's chief pilot whose father, Kevin McNulty's Mel Ivarson, is the ailing and cantankerous other partner of this dysfunctional two-family business. I was stunned by the flying sequences and beauty of Canada's North on the big screen, as well as entertained by the fights.
First fight: at the airport, Michael Hogan (Col. Tigh on Battlestar Galactica)'s backwoods doctor Doc Hossa punches Adam Beach's Bobby Martin on arrival. We don't know why until  later on when Martin meets the son he never knew he had, having impregnated Hossa's daughter before leaving  Yellowknife to get an education and become a Vancouver venture capitalist.
Second fight: in a bar, Adam Beach's Bobby Martin punches Brian Markinson's Ronnie Deardon in the face after the shady mining financier calls Martin "Geronimo" and "Chief" because he thwarted a deal which would have screwed a local prospector.
Adam Beach seems born to play this role. Actually born in Manitoba, the Saulteaux actor , who has three kids of his own aged three to 15, grew up with his two brothers on a First Nation Reserve near Winnipeg, started acting and moved south to L.A. where he had a big American career in feature films and TV series. The other two leads -- Pascale Hutton and Kevin McNulty -- are B.C. actors, as are most of the recurring cast like Stephen Lobo (Little Mosque on the Prairie) below, who plays the Indian flight school graduate Dev Panwar who looked so shaken in the cockpit during one of the opening scenes.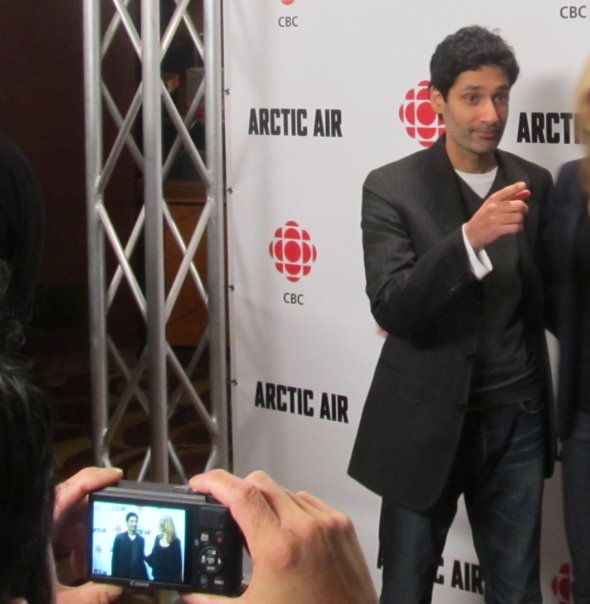 And Adam DiMarco below is no-balls Kirby Nystoruk, so named because he backs out of marrying Bobby Martin's niece at the last minute  in a text to his bride-to-be.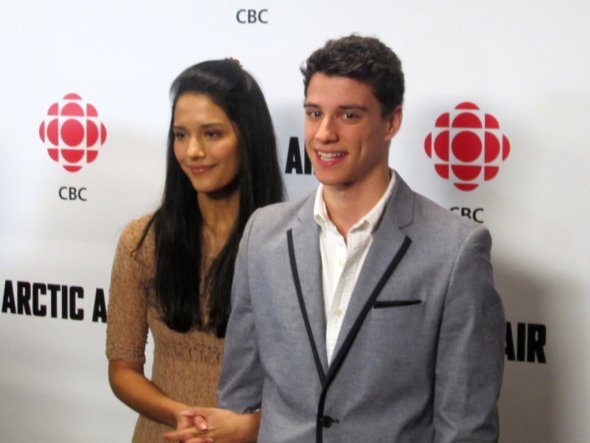 Tall Aleks Paunovic below plays the local diamond prospector Jim McAlister who almost gets screwed in a deal with the shady financier.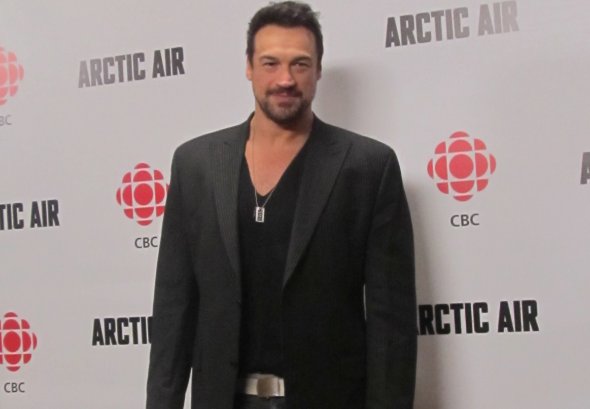 After the screening, the three leads -- Adam Beach, Pascale Hutton and Kevin McNulty -- stepped on stage for a Q & A for the crowd hosted by CBC meteorologist Claire Martin. Hutton revealed that about a bazillion black flies ate them alive during the filming of one of the premiere's  most gorgeous scenes at Slave Lake. And Kevin McNulty sang.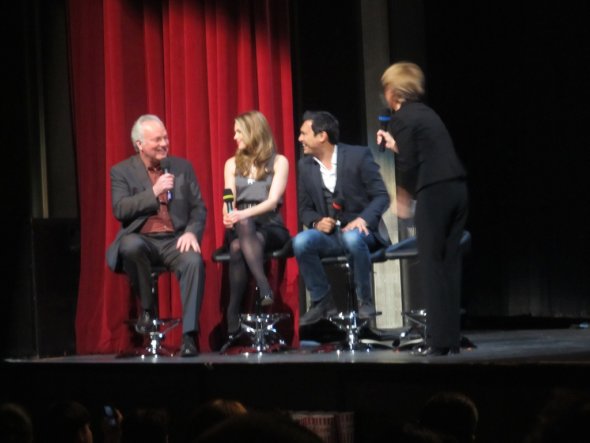 More than one million Canadians watched the Arctic Air premiere, the CBC's biggest drama debut in 20 years.
The following week, audience dipped to 885,000 for the second episode called All In, featuring a high-stakes poker game for Bobby Martin and guest-starring Steve Bacic below.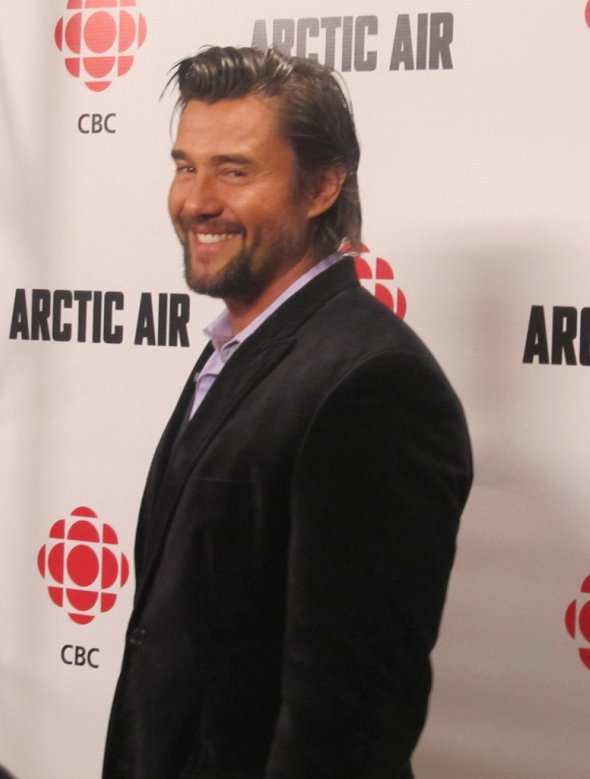 Arctic Air audience numbers will continue to rise and fall against popular American simulcasts but the show is a certified Canadian hit, climbing back up above one million for last week's third episode called Hijacked about a hijacked Arctic Air flight. Tune in tonight for the fourth epiosde, All the Vital Things.
I'm particulalry looking forward to the seventh epiosde, the aptly-titled Vancouver is Such a Screwed Up City, having photographed Adam Beach and Pascale Hutton filming at Woodward's Redevelopment for it. And of course, the season finale, which Hutton ranks as her favourite episode so far.
So Arctic Air is more than holding its own on Tuesday nights for CBC, while the third season of Republic of Doyle is doing even better on Wednesday nights. Its season premiere called The Streets of St. John's and guest starring the Gladiator himself Russell Crowe, racked up an astonishing 1.37 million viewers, up 22% from the show's season two premiere. How did this little-Newfoundland-show-that-could attract the likes of Academy Award winner Russell Crowe. That was one of the questions asked of Republic of Doyle showrunner, writer and lead Allan Hawco at a Canadian-style Actors studio at the Vancouver Film School on January 17th.
Turns out Newfie Allan Hawco and Aussie Russell Crowe are old friends, partly through a mutual appreciation for the band Great Big Sea, whose music is featured on the show Hawco created. Last August Crowe (Hawco calls him a "real gent") flew all the way from Sydney, Australia, to St. John's, Newfoundland to film his part as bad guy of the week (later making a much-longer stop in Vancouver to film his part as Superman's father, Jor-el in upcoming feature film Man of Steel).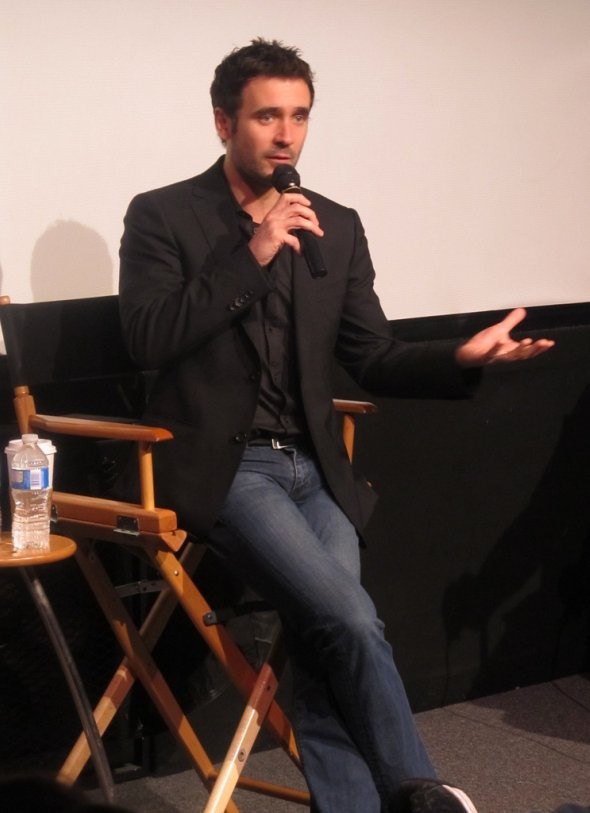 I watched the season premiere which started off with a great chase scene through the streets of St. John's into a pub and out again that ended with Jake Doyle hanging the culprit by his boots over the side of parkade and accidentally dropping him -- photographed by Russell Crowe's nefarious character of course.
The second episode this season featured another Newfoundland native Shannon Tweed of Playboy and reality series Gene Simmons Family Jewels fame. Her rocker husand Gene Simmons watched on set as Tweed held a knife to throat of Sean Doyle's sweetheart Rose, played by Vancouver's own Lynda Boyd.
Allan Hawco brought Boyd with him to the VFS interactive session with students. She told them how she started her on-screen career with The X-Files, a young theatre geek who didn't know what a mark was. From there she made the pilgrimage south to L.A .to work, returning to Vancouver in her 40s, ready to give up acting and become a real estate agent. Hawco laughed at this confession, teasing Boyd that she'd have been a horrible real estate agent, so honest that she'd be telling people, "Don't buy this house."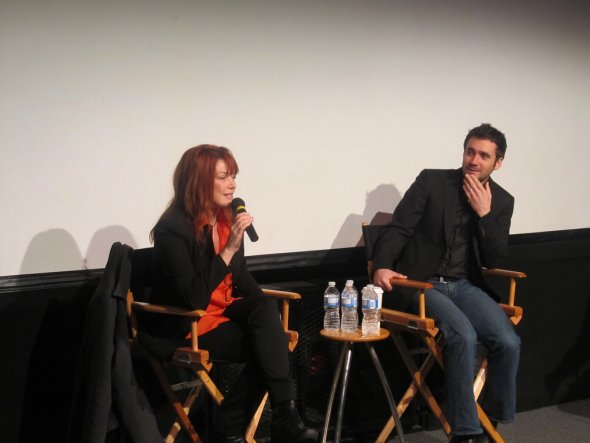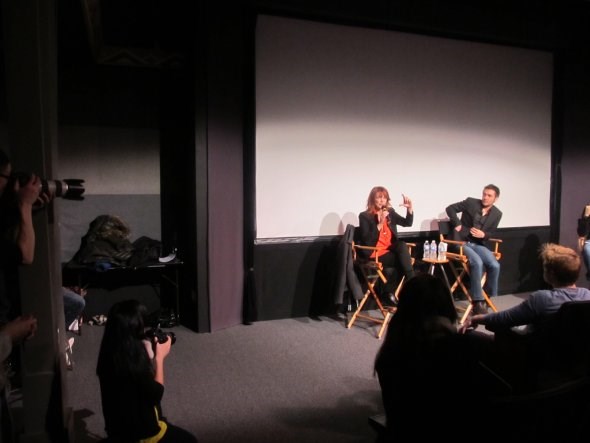 Allan Hawco says he had no idea who Rose was when he started writing Republic of Doyle, but when Lynda Boyd auditioned she so embodied the character that he went "Oh, fu*k, that's who it is.'" Then at one point in season two Boyd stopped trusting herself as Rose and got all actory until Hawco admonished her to go back to her "truth" -- "For fu*k's sake, you are Rose, there is no other Rose, all you do is Rose."
Hawco doesn't have time for self-doubt, working full-out as showrunner, writer, lead actor and everything else short of making lunch for the cast and crew. Republic of Doyle is shown in a hundred countries, making it a humungeous homegrown success story.
I look forward to seeing episode five featuring Shawn Doyle, the much-missed chess-master-turned-sleuth  from cancelled Vancouver series Endgame.
Arctic Air airs on Tuesdays at 9 p.m. and Republic of Doyle on Wednesdays at 9 p.m. on CBC-TV.
Follow Susan on Twitter at Twitter.com/SusanGittins, watch her photo stream on her Flickr for daily updates and watch V.I.A. for more from her #YVRShoots series!