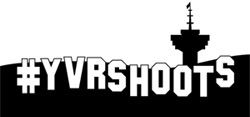 This series had its genesis when I began photographing Vancouver area location shoots in the summer of 2010 to get over a post-Olympics funk. Film and TV productions like Mission Impossible: Ghost Protocol, Fringe, Supernatural and The Killing showcase our city in similar fashion and sometimes put a celebrity actor or two in the frame.
The Vancouver crew of Fairly Legal owe its star Sarah Shahi a big thankyou this American Thanksgiving. If not for her, it's unlikely the USA Network show would have returned to film a second season here.
Sarah Shahi is a force of nature. Network execs seriously underestimated her immense appeal in the lead role as Kate Reed, a San Francisco lawyer-turned-mediator with a messy personal life. See Shahi filming below in late August 2010 outside the SFU Segal Graduate School of Business on Granville Street turned Reed & Reed Law Offices, started by Kate's dead father. Then having lunch with her estranged husband, played by Michael Trucco, outside Trees Organic Coffee, while prop San Franciso cabs circled the block.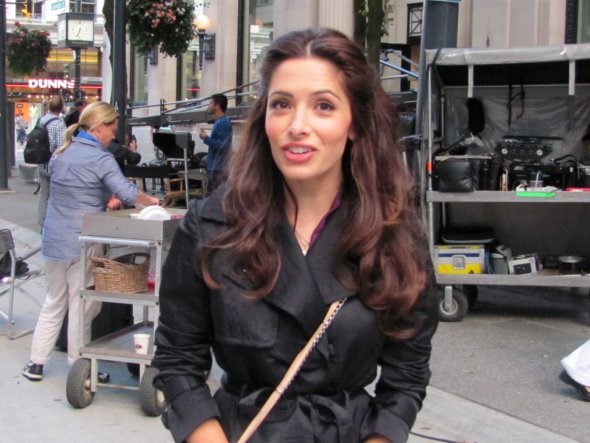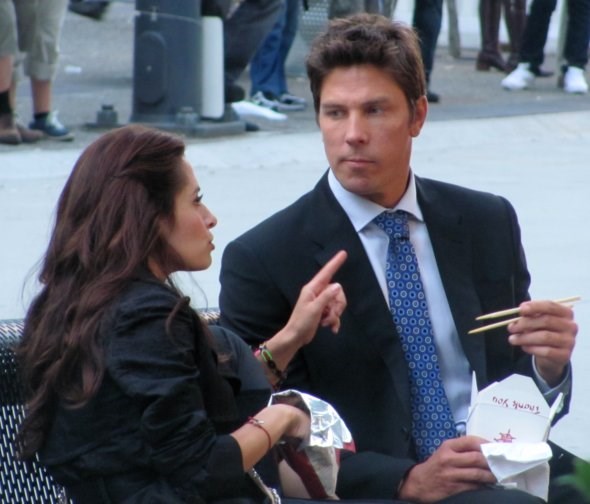 And at the beginning of this month walking down the south steps of the Vancouver Art Gallery -- obviously back in character as feisty Kate.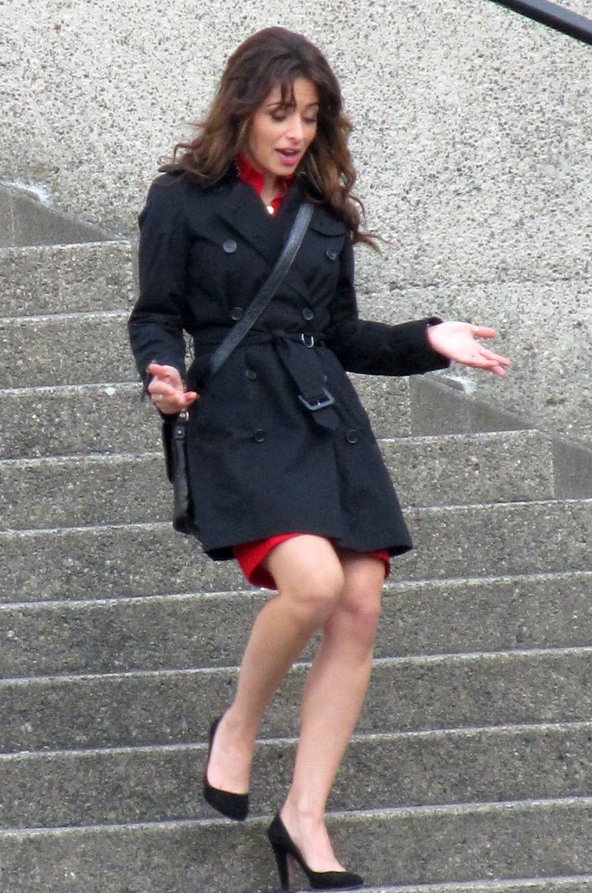 Some creative changes had to be made before execs would renew the legal dramedy, which while a solid performer in its first season was no breakout hit like other USA Network series. I heard and overheard on set in September 2010 how unhappy network executives were with the general tone of the series, which had the working title Facing Kate, so it wasn't a surprise when they cut the first season order to ten episodes from twelve, although they claimed scheduling issues. Creator Michael Sardo stepped down as showrunner late in the summer to make way for Peter Odco of Pushing Daisies, which probably contributed to the late filming start this year.
Before Fairly Legal, I knew Sarah Shahi for her role as a cop in the wonderful L.A.-set series Life starring Damien Lewis and as the lesbian DJ in the L.A.-set and Vancouver-shot The L Word, not for her time as a Dallas Cowboys cheerleader. But her cheerleader past does explain this charming scene of Shahi leading the Fairly Legal crew in cheers in early September 2010 on location off Lonsdale Avenue in North Vancouver.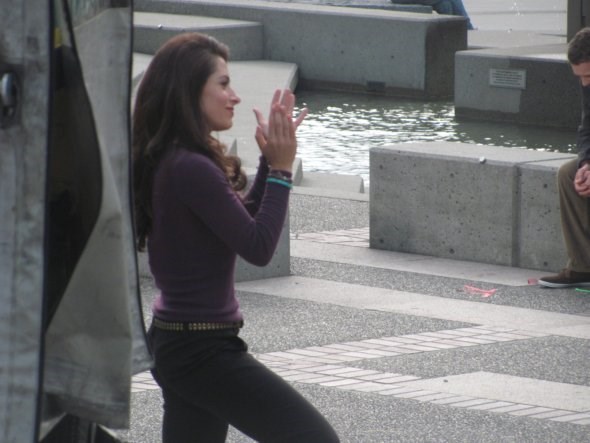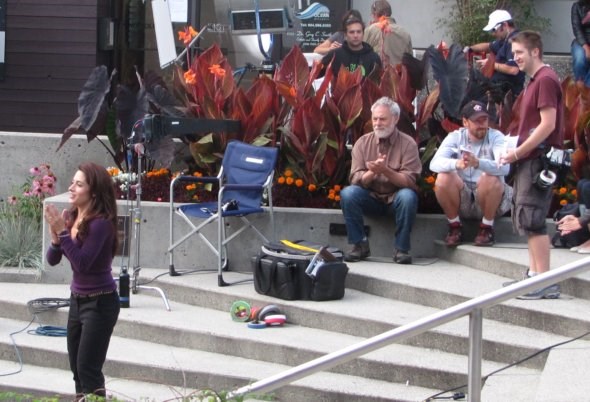 Fairly Legal began filming its first season here three or four months after the Vancouver 2010 Winter Olympic Games in shoots all over town from Fisherman's Cove to the Olympic Village. I didn't find them until late summer on Granville Street, off Lonsdale in North Vancouver and at the Price Waterhouse building near Canada Place, with prop San Fransciso firetrucks and firemen extras parked outside.
Four months later, Fairly Legal premiered on January 20th on USA Network and about a month later on Canada's Showcase with Kate mediating a case a week from a wrongly convicted man vs the State of California to parents vs a high school football coach to a lead singer in a band who wants to sell out to a commercial vs his old band mates.
Ratings in the U.S. proved much much better than expected by the network execs who'd cut the episode order. Fairly Legal averaged 4.6 million total viewers in Live +7 (live plus delayed viewing) making it the top new cable drama of the season. In early May, USA Network renewed Fairly Legal for a second season of thirteen episodes with some public reservations: "We think there is a creative and audience upside to the show," USA Network co-president Jeff Wachtel said. "Not every first season is the best, and we think it is a show that can do better." Some worried that the creative changes might include filming the upcoming second season somewhere other than Vancouver.  Not long after, Michael Trucco put that concern to rest when he was here guest-starring on USA Network's Psych as the catcher on the fictional Seabirds baseball team filming in Nat Bailey stadium.
Perenially on the Maxim Hot 100, Sarah Shahi made the list again in May this year, illustrated as usual by a photo of her dressed in lingerie. So even though non-genre shows generally don't bother with Comic-Con, Shahi wasn't going to pass up an opportunity to connect with her fan-girls and fan-boys at the annual San Diego geek fest, showing up on the floor to sign autographs and pose for photos.
It's actually her co-star Michael Trucco who has the real sci-fi cred to go to Comic Con from his time as Cylon Sam in Battlestar Galactica. I laughed when I spotted yet another Battlestar Galactica cylon on the Fairly Legal set this month -- Michael Hogan who played Cylon Col. Tigh. Does this mean Sarah Shahi is a cylon too?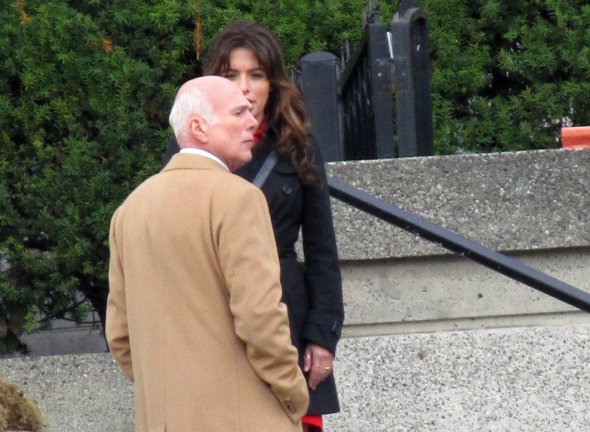 I also spied Mark Moses, better known as Paul on Desperate Housewives and boozer Duck Phillips on Mad Men, on the steps of the Vancouver Art Gallery talking to Michael Hogan between takes.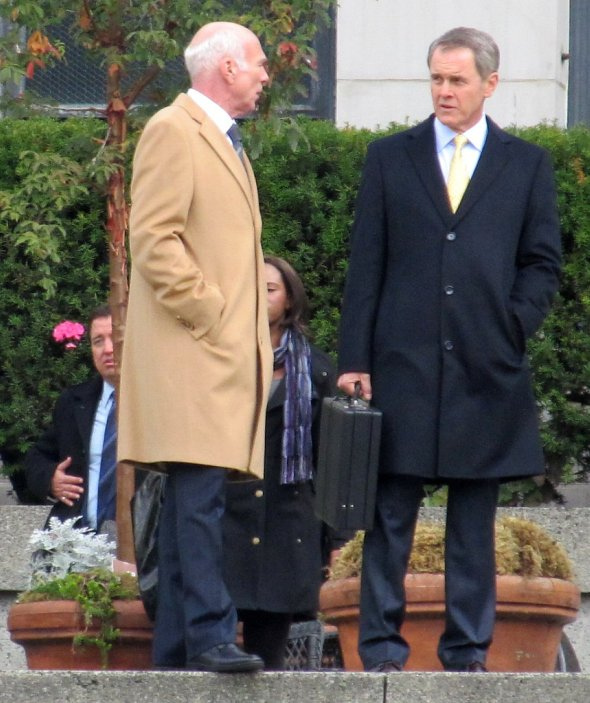 After heading up the Art Gallery steps with Hogan, Sarah Shahi came back down talking to herself and then had a run-in with new cast member Ryan Johnson from Ghost Rider in his role as ambitious trial attorney Ben Grogan, the kind of ruthless lawyer who advertises on the side of buses. I saw Johnson again two weeks later filming with Michael Trucco outside the Segal Business School turned Reed & Reed Law Offices on November 14th.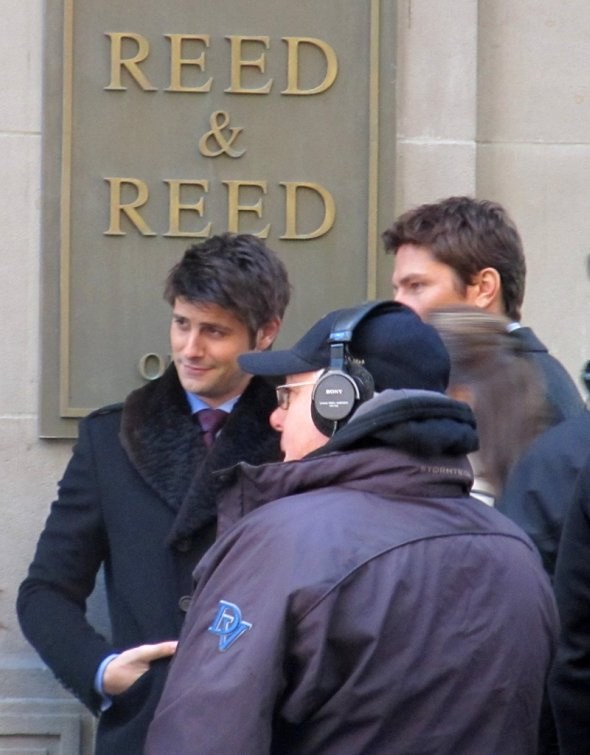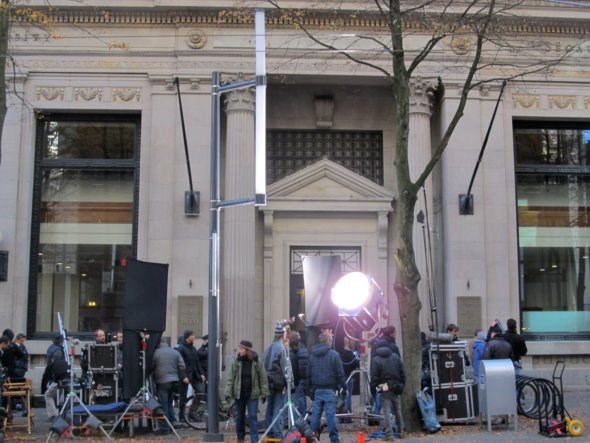 Sarah Shahi showed up for later scenes that day but I couldn't get back to Granville Street. The next day I found them filming at the Electra Building dressed as the Main Entrance to Mercy Franciscan Hospital. Crew began setting up early in the morning, putting up signage to turn the condo/apartment tower lobby into a San Francisco hospital with a prop yellow checkered Castro Cab parked on Nelsen Street and a prop ambulance parked in the driveway. I returned many hours later for part of the night shoot alongside dozens of bystanders watching Sarah Shahi and Michael Trucco on set.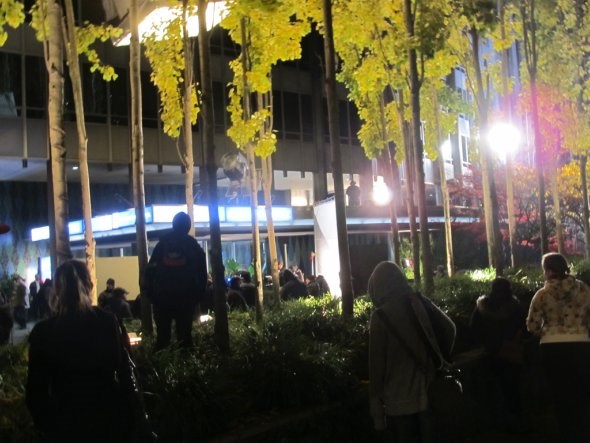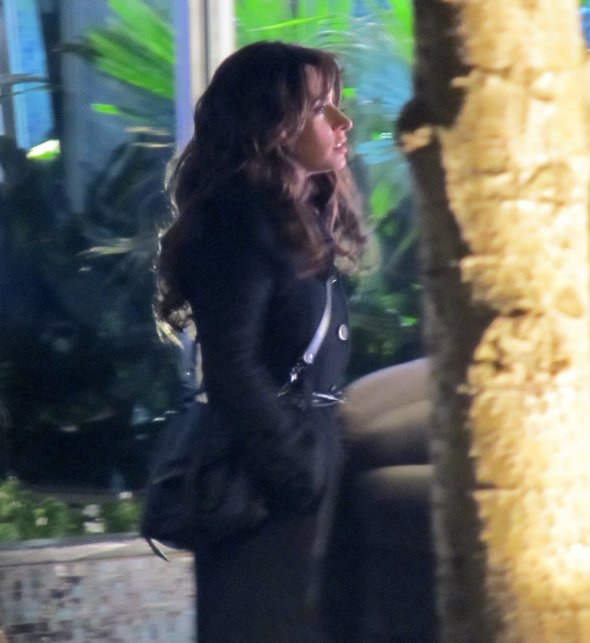 Someone walking by who spotted the filming theorized that the reason so many productions shoot here is because "Vancouver is so beautiful."
No argument from me. The legal dramedy is scheduled to film here through the winter until early April. And your best bet to see Sarah Shahi on set remains the Segal Business School turned Reed & Reed Law Offices at Granville and Pender.
**************
Follow Susan on Twitter at Twitter.com/SusanGittins, watch her photo stream on her Flickr for daily updates and watch V.I.A. for more from her #YVRShoots series!