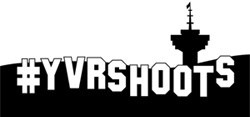 This new series had its genesis when I began photographing Vancouver area location shoots last summer to get over a long post-Olympics funk. Film and TV productions like This Means War, Mission Impossible 4, Fringe and the new AMC series The Killing showcase our city in similar fashion and sometimes put a celebrity actor or two in the frame.
Sci-fi series Fringe began in its third season filming an alternate universe with the Orpheum Theatre digitally encased in amber and seems to have ended it filming a post-apocalyptic future with the Orpheum Theatre exploded into rubble and cars burning on Granville Street. In between, it's been one wild nine-month ride of inventive location shoots, other-worldly lighting and set-signage-to-puzzle-over (Manhatan is spelled with one "t" and The West Wing is in its 12th season in Fringe's alternate universe).
Is it any wonder that Fringe location shoots are my favourite to photograph? I recently joked about how hard it is to quit Fringe shoots on Twitter but Fringe solved the problem last Sunday when it wrapped its third season with an extra day of shooting: shutting down the Deltaport Highway near Tsawwassen (for the second time) to film more daytime doomsday aftermath of explosions and burning cars. Tempting as that sounds, I was one long ferry ride away on Vancouver Island.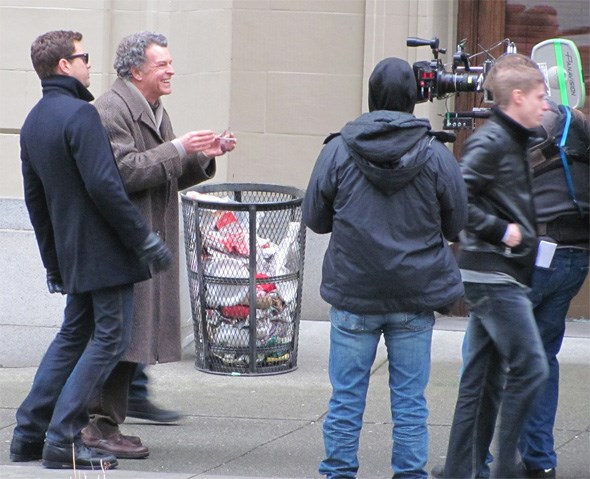 Fringe's final four episodes of the season begin broadcasting this Friday night. And it's fitting that the first is a homage to Christopher Nolan's sci-fi mind-trip Inception in an episode entitled Lysergic Acid Diethylamide (LSD). As I watched it being filmed in the T intersection of Hastings and Hornby in downtown Vancouver on March 1st, I remarked that it looked like one of Dr. Walter's acid trips. Three hundred extras dressed in grey and black kept running around the Vancouver Club and down Hornby Street as if caught in a vortex while Joshua Jackson's Peter Bishop (wearing dark sunglasses) and John Noble's Dr. Walter Bishop ambled through, sometimes cracking up after a take. Later I photographed John Noble standing on a ladder and others captured him sitting on a bus. If it wasn't obvious already, a Manhatan subway station sign gave it away: Drugs are hard to take.
Fringe had shut down the same T intersection on Sunday, February 20th to film master shots of the extras running. And a Fringe fan blogged on Tumblr (Un Canadian Errant) about watching Joshua Jackson and John Noble filming a scene with Noble driving a taxi outside Bentall 5. She called it "How I Hung Around the Set of Fringe and Didn't Die of GLEE" and it's a hilarious account of her adventures on set.
The tone changed to post-apocalyptic when Fringe returned to the T intersection at Hornby & Hastings on St. Patrick's Day for a night shoot with Joshua Jackson seemingly playing a future version of his character Peter Bishop with a receding hairline, lying on the ground amidst burning cars and explosions, the first of several shoots where Fringe blew stuff up and strewed wreckage. I swear I heard Joshua Jackson yell "Holy Frak" after completing that scene in front of hundreds of spectators, some drunk and not sure what they were seeing.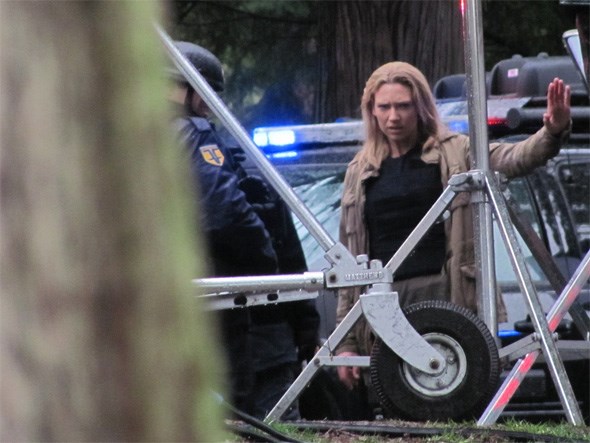 I also watched Anna Torv seemingly play a future version of her character Olivia Dunham with her hair cut to shoulder length in a separate scene a few weeks later. One of the dangers of watching filming is that you occasionally see mild spoilers but productions tend to protect major ones from getting out.
Unfortunately, someone from the production side used his Twitter account to leak Fringe call sheets on #yvrshoots, including one which revealed how one major character dies in the season finale entitled The Day We Died and the filming location in Stanley Park. Although none of the Fringe actors are of much interest to local paparazzi (except Joshua Jackson when he's out with his girlfriend Diane Kruger), photos of a big season finale death could be sold. On a wet, miserable day of shooting (with crew using the hand dryer in the park washroom to dry clothing), producers didn't have time to protect the scene from spectators, far less photographers. After the fact, they sent a production assistant to retroactively ask that no photos be taken and I assured them I wouldn't upload mine from the seawall but couldn't speak for the pro photographer who'd had a grassy-knoll vantage of the death. As expected, his agency sold the photos worldwide and now Tumblr is a no-go zone for Fringe fans wanting to remain unspoiled.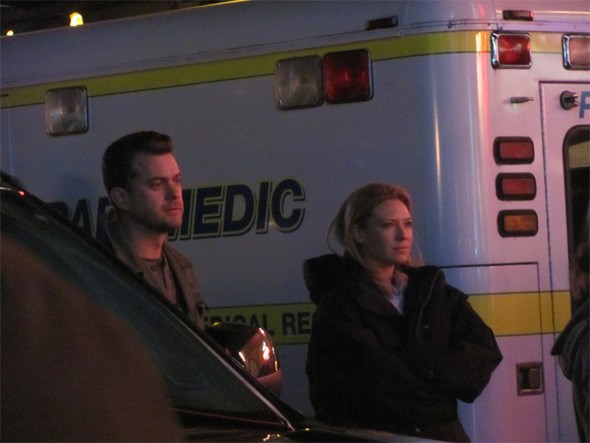 I ended my season of photographing Fringe shoots on Granville Street last Wednesday night. Police closed the block in front of the Orpheum Theatre at 9 p.m. and crew started dressing the street with burnt-out cars and rubble, including an ORP part of the Orpheum sign which could be lit on fire. Joshua Jackson and Anna Torv arrived on set around 11 pm, again styled as futuristic versions of their characters. Some fans had been waiting since 6 p.m.to see them and Joshua Jackson didn't disappoint: posing for photos while drunk UBC students partying at the Venue Theatre yelled out "Dawson's Creek". Smelly fake snow/ash fell as the two leads stared at the wreckage for the camera. I can't wait to see it unfold on the screen over the next month and then for the fourth season of Fringe to start filming here in late July/early August.
                                                                                                             **************