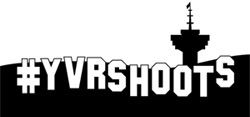 This series had its genesis when I began photographing Vancouver area location shoots in the summer of 2010 to get over a long post-Olympics funk. Film and TV productions like Mission Impossible: Ghost Protocol, Fringe, Supernatural and Once Upon a Time and our own Continuum and Primeval: New World showcase our city in similar fashion and sometimes put a celebrity actor or two in the frame. find more on my daily blog yvrshoots.com.
Sarah McLachlan's new holiday classic "Find Your Voice" filmed its music video on a block of West 13th Avenue near Vancouver City Hall last Sunday. It features students from her Sarah McLachlan School of Music: exuberant students who spent all afternoon doing take after take, fueled by hot chocolate, craft services and joy.
All of the proceeds from the music video will go to their school which helps at-risk youth to learn music. Click on 
Sarah McLachlan.com
for a free download and on the
Sarah McLachlan School of Music
 to make a donation. I spoke to the lovely and impossibly serene Grammy-winning singer briefly after filming wrapped when it was too dark and too cold  to say anthing intelligible, so I'll use her prepared words instead:  "Christmas is a difficult time for many both economically and emotionally and I hope this Gift of Music can help in some small way. My holiday wish is that we can all find the good in everyone and in every situation and be kind to each other. I wish you all a very Happy, peaceful holiday filled with love , laughter and light!"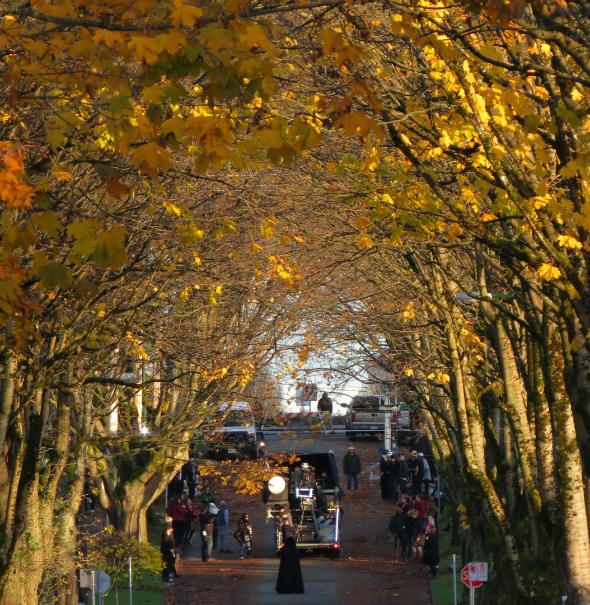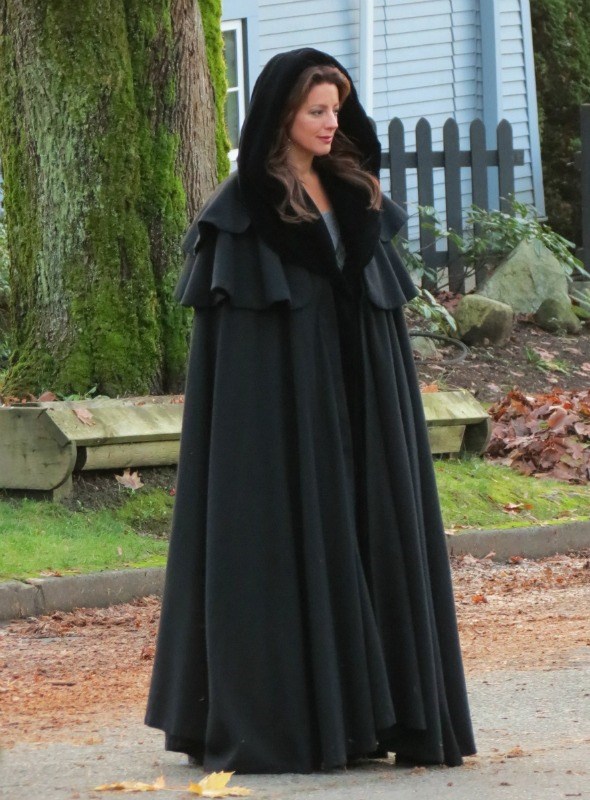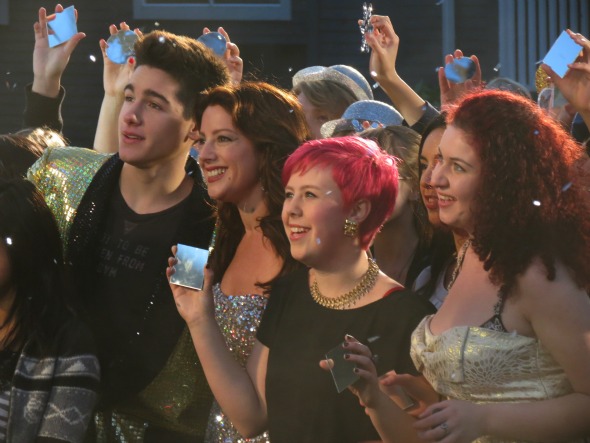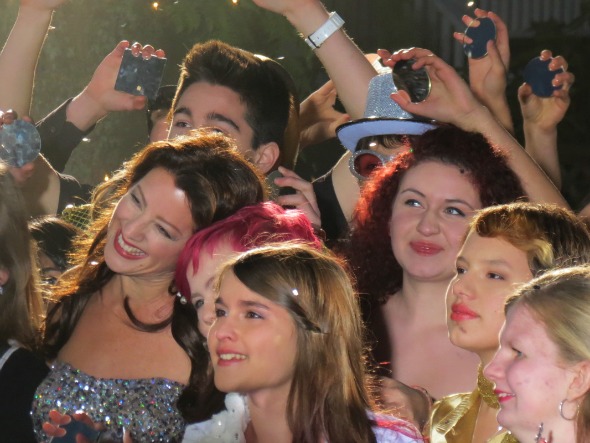 The video shoot itself took place between Manitoba and Ontario streets on West 13th Avenue. The camera truck filmed a long, continuous shot of Sarah McLachlan walking up the hill singing, joined by students from her music school on either side. Sounds simple except for the two wardrobe changes. At the start, Sarah McLachlan is wrapped in a black cloak which looks like something out of Wuthering Heights. Students dressed in black join her from opposite sides of the street. They leave as McLachlan's wardrobe people remove the black cloak revealing the grey floor-length coat and then return dressed in red plaid coats. In the final wardrobe change, McLachlan's grey coat is removed to reveal the sparkly Marilyn Monroe-esque strapless gown and the students return dressed for a party. Add smoke machines, lights and glitter falling from the sky and it looks like New Year's Eve. While this all appears seamless in the video it was controlled chaos on the sidewalks, especiailly near the lights. Imagine doing this over and over again from around 11:30 in the morning until almost 5:00 p.m. in the evening, when  the moon rose and there was virtually no light left.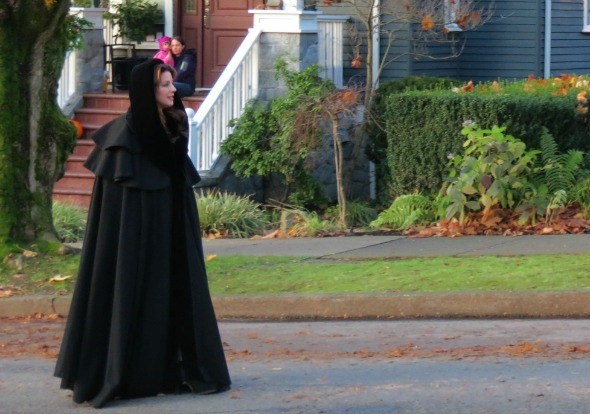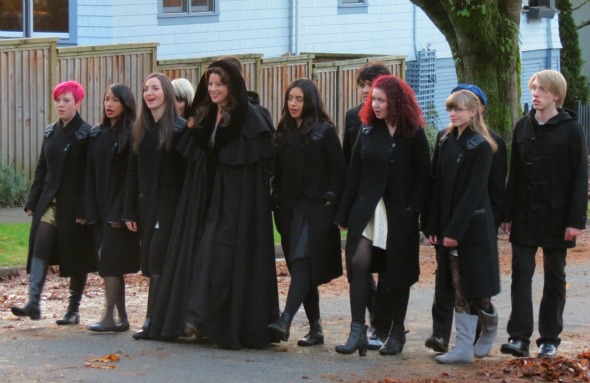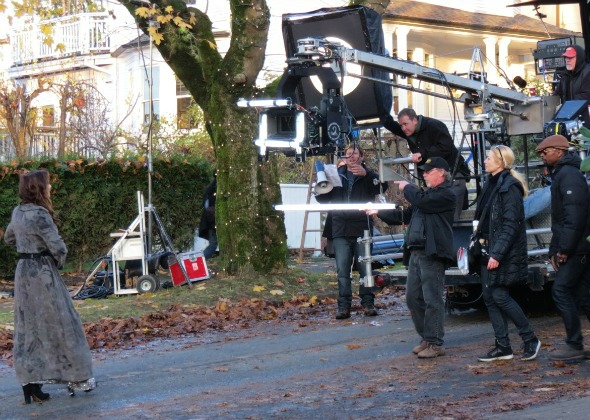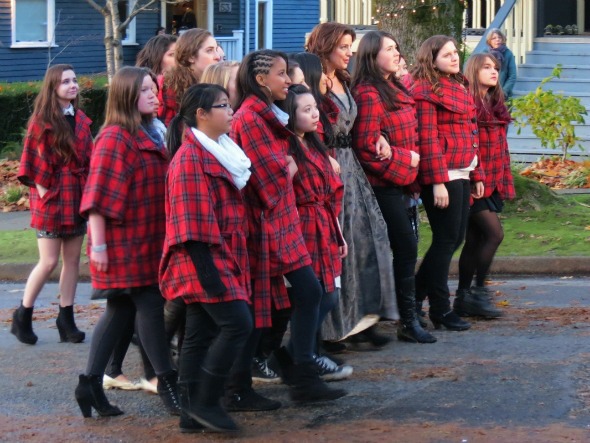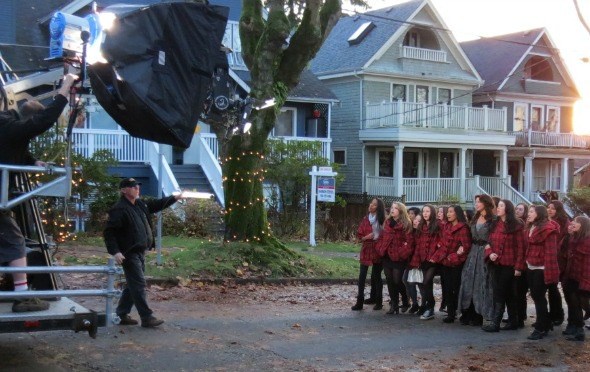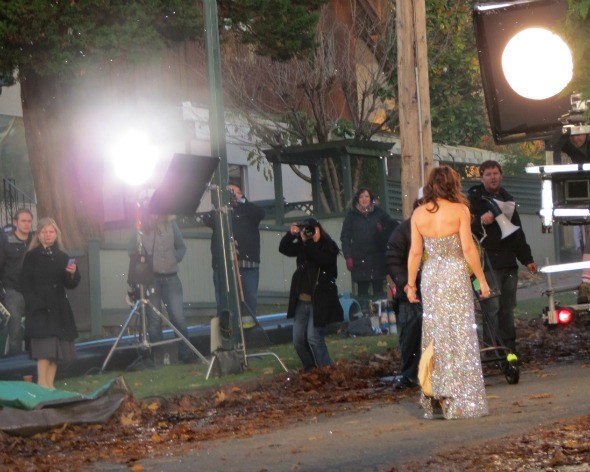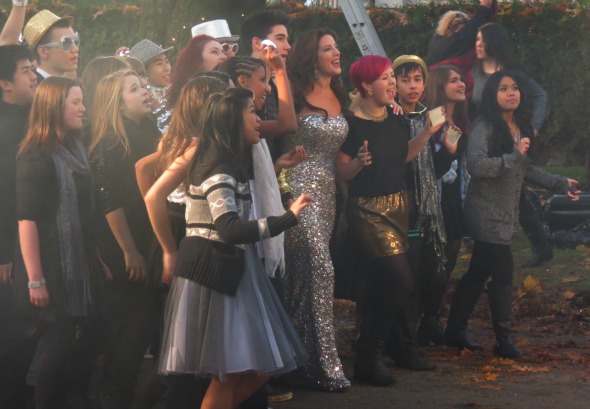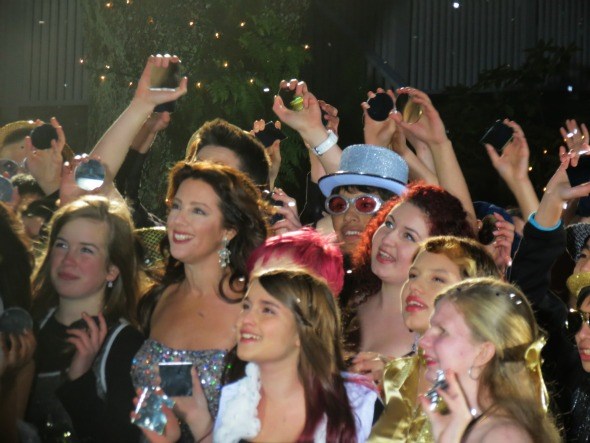 **************