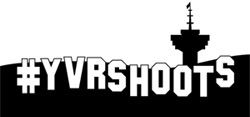 This series had its genesis when I began photographing Vancouver area location shoots in the summer of 2010 to get over a long post-Olympics funk. Film and TV productions like Mission Impossible: Ghost Protocol, Supernatural, Fringe, Once Upon a Time and our own Continuum and Primeval:New World showcase our city in similar fashion and sometimes put a celebrity actor or two in the frame.find more on my daily blog yvrshoots.com.
How did Continuum creator Simon Barry conceive of a Vancouver in 2077 which has become North America's financial centre in a world where corporations have taken over failed governments? By reading and watching the news, of course. He calls it more science fact than science fiction. In this dystopian future, rising seas from global climate change have wiped out the east coast but Vancouver is protected by a dam across English Bay.
So why hasn't the Lions Gate Bridge been dealt with in 2077?, joked one of the Continuum panel at Vancouver Fan Expo in April. Is the city all bike lanes in the future?, joked a fan during the Q&A, prompting Barry to respond that there are no cars at all in his future Vancouver. And apparently no horses either.
Continuum, originally called Out of Time in his pilot script, is part sci fi, part police procedural about a future police officer Kiera Cameron, played by Rachel Nichols, who travels back in time from Vancouver in the year 2077 to Vancouver in the year 2012, chasing a group of terrorists who plan to change the future from the past by targeting the corporations that will come to rule the world. But are they really terrorists? Perhaps they are freedom fighters?
One such corporation is fictional Exotrol, where Continuum staged an Occupy Vancouver-style protest at CBC Vancouver in mid-March for an upcoming episode. Rachel Nichols and Victor Webster, as her 2012 Vancouver police detectuve partner Carlos Fonnegra, arrived on the scene in an unmarked blue police car.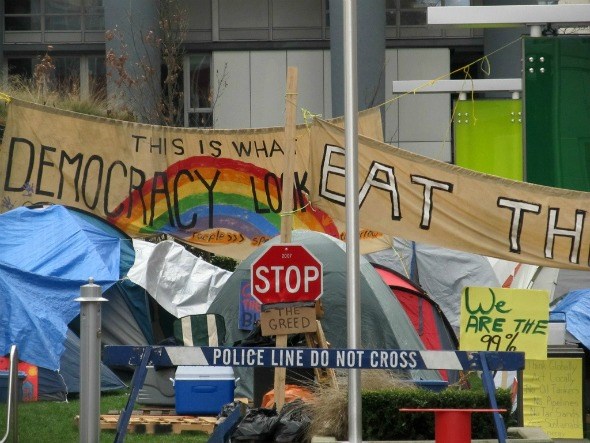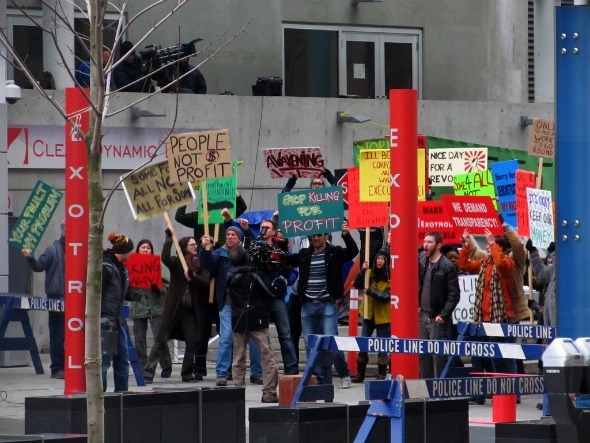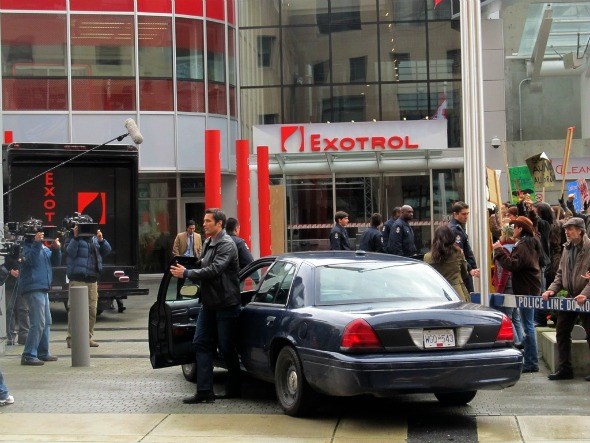 That blue unmarked police car showed up all over town. The first time I spotted it was during a snowstorm in Victory Square in January. Rachel Nichol's Kiera Cameron has gone undercover with the Vancouver police force because they have the resources and database to help her investigate crimes committed by these terrorists-from-the future and try to intervene ahead of their attacks.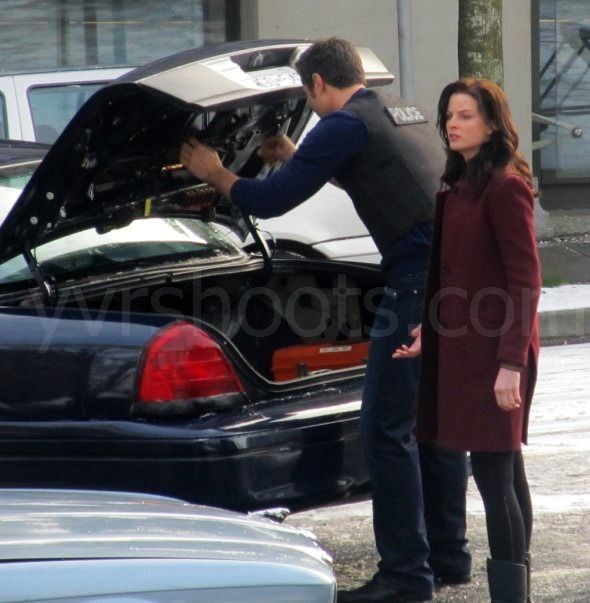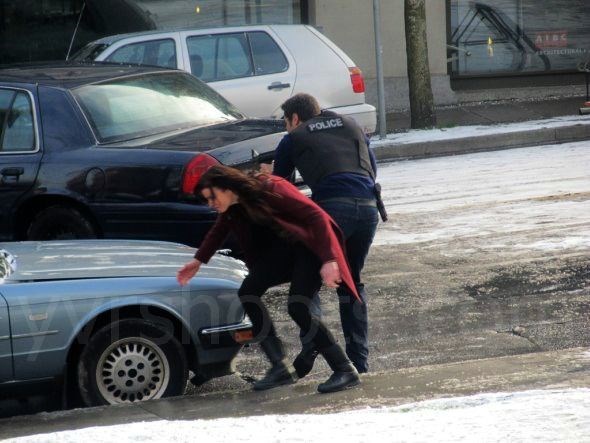 I found the blue unmarked squad car in February at the Vancouver Public Library, which you can see reflected in the windshield.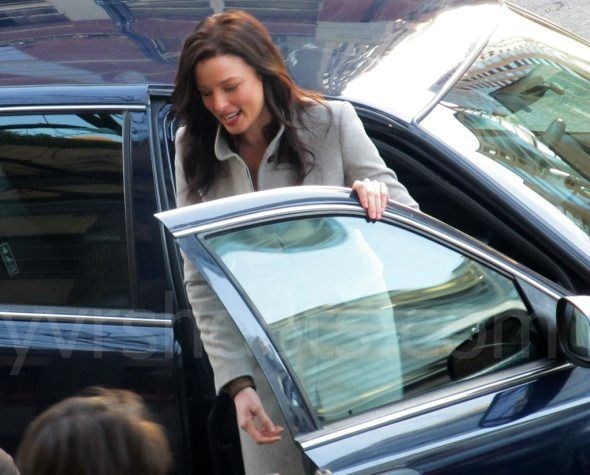 And then again in March, parked outside The Centre. And finally in April on the last day of filming near the Arthur Erickson-designed building on West Georgia, renamed Fluor for another fiction corporation.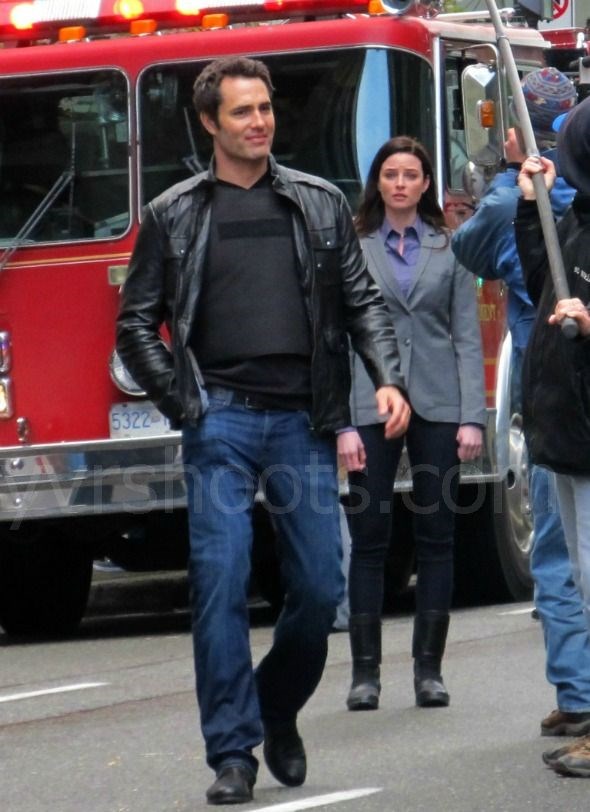 On location and at Fan Expo, Rachel Nichols and Victor Webster showed what a tight unit they became both on and off camera.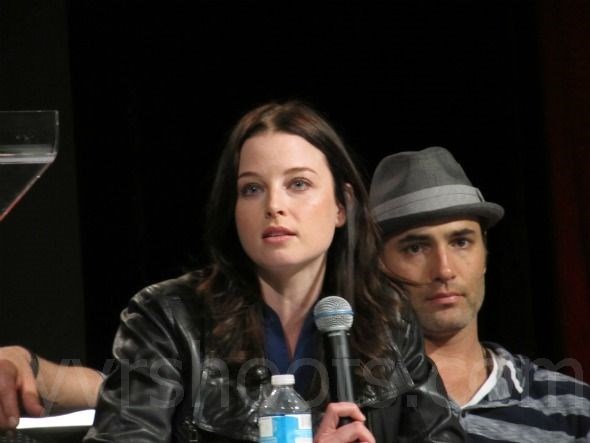 But how did Keira Cameron get to Vancouver 2012? She is a wife and mother in the future but when the terrorists she is guarding use a devise to time-travel from 2077 to the present, she is taken back with them wearing a beige cat suit. Apparently it's not just your ordinary form-fitting body suit but a device that contains weapons and other tech from the future. She'll need them since it looks like she finds herself at night on downtown Granville Street in 2012, hopefully not on Friday night among all the drunken rowdies.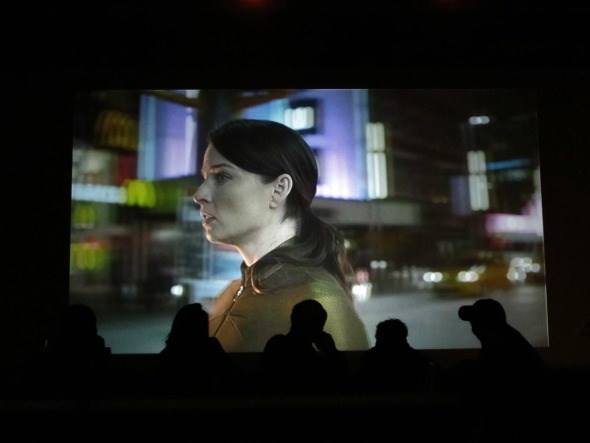 In our Vancouver, Keira Cameron seeks out the help of a teenage genius Alex Sadler, played by Erik Knudsen on the left below, who apparently is going to grow up to become a human Skynet who creates most of the tech the world uses in 2077 and is then played by The X-Files' Cigarette-Smoking-Man, William B. Davis. How perfect.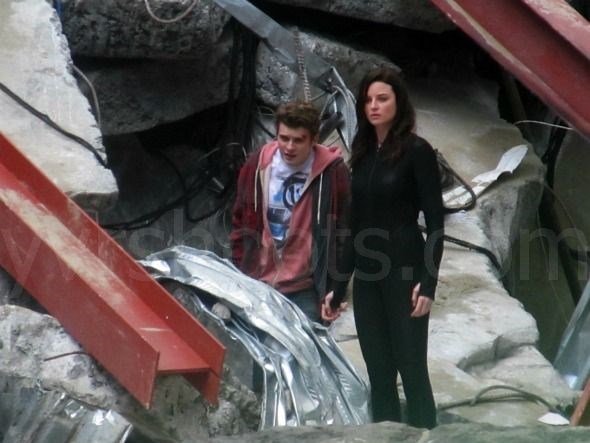 These terrorists Keira is tracking here sure look bad-ass in a teaser for the series. Even pigeons get out of the way of Roger Cross, who plays their leader.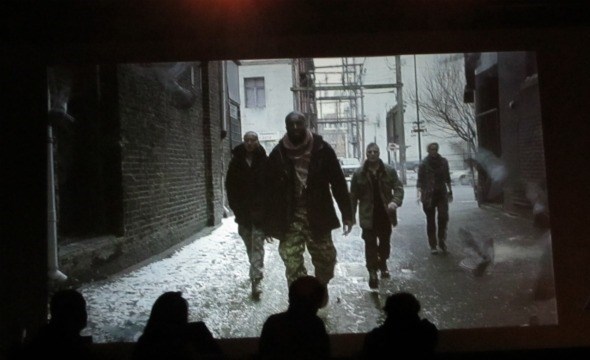 But during the Fan Expo panel, Roger Cross, Lexa Doig and Tony Amendola didn't look scary at all.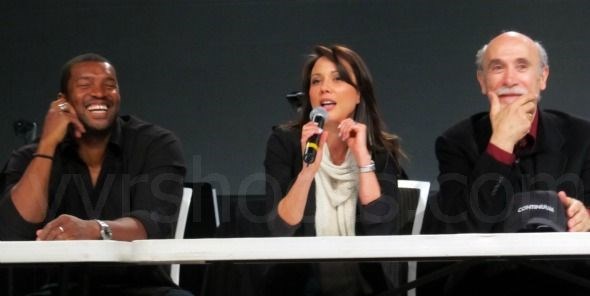 Until they raised their fists and shouted Liber8!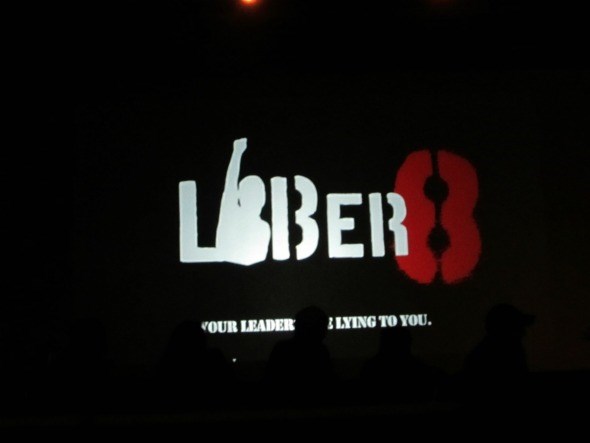 Are they terrorists or freedom fighters in a future ruled by corporations? You'll have to decide.
Continuum premieres at 9 p.m. this Sunday, May 27th, on Showcase in Canada.
**************