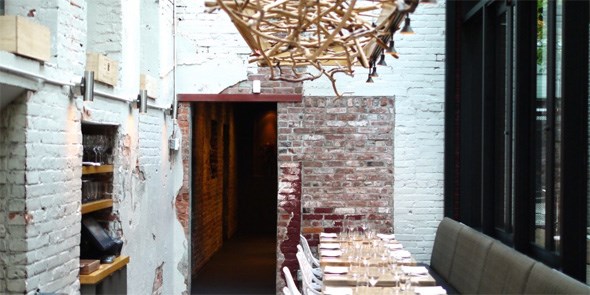 Whenever I'm at a loss for what to gift friends on their birthdays, I turn to the 'experience option'. Of course, my experiential gifts most always involve food. My absolute favourite not-in-a-box present for a loved one, is a progressive dinner.
What's a progressive dinner? It's a food-filled soiree that begins at "Restaurant A" for a cocktail and appetizer. A short walk away, you hit "Restaurant B" where you'll hunker down for cocktail #2 (or perhaps a good bottle of wine) and a scrumptious entree or more small plates to share. The last stop is "Restaurant C" where, of course, you'll grab a spoon and dig into something rich for dessert with an after-dinner drink or a pick-me-up latte. In the end, you've given the gift of an adventurous and celebratory evening…your friend will feel loved.
Here are three progressive dinner maps for you to try out in Strathcona Village. And trust me, each of these sips and bites have been chosen for one reason: you won't forget them.
Strathcona Village Progressive Dinner Map #1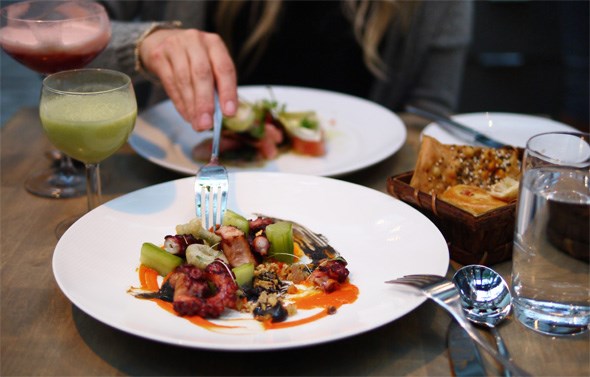 What to Drink: Clover Club Refashioned 
This gin-based, original creation by Shaun Layton — a top Vancouver bartender — is frothy with egg white, slightly citrusy, kissed with mint and far too easy to drink.
What To Eat: BBQ Octopus (pictured)
This could be the best octopus dish you've had. Crispy jalapeno rings, crunchy bread crumbs fried in fat, generous dollops of red pepper sauce, and ultra-tender morsels of octopus elevate this small-plate to the next level.
What to Drink: Dark and Stormy (pictured)
At Calabash, Vancouver's premier Caribbean restaurant, cocktails are given as much love as the food. The ginger beer in this famous Dark and Stormy is made in-house, the rum is always Bermudan (a requirement for authenticity) and a handful of coconut-kissed coconut ribbons are a most alluring garnish.
What To Eat: Jerk Chicken
Any dish inspired by a chef's grandmother has my vote of confidence. Marinated for a minimum of 12-hours in a blend of brown sugar, fruit juice, allspice, thyme, hot peppers and cinnamon, this sweet, sumptuous, mildly-spicy creation is  and was indeed inspired by Chef Cullin David's Guyanese grandma.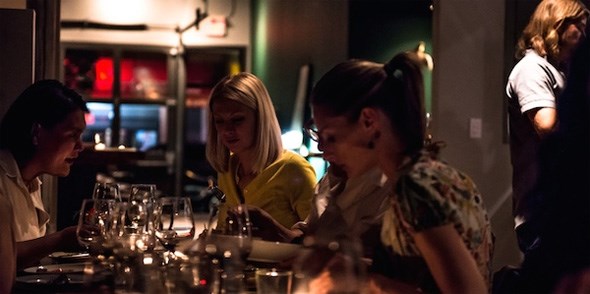 What to Drink: Pressed Apple Flip
Open until 1am on weekends, this is a great spot to close things down. Cocktails here are wild and crazy — and if you're in the mood for double dessert, try the heavy and wonderful Apple Flip with calvados, pisco, port, vanilla, apple juice and a whole egg.
What To Eat: Cobbler
Good things come to those who wait — in this case, 15 minutes for the boozy rhubarb pear cobbler (which is made a la minute) served with a big scoop of vanilla ice cream.
Strathcona Village Progressive Dinner Map #2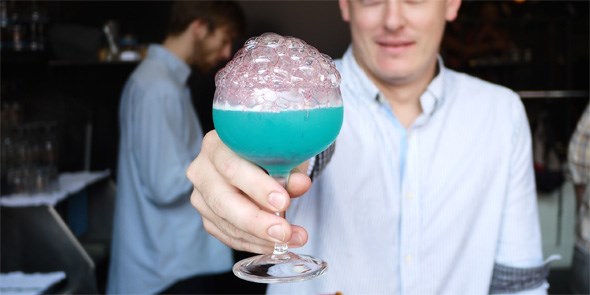 What to Drink: Bubble Tea (pictured)
Though highly-fun-and-creative bartender Buck Friend has moved on from this absolute gem of a restaurant, his fantastic cocktails remain. Try the Bubble Tea with gin, blue curacao, rhubarb bitters and hibiscus bubbles.
What To Eat: Two Way Eggplant
Chef Curtis Luk has very recently taken over Bambudda's kitchen reigns — meaning the food will undoubtedly remain exciting. Their sesame eggplant entree with irresistible crispy rice noodles and seasonal veg is one of the many modern Chinese plates to try at this stylish and charming corner joint.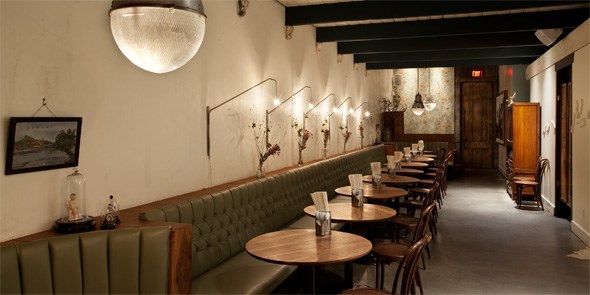 What To Drink: Chino Margarita
Trust that all Bao Bei cocktails are made with care, but this one is extra special: tangerine-peel infused Reposado Tequila, ginger, lime, egg white and a chili-salt-sugar rim. Boom!
What To Eat: Beef Tartare and Shao Bing
…and as many more small plates as you can handle. This is modern Chinese cooking at its best, and as a flexitarian, I can comfortably recommend these two meaty dishes as proteins here are sourced ethically and locally. The lean tenderloin tartare, served with a buttery quail egg and seasoned taro chips, is the best I've ever had.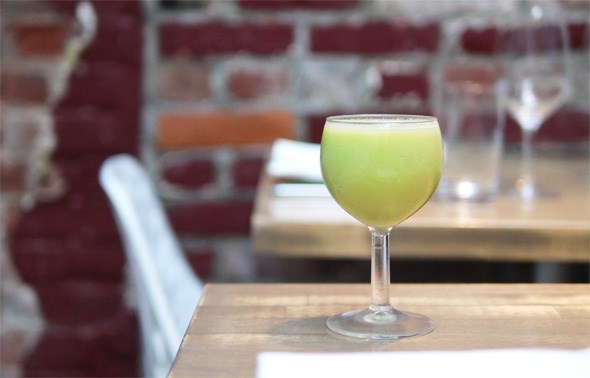 What to Drink: Avocado Gimlet
If you're questioning the use of avocado in a cocktail…don't. Shaun Layton, the mastermind behind this outrageously good liquid creation is one to be trusted, especially when he goes out on a limb. The rosemary and olive infused gin-based Avocado Gimlet is served ice cold, slightly thick with a hint of fresh lime juice.
What To Eat: Pumpkin Pie
Pumpkin pie in October feels so right, doesn't it? With pumpkin seed streusel and candied sugar pumpkin, this version is a fancier, lighter take on a classic.
Strathcona Village Progressive Dinner Map #3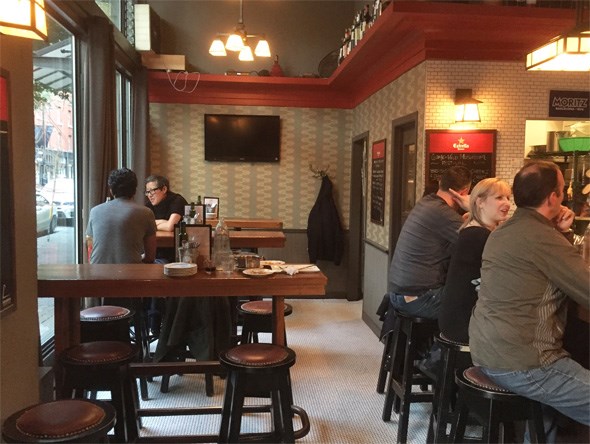 What to Drink: Torres Gran Coronas Cabernet Sauvignon 2009, Penedès
Because a bold red is a must while eating Spanish tapas…
What To Eat: Atun Crudo
You know how most of the tuna tartares out there are "pretty darn good"? This one is even better. Wedges of juicy orange and ripe avocado spring to life with hits of chili, lime and olive oil. Served with crusty crostinis, this super-fresh dish is one you'll go back for.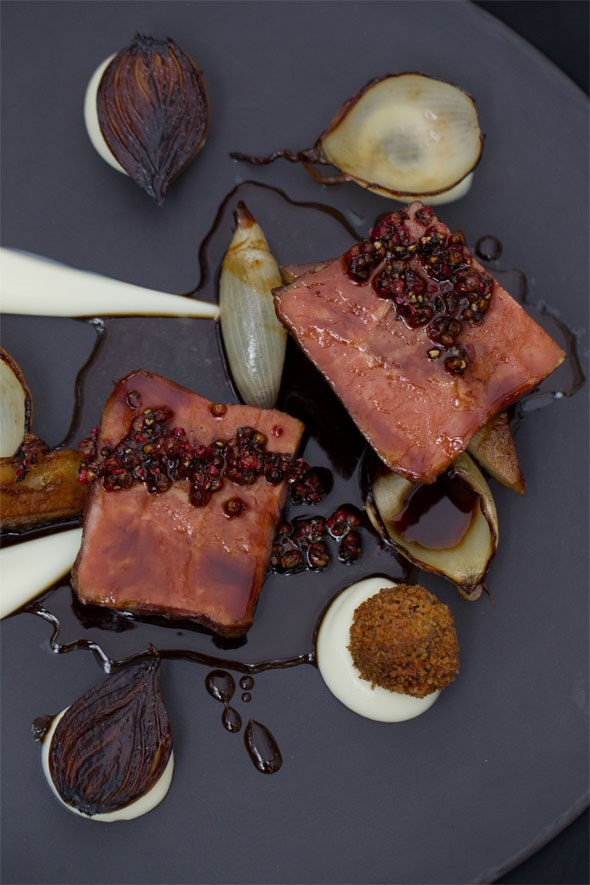 What to Drink: Glass of Clos Cibonne '13 Tibouren, Cotes De Provence, France
For best results, pair every single bite of your entree with a sip of this big French red. It goes down easy.
What To Eat: Steak Diane (pictured)
A staple on L'Abattoir's menu for good reason: it's not only one of the most beautifully presented steak dishes in the city, it's one of the tastiest, served with pommes dauphine (crisp potato puffs), charred onions and marrow butter.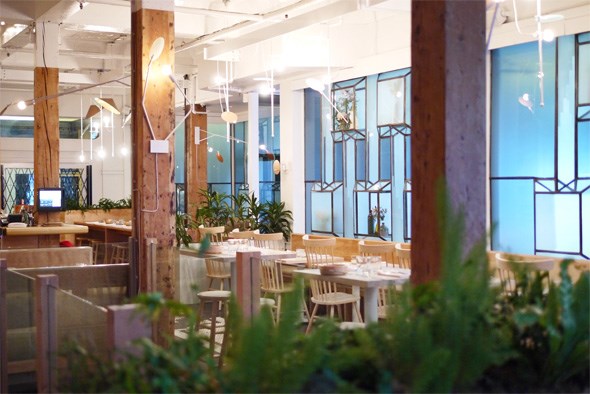 What to Drink: Giant Cedars
Go out on a limb with this cedar scented craft cocktail infused with sherry, Buffalo Trace Bourbon and Amaro. You can also finish your night downstairs at Blacktail's cocktail bar, Kanaka.
What to Eat: Chocolate Smores
A unique twist on an already fun dessert that's perfectly-portioned with chocolate mousse, meringue and graham crumbs.
As you've probably noticed, I've included many a reco for L'Abattoir in these maps. This is due to the simple fact that they provide a truly world-class experience, whether we're talking food or drink. Undoubtedly, they're one of Strathcona Village's best restaurants.
For more information on living in this up-and-coming, restaurant-centric neighbourhood, visit www.strathconavillage.com to register or head to 945 East Hastings in person for details.
It's time for our FINAL CONTEST — A $100 gift certificate to L'Abattoir is up for grabs.
To enter...
1. Post an image of either Gastown, Railtown or Chinatown (the 'hoods the makeup Strathcona Village) to Instagram (or tag an old shot).
2. Tell me why you love this area. Bonus points for passion, humour or creativity!
3. In your caption, include hashtag: #StrathconaVillage.
Good luck! I'll announce the winner on the morning of Friday, October 24th on Instagram.
[SPONSORED POST]