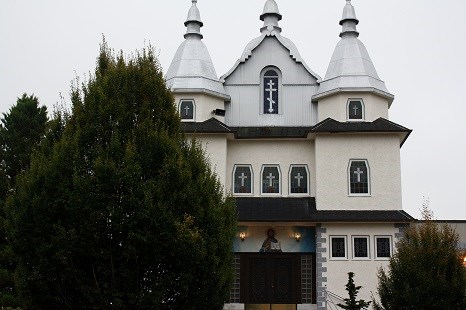 Since 1995, on the first Friday of every month, the Holy Trinity Ukrainian Orthodox Cathedral located in the hip Mount Pleasant neighborhood, serves up a traditional Friday Night Ukrainian Supper from 5pm to 8pm and all are welcome to attend. For perogie lovers this is a must eat.
Friday Night Supper is a fundraiser for the church and the cheese and potato perogies are handmade by parish volunteers who get together twice a month in the church kitchen to make over 5000 perogies. Handmade cabbage rolls and traditional borscht soup are made on the day of the Friday supper. These traditional perogies, cabbage rolls and borscht are made with pride.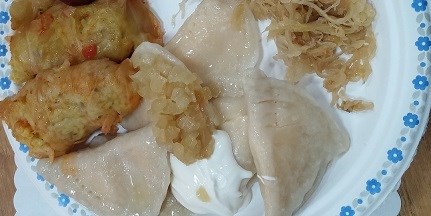 The regular dinner at $13.00 offers outstanding value and consists of 6 handmade perogies, 2 vegetarian cabbage rolls, Koubassa (traditional Ukrainian sausage) and your choice of sauerkraut or salad along with a heaping spoonful of sour cream. (Tip: definitely the sauerkraut) Add a big bowl of Borscht soup and rye bread for only $4.00. Vegetarian (without the Koubassa), mini-size and supersize dinners are also available.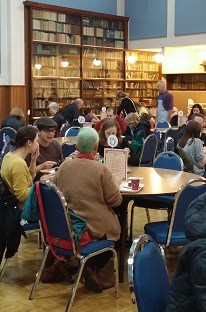 Parishioners, the local community and perogie lovers from across Vancouver make the monthly pilgrimage for the Friday Night Supper.  The line-up moves quickly and once inside you are greeted by a friendly host and given a menu to choose your dinner. Find your seat at one of the many large communal tables, then head to the cashier to pay for your dinner. Please note this is a cash only event. Then it's onto the heavenly food station to have your dinner assembled by smiling volunteers. Sit down and delight in your loaded plate of perogies, cabbage rolls, saurerkraut and Koubassa. Everyone leaves with a full and satisfied belly. Yes- the road to heaven is paved with perogies.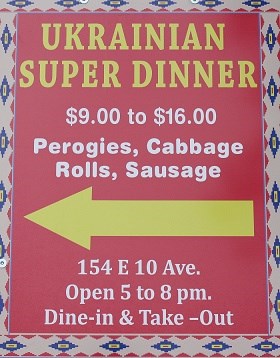 The monthly dinners are so popular there is also a separate line for take-out dinners. Mark your calendars, the Friday Night Suppers are not to be missed. The next upcoming dinner, is this Friday, November 6th. See you there.
Holy Trinity Ukrainian Orthodox Cathedral
All ages welcome.
154 10 Ave. E
Friday Night Suppers- held on the first Friday of every month