The Okanagan wineries are pulling out the Christmas lights, bringing in the carolers and offering special discounts on wine during their holiday open houses happening November 27th to December 6th. Take advantage of fabulous winter hotel rates with a weekend escape to Okanagan wine country and enjoy the magic of the holidays.
Summerland's Bottleneck Drive Wineries hold their 5th Annual Light up the Vines event on Saturday, November 28th and Sunday, November 29th with over 12 wineries participating. This unique wine touring event happens in the late afternoon and evening to enjoy the holiday light displays that the wineries have created including lighting up their vines.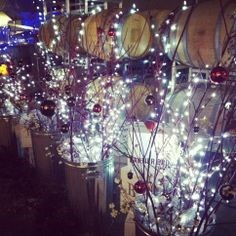 Eat: Both brunch and dinner can be enjoyed with a reservation at the award-winning Local Lounge Grille Restaurant directly joined to the Summerland Waterfront Resort hotel. Enjoy dinner at a winery and head to the beautiful Vanilla Pod restaurant at Poplar Grove Winery which is a 20 minute drive from the Summerland Waterfront Resort and cab service can be arranged.
Stay: The Summerland Waterfront Resort Hotel offers an excellent accommodation package that includes a wine tour shuttle for the Light up the Vines event, starting from $211.00. Customized wine tours can also be booked with Grape Escape Wine Tours and Distinctly Kelowna Wine Tours.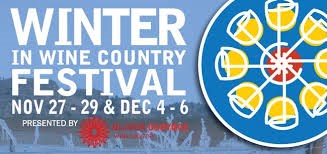 The Oliver Osoyoos Wineries Winter in Wine Country Festival with 30 wineries participating happens on both the Nov.27-29 and Dec.6-8 weekends. Wine tours along specific routes can be pre-booked with Top Cat Wine Tours as per the Oliver Osoyoos Winery Association website or create your own customized wine tour with Grape Escapes Wine Tours or Wine Tours Gone South.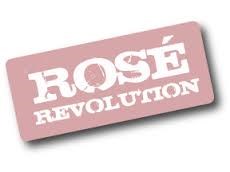 Part of the Winter in Wine Country Festival, The Rosé Revolution event happens on November 28th from 7:30pm to 9:30pm at Hester Creek Winery with 18 wineries participating. While it's winter in Canada, it's summer in Australia and the Rosé Revolution event celebrates drinking dry rose year round. Tickets for the event are $35 and include 4 wine tastings, appies and live entertainment. Extra tasting tickets available for $1. Transportation from hotel resorts in Osoyoos to Hester Creek winery for the Rosé Revolution event are available from Top Cat Tours for $25 per person.
Eat: Enjoy dining at one of the award-winning Oliver/Osoyoos winery restaurants including Miradoro Restaurant at Tinhorn Creek Vineyards, Terrafina Restaurant at Hester Creek Estate Winery and Sonora Room at Burrowing Owl Estate Winery which are open for both lunch and dinner during the Winter in Wine Country weekends.
Stay: Osoyoos boasts 3 beautiful resorts which all offer excellent winter rates. After a hard day wine touring, relax in a hot tub underneath the stars. Walnut Beach Resort from $139.00. Watermark Beach Resort from $139.00 Spirit Ridge Resort from $159.00.
Other winter holiday wine events happening in the Okanagan include the Okanagan Falls Winery Association Holiday Cheer Open Houses (Nov.28-29), Kelowna Fab Five Wineries Winter Wine®land (Nov. 28), West Kelowna's Westside Wine Trail Sip into the Season (Dec.6) and the Similkameen Winery Association's Christmas Wine Open House Tour. (Dec. 5-6).   Please see respective websites for further details.
By car: Vancouver to Summerland approximately 4 hours and Vancouver to Oliver/Osoyoos approximately 4.5 hours. Please note if you are driving from Vancouver to the Okanagan your car or car rental must have snow tires.
By air: Flights from Vancouver to Penticton airport by Air Canada, approximately 1 hr flight.  Flights from Vancouver to Kelowna airport by Air Canada and West Jet approximately 1 hr flight. Car rentals are available at both airports. Also, transportation from the Penticton/Kelowna airports to hotel resorts in Summerland and Osoyoos as well as private winter wine tours can be booked with the following wine touring companies: Distinctly Kelowna Wine Tours, Grape Escapes Wine Tours, Top Cat Wine Tours and Wine Tours Gone South. Please contact directly for rates.

Winter in wine country offers the the beauty of snow-covered vineyards and fabulous wine tastings. Tis the season.