When it comes to tips about enjoying cocktails in Vancouver, Lauren Mote is a bit of ringer.
The award-winning Canadian mixologist and author of the new book A Bartender's Guide to the World actually called Vancouver home for several years, crafting cocktails at some of the city's top spots and launching her business Bittered Sling with her husband, chef Jonathan Chovancek.
Drawing from her globe-crossing travels in over 60 countries, Mote's beautiful debut tome melds storytelling that connects ingredients and their enjoyment in drinks with recipes to try your hand with from your home bar cart.
Vancouver Is Awesome connected with the globetrotting consultant and drinks pro on the heels of the book's release to learn a bit more about Mote's time in the city and to get some tips for not only upping our own cocktail-making skills in the face of inflation but also how to make the most of enjoying drinks and making memories while travelling.
The following interview has been edited and condensed for clarity.
V.I.A.: Your book begins with a cocktail recipe inspired by Vancouver - and you go on to include several more drawn from your experiences in the city and province. What about Vancouver continues to influence you in your cocktail-making career, or life in general?
Lauren Mote: I like to consider Vancouver as the second chapter of my career. I landed in Vancouver in 2007, after a successful first chapter in Toronto – learning silver service and fine dining detail, wine, food, and working across various management roles. I wanted nothing more than to work in the atmosphere and environment of Canada's wine country, and the spotlight on some of Canada's best chefs in the land of mountains and ocean – it was the perfect next step.
From Lumiere to Goldfish, Chow to Refinery, UVA to Kale & Nori, Four Seasons to Bittered Sling, each entry on my Vancouver CV gave me more interesting experiences, met more interesting people, and put me in a position of training and mentoring more bartenders, while pushing the envelope of what was possible to showcase Vancouver on the global stage – together, as a community.
Two of the defining moments all of us were part of were the Vancouver 2010 Olympics and 2012 Tales of the Cocktail on Tour Program. Both events pushed each of us to greater heights in Vancouver, and still to this day, it feels like Vancouver's still one of the best-kept secrets in the world, even with a smaller population than the rest of Canada's super-cities.
What do you think the quintessential "Vancouver" cocktail is? How should locals and visitors looking to discover the city's cocktail scene shape their drink-ventures?
Many Vancouver writers have chronicled the varied history of Vancouver's "classic cocktails" over the years, including drinks like the iconic and historical Vancouver Cocktail & the Hotel Georgia, [and] the newer classics that showcase some of Vancouver's finest bar talent. Drinks like the Chartreuse Milkshake (my drink, featured in my book from 2008), Jay Jones' "Four Horsemen" and Shaun Layton's "Avocado Gimlet" & "Meat Hook" are among them.

Here's my extended list of essential Vancouver drinks from 2017; I'm sure there are new ones, and I'm looking forward to coming back to Vancouver and tasting through the next generation of Vancouver-centric cocktails.
Did you find yourself struggling with not being able to travel during the pandemic? If so, did that influence how you approached curating and writing your book?
I found the sheer sadness of our industry, and what all of our friends were going through around the world really painful. It's difficult to write passionately and excitedly when the state of the industry was so bleak. Furthermore, thinking ahead to the time this book would be published, what would be the state of the industry?
A lot of uncertainty, but I tried my best to focus all the stories on what really matters – people. Even though the stories are centred around travel to a time and place, there are always people at the heart of the story, and if the pandemic taught us anything, it's that re-prioritizing to invest in people is the most important thing.
I'm happy to see that things are getting better, but the devastation from the pandemic is far from over – we are in the middle of a global staffing crisis, and new staff are not joining the industry as quickly as they did before. This presents an opportunity for all of us in the industry to create nurturing spaces for new team members and new, improved incentives, work/life balance, and training programs for passionate folks to get the most out of their work in bars, restaurants, and hotels.
What destinations - and perhaps culinary or cocktail experiences - remain on your bucket list?
I would love to spend more time in India – I have been lucky enough to visit New Delhi, Bangalore, and Mumbai, but there's still so much to discover.
The way I eat and enjoy experiences has also drastically changed – it's less about the place as the destination, but the company I'm with (whether the staff or a group I'm with) – socializing with food and drinks. I tend to spend more time in neighbourhood venues, seeing my dollars hard at work, supporting small businesses and people, rather than huge locations that might have more of a backing – although there's a time and place to experience everything.
To be honest, I am happy for great service, product offering, and ingredients - those are the drivers for me.
With the increased cost of living and prices up at the grocery store and restaurants, more people may not be going out as much. What tips do you have for people to bring the bar experience home without having to spend a bunch of money?
I think our tastes have changed. During the pandemic, we were all forced to up the ante of our food and drinks at home. This put us all in a situation of being mindful of our choices when we went out into the world again, to pay for great, memorable experiences. Whether a beer and a snack or something more were involved, we are all a bit more mindful.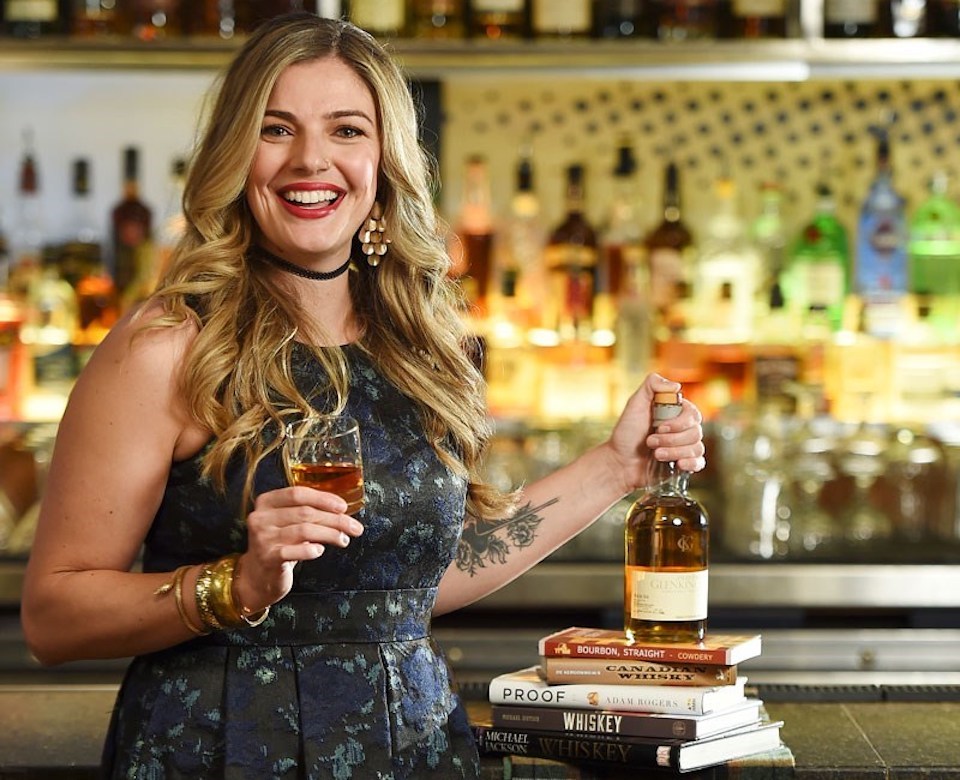 At home, this has again transformed. More access to ingredients, tutorials, occasions, and resources make it possible to elevate the home experience – there's so much more we can curate in the home space, and this also allows more support for those with small children that might not be able to find a sitter, and especially those in areas with limited access to taxis and public transportation while out for the night. Both on- and off-premise (as we say) are continuing to increase, making it possible to have wonderful experiences, regardless of the circumstance.
What do you recommend travellers look for when they want to have a memory-making cocktail or bar experience that reflects where they are visiting?
Everyone should have a travelogue – this book, for me, represents years and years of journaling, illustrated by cocktails. Even if it's a few sentences, everyone should jot down their experiences – you never know what you might use them for. Taste memories stay with you forever – wouldn't it be nice to recall the moment in time to share with others?
What food and/or drink from Vancouver do you miss the most?
Two things and they are easy ones:
1. The ethereal cloudy chicken Tan Men at Marutama Ramen, and the vegan Hazelnut Noodles at Harvest. (Editor's note: Marutama has just rebranded as Maruhachi.)
2. Drinks. I desperately miss the Vancouver bartending scene. I just look forward to coming back, ponying up to the bar, and tasting the latest creations with Bittered Sling bitters and their creative brilliance.