Hey, remember me?! Yeah, OK, maybe not. I don't post very often. But when I do make a post, know that it's because I'm really stoked!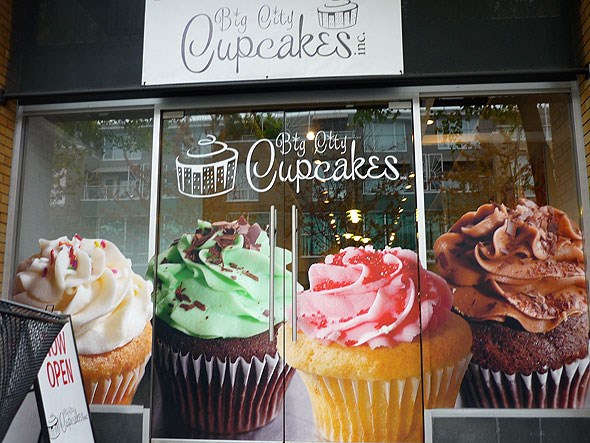 Today I want to share with you my love for sugar (and this won't be the last time). Oh it's sooo bad, but sooooo GOOD! I really do have an addiction. My Grandma ran a bakery when I was a child, OK. I lived off of butter tarts, and muffins of all sorts, and the most incredible cinnamon buns on the face of Earth! That's my excuse. Despite my addiction though, I won't just settle for any old sweet treat. I'd like to think that my sweet tooth is about as refined as the sugar itself.
A couple days ago I was in Kitsilano when I spotted a new shop on 4th just West of Yew St. "Now Open. Big City Cupcakes", read the sandwich board. Though I didn't need to read that to know that there were cupcakes inside. The giant cupcake decals on the window gave that away. And they drew me in like a moth to a flame. Once inside, I was overwhelmed by the choices. I had to have one, but which one!? After Dinner Mint, Lemon Drop, Strawberry Shortcake, Chocolate Cheesecake, and on and on. Butter cream icing, and cream cheese icing. Some even had stuff in the middle! Finally I decided to get one called, "Red Carpet." The cake itself was a dark red colour. Have you ever seen red cake? I've had it before and it's kind of a weird sight, but tasty nonetheless. On top of my red cupcake was a lovely swirl of cream cheese icing. Each bite of my cupcake was heavenly. I wish I could have eaten more. I will surely be back to try other flavours in the future. Maybe more often than I should once they open up shop at Cambie and Broadway. There is already also a location at 1015 Howe St for you downtown folk. As well as a few other future locations, including one in Coquitlam Center, and another in Metrotown. So when your sweet tooth starts to ache, I highly recommend you check out Big City Cupcakes.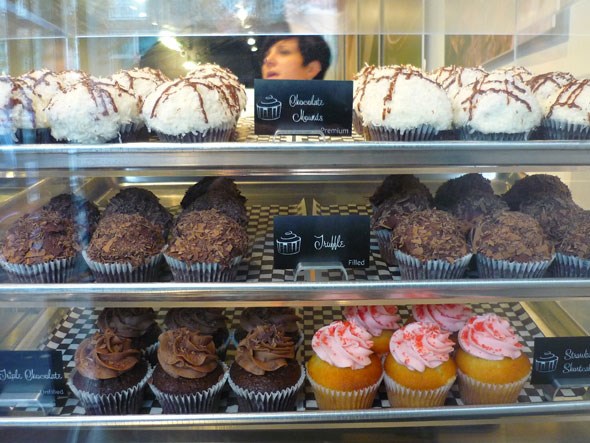 PS - Let me know what flavour(s) you try.