Cookbook author Naz Deravian immigrated with her parents to Vancouver in 1982, but you might be surprised to know what she had as her first taste of Canadian food.
"My very first meal in Vancouver was a McDonald's Quarter Pounder with cheese," Deravian says.
Nearly 40 years ago, Vancouver wasn't exactly the food-lover's paradise it is now, but the Iranian-born Deravian has profound memories of eating here with her family, at home and in restaurants, that stick with her today.
In her debut cookbook, Bottom of the Pot, the actor and blogger uses memories to take readers and recipe-followers into her world, bringing to life the scents, sounds, and tastes of Persian cuisine.
Deravian and her family fled Iran in 1979, first bound for Italy, then a couple of years later to Vancouver, where they ultimately remained, setting up in North Vancouver for several years before moving to Kitsilano. Though Deravian left Vancouver after university to pursue acting in Los Angeles, and has settled and built her life and family there, she returns to Vancouver often, and considers it home.
Still, Deravian says she is part of what she calls the "in-between generation," of Iranian immigrants who grew up having "one foot it and one foot out," of a given country. She says assimilating as a child in Vancouver was challenging, and she faced teasing and the kind of other-ing newcomers to a country often face when images circulating in popular media of their homeland are troubling.
Some of those stories and emotions are in the fabric of the tales Deravian weaves into her culinary writing. Bottom of the Pot is at its core a call to the table, a heartfelt invitation to sit down, to listen, to talk, to create understanding, and, most importantly, to eat.
Deravian's food memories begins with rice, and that is where she suggests home cooks begin. She offers tips, techniques, and options for making Persian rice--though make no mistake, she emphasizes it is Persian rice. Whether it's the wow-factor of the tahdig, that crunchy golden layer at the titular bottom of the pot, you're going for, or a more familiar rice made with the absorption method, Deravian wants nothing more than to open the door for you into the joy of Persian cooking.
Bottom of the Pot is written for the curious, and Deravian acknowledges that many are hesitant and intimidated to dive into Persian cooking at home. "But this is home cooking at its best, at its heart and soul, meant to be shared with friends and family," she explains.
That hesitation is actually what led Deravian to launch her blog (which caught the attention of her eventual publisher). With friends curious enough to want to get into the kitchen and try Persian recipes, Deravian became their sage and chief dispenser of advice on how to carry out the steps of the dishes. Rather than repeat herself via email, the concept of doing it on a blog came up, not surprisingly, at the table during a meal.
And so Deravian has inspired many to slip into a Persian market to source ingredients, to bring home vibrant green herbs--a staple of the cuisine--to put to use in fragrant and colourful dishes. They are dishes whose vibrancy is beautifully represented in the cookbook's photographs by Eric Wolfinger, too.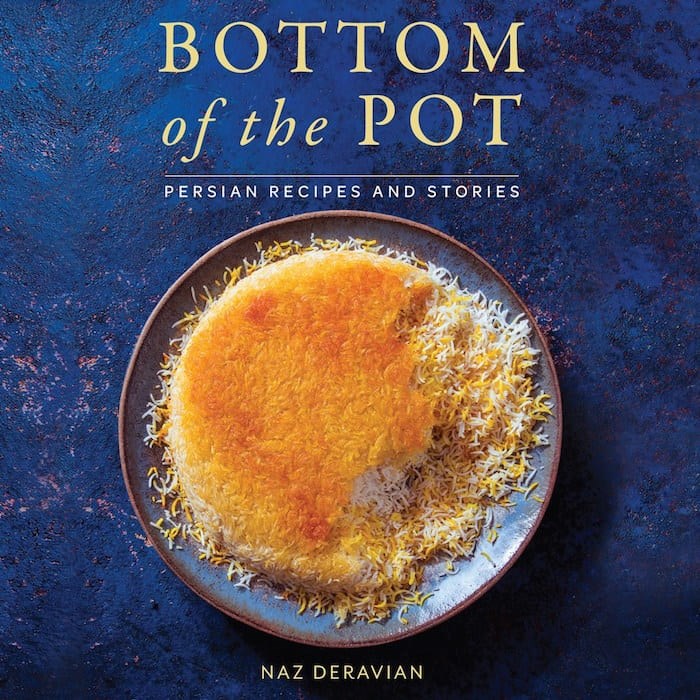 Above all, Deravian hopes home cooks come to know that Persian food "is not impossible to make."
"Yes we have some dishes that are more complex and time consuming," Deravian continues. "A good stew should be time consuming. It needs that time to sit and come to life." But then, she adds, she totally gets that sometimes you just need a quick dish to get on the table for your family on a Tuesday night. 
Stews (khoresh) get their own chapter in Bottom of the Pot, and the essay for their chapter is called "Soul." Stews are the soul of the cuisine; Deravian says they exemplify what home cooking means so much to her that it's the kind of dish she does not ever order in a Persian restaurant.
Deravian does, however, remember the lengths her family would go to in Vancouver in the 1980s to reproduce the more restaurant-y kababs at home, which comically involved the use of a borrowed grill, an extension cord, and a hair dryer. Fortunately, none of her kabab recipes in Bottom of the Pot ask quite that much of us.
The simple ask is that we give Persian cooking a try. Vancouver, as many other cities are, is home to eaters with broader palates than when Deravian first landed here. "It goes back to knowing in my heart that it's good food. It's delicious," she attests.
Though there is still that sense of being an "in-between" who is Persian in her heart, but also Canadian, and, to some extent, American, Deravian has absolutely no uncertainty about her culinary mission:  "I love to feed people, more than anything."
You can find Bottom of the Pot at bookstores across Canada and the U.S.