Food Cart Fest 2013 is upon us! Today was the first Sunday of the festival, and it will run every Sunday from now until September 22nd. Let me be the voice of reason in your life by encouraging you to attend this event at least once this summer. Can't make it because you're tired? Drink coffee. Have to work on Sundays? Call in sick. Afraid of being stuck in traffic? Ride transit. You probably wouldn't find free parking nearby anyway. No excuses, people.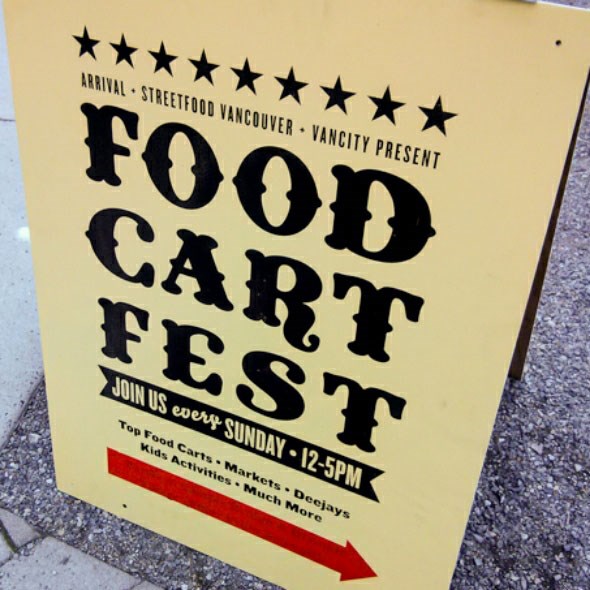 Four food trucks were sampled today, giving us a wide range of choices to excite your palate. At least 25 vendors will be participating this year, but we won't overwhelm you with too much all at once, so let's get down to business. The first taste was from Dougie Dog, the same guys who gave us the world's most expensive hotdog last year. Fortunately, there are some cheaper options, and the LA Mexicana hotdog satisfied my hunger for spice. Washed it all down with their own craft root beer.
Dessert-type trucks are rare, but one of the few that deserves some attention is Johnny's Pops. While other trucks are operating out of kitchens larger than my entire apartment, Johnny's is basically a popsicle stand attached to a bicycle. Despite its small size, nobody should assume they are lacking in flavour. For the kids, the Creamy Strawberry Lemonade popsicle is definitely a crowd-pleaser. For the adults, the Blueberry Mojito popsicle is heavenly. At $3, it's absolutely worth every penny (even though we don't like pennies anymore).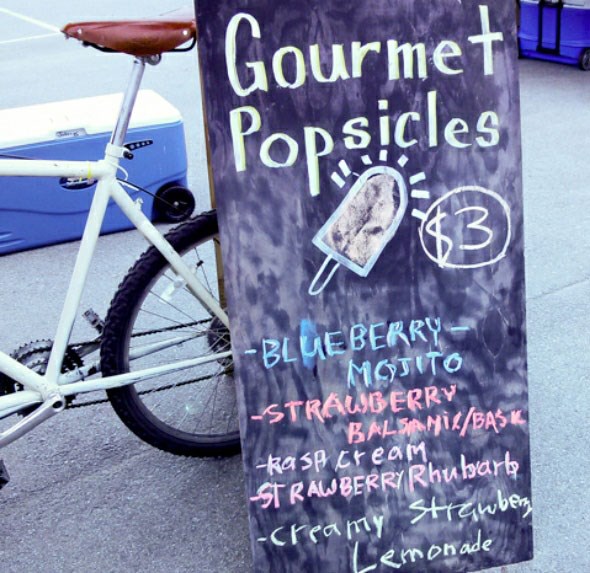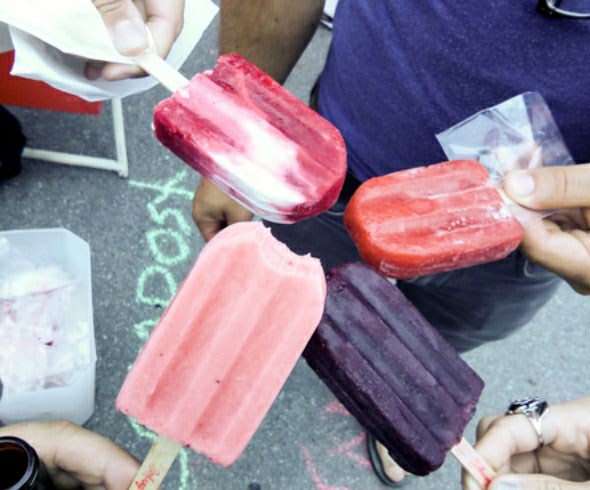 Why should you eat lunch from a food cart? Some people (read: simpletons) say that it reminds them of cheap, dirty pseudo-food that is found in less-developed countries. Not true, I argue. Most food trucks have a home address where the same meal is served out of a stationary kitchen, but when you buy from a street vendor, your lunch is prepared fresh in front of you. It is definitely not easy to run a food truck, so the people operating the grill are the ones who do it for the love of food. You're basically getting great, fresh food from people who love to cook and serve you. Also, keep in mind that food truck permits are awarded to businesses that the city deems excellent. If all that doesn't convince you, then at least come out to see these guys happily play their awesome music. They'll get your feet moving so much that you won't be able to resist the food.