Who else is thankful that Vancouver is home to one of the most diverse food scenes in Canada? There's no better time to feast on the incredible eats the city has to offer than at that time of year when we are prompted to come together to the table to give thanks for the harvest and our bounty.
While there are plenty of traditional Turkey Day feasts available in Vancouver to enjoy in restaurants or to bring to your home table, there are also some great opportunities to take a bit out of tradition and enjoy something a little different. We've got Thanksgiving meals loaded into a sandwich or pie, or fresh from the sea, or showcasing the vibrant flavours of another country - and some that don't have turkey or even meat - at all.
Sun Sui Wah: Turkey-Free 8-course Thanksgiving Set Menu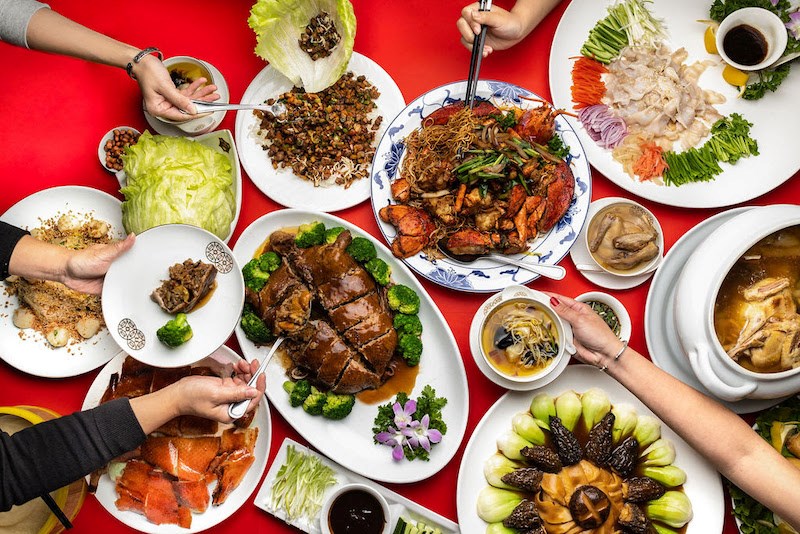 Move over turkey dinner: Sun Sui Wah's Thanksgiving menu for 10 features an eight-course meal with Fresh Clam & Mustard Green Tofu Soup; Rainbow Shredded Chicken with Preserved & Fresh Vegetables; Peking Duck two ways; your choice of Pan-Fried Fresh Lobster & Egg Noodles or Sautéed Fresh Crab with Vermicelli Hot Pot; Braised Morels with Abalone & Fish Maw; Spicy Fish Fillet with Sichuan Pepper Oil; Fried Rice with Scallop; and classic Cantonese-style dessert. Guests have the option to upgrade their meal with Double Boiled Squab with dishes like Gastrodia Elata Soup, a traditional squab soup slow-simmered with herbs for over three hours; Rainbow Shredded Live Geoduck, a dish made with saltwater clam inspired by Southeast Asia; and Eight Treasure Braised Duck, a tenderly marinated boneless duck filled with a flavourful, savoury stuffing.
Potluck Hawker Eatery: Harvest Fried Chicken Meal Set & Dessert Club collab treats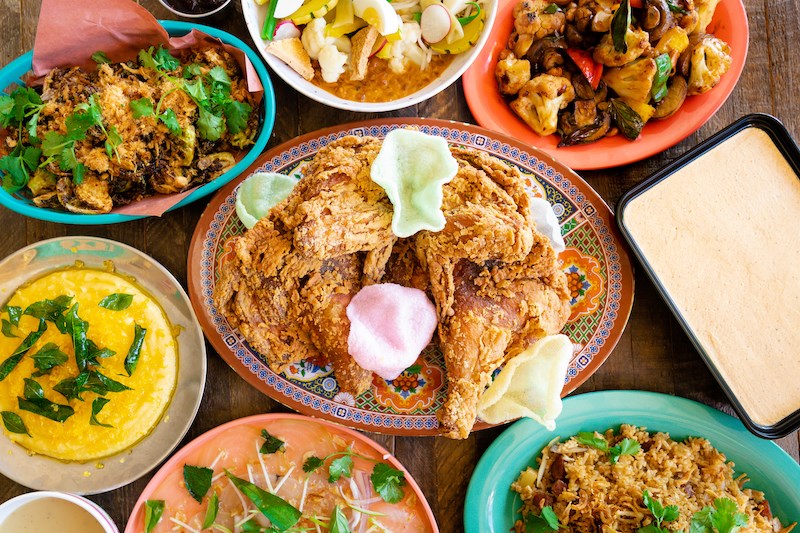 The Potluck Harvest Fried Chicken Meal Set is available for pre-order now and features executive chef-owner Justin Cheung's famous coconut milk fried chicken, paired with a variety of Southeast Asian "fixings" and The Dessert Club by Sam Shem's Pumpkin Spice Ice Box Cake. Shake up traditions with dishes like Salted Egg Yolk Mashed Potatoes and Pineapple Nasi Goreng, among others. Guests can pre-order now via Tock for pick-up only from the Cambie Street restaurant on Saturday, October 9 and Sunday, October 10, from 4 until 7:30 p.m.
Maenam: Turkery Tasting Menu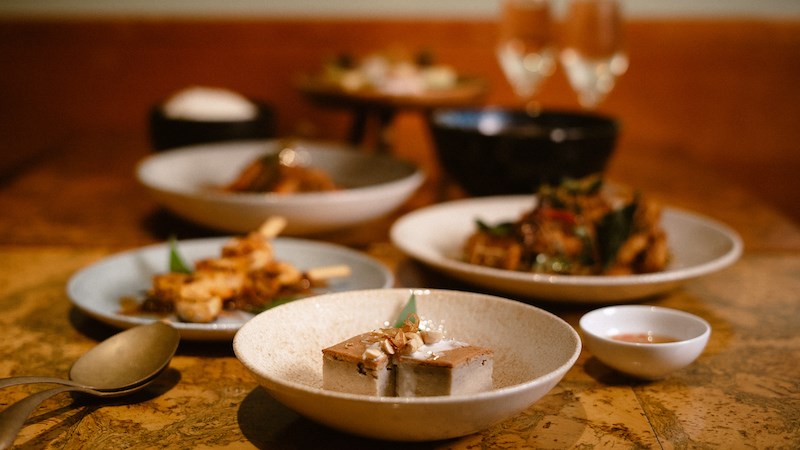 Kitsilano's award-winning Maenam puts a delicious Thai twist on Thanksgiving with the vibrant flavours of lemongrass, galangal, and bird's eye chili. Available October 5 through 10, Maenam's Turkey Tasting Menu features five flavourful dishes to share, each thoughtfully created to complement turkey as the showpiece ingredient. This impressive limited-time family-style menu features Turkey Tom Kha coconut soup, Turkey Roulade with Gola curry, Brussels Sprouts Salad, Stir-fried Chanterelles, and Pumpkin Mor Kaeng Custard with cranberry compote. Dine-in is priced at $66 per person (minimum two guests), and the takeout set that serves two to three people is $125. Both dine-in Turkey Tasting Menu reservations and takeout slots are available for October 5 through 10 on a first-come, first-served basis by calling Maenam at 604-730-5579; booking well in advance is highly recommended.
Meanwhile, Freebird - the casual take-out only "wing" of Maenam's delicious ops - is offering a Freebird at Home by Maenam "Fall Feast." The meal includes a whole Asian-style salt-cured Roast Chicken, Crispy Sticky Rice made with chicken drippings and other delicious fixins, and Pumpkin Mor Kaeng Custard with cranberry compote for dessert. The Fall Feast feeds two to three people and is priced at $70. Freebird at Home by Maenam Fall Feasts can be preordered by calling 604-730-5675; 24 hours' advance notice is strongly encouraged, and all takeout orders can be picked up at Maenam (1938 West 4th Avenue). Delivery will be available via UberEats.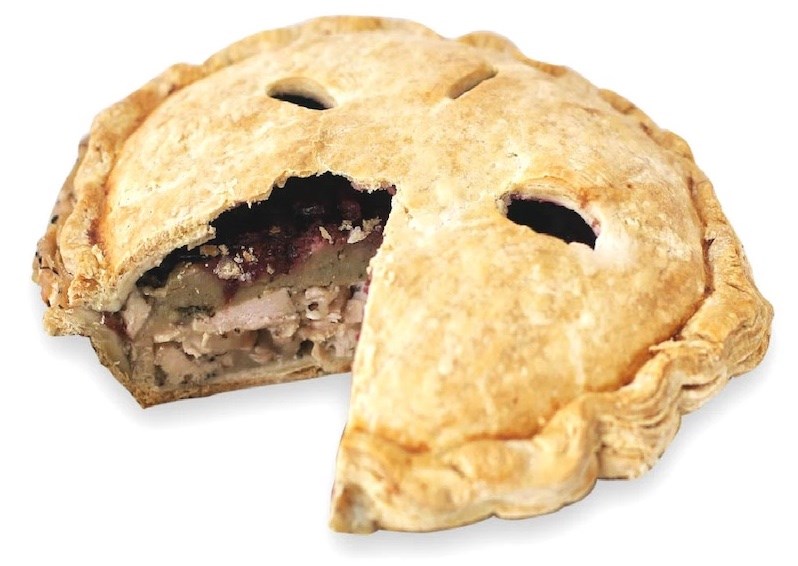 Why bother having separate dishes when this one creation puts the whole Thanksgiving spread in one pie? The Pie Hole's limited edition Turkey Dinner Pie features slow roasted turkey, house-made cranberry sauce, mashed potatoes, stuffing, and gravy all wrapped in the bakery's signature "Double Butter Crust." Get it while it's hot - it will definitely sell out.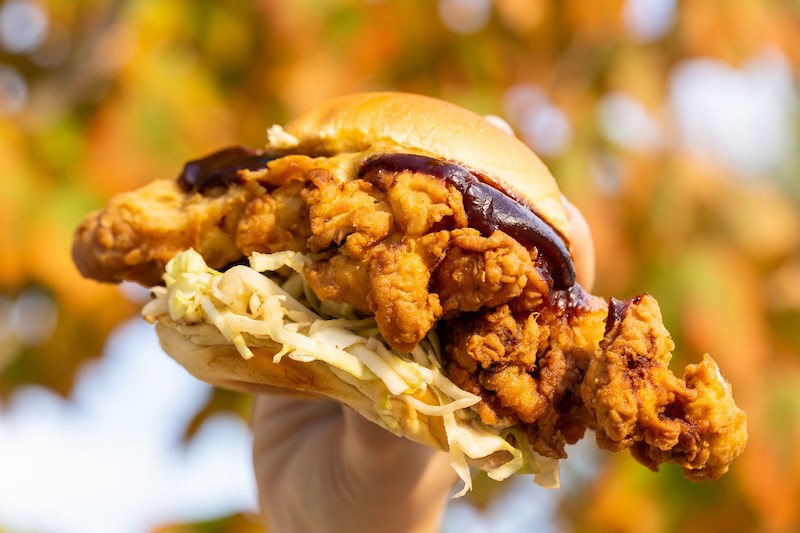 Available from October 4 to 11 for dine-in and take-out at all DownLow Locations (DL Chicken OG, DL Chicken UBC, and DL Burgers at The American), the Holiday Sando features crispy fried chicken on a bed of slaw with flavours of stuffing, mayo, and cranberry gastrique, served on a pillowy Martin's Potato Roll. First come, first serve.
The downtown seafood restaurant will be offering a $99 set menu for two for Thanksgiving weekend, available Friday, October 8 through Monday, October 11. The menu includes a half-dozen fresh west coast oysters, Fanny Bay's hot Seafood Platter with some special Thanksgiving-inspired sides, and to finish a pumpkin-spice brûlée. For a Thanksgiving take-out fresh from the sea, Fanny Bay's shellfish market will have a raw bar tapas box for $58.80 (includes a dozen oysters, a shucking knife, lemon mignonette, prawn cocktail, geoduck sashimi, marinated octopus, tuna tartare, smoked mussels) and a seafood box for two for $88.48 (includes a dozen oysters, shucking knife, lemon, mignonette, half a Dungeness crab, a mixed mussel and clam steamer kit, cold smoked scallops, and spring salmon lox).
Beetbox: Vegan Hot Turkey Sandwich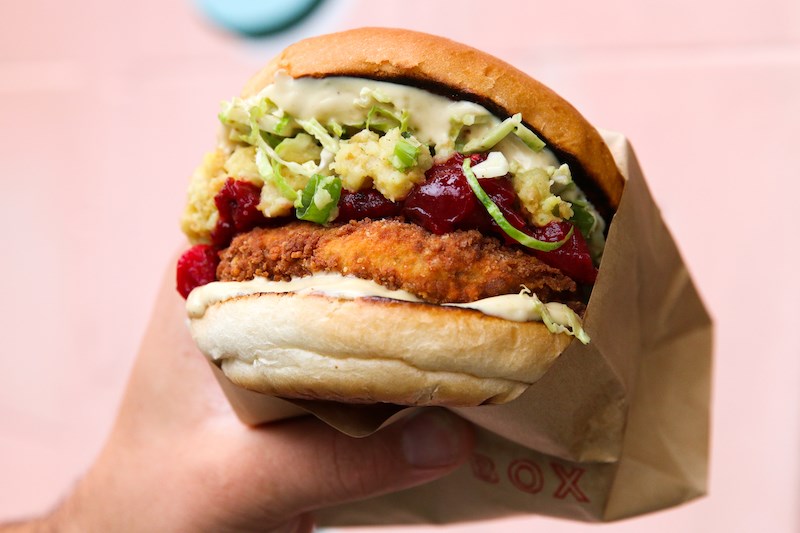 Available October 5 to 11, the West End's plant-based gem Beetbox is releasing a vegan Hot Turkey Sandwich for their weekly Fall Feature. In addition to the vegan turkey, the sandwich includes cranberry sauce, celery stuffing, Brussels sprout slaw, and gravy vegan mayo, Available for dine-in and take-out for $12.
If you like your T-giving with some southern-fried flair, check out the Turkey Tailgate at Strange Fellows Brewing on Oct. 9-10, when the Rosie's team will host Vancouver's first-ever Southern-style turkey fry. Rosie's will be deep frying full turkeys which will be offered as full dinner kits alongside Turducken roasts, whole briskets, country hams, and more. These turkey meals will be available in limited numbers by pre-order only from Rosie's website.
Torafuku: Fall Omakase Menu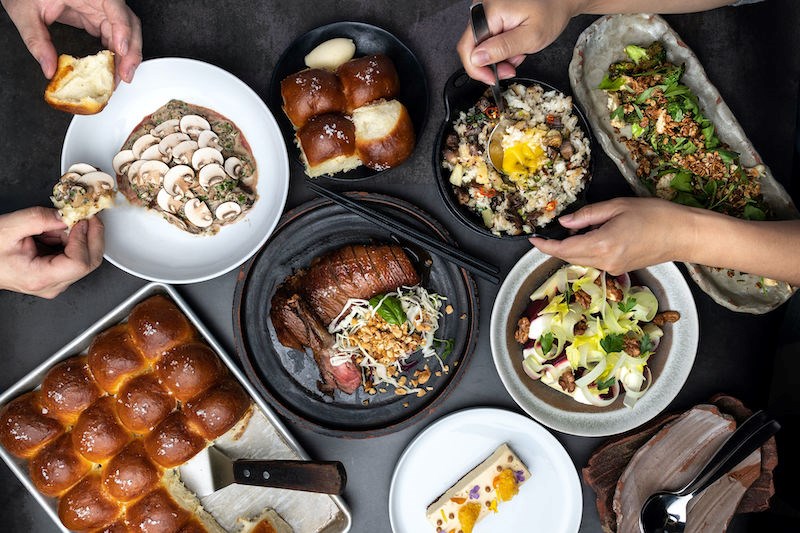 Acclaimed Vancouver pan-Asian eatery Torafuku has launched a fall omakase just in time for Thanksgiving. For those looking for an alternative to turkey, this fall feast featuring options including Roast Duck, Steak Dianne or Steelhead Trout Papillote and an array of sides that nod to the traditional. The new offering is available starting October 6 for dine-in. Guests will have the option to savour the new offerings in the restaurant as a seven-course omakase for $60.00 per person (two-person minimum) or order dishes a la carte. The full menu can be viewed here.
Nuba: All the sides (with some Lebanese flavours)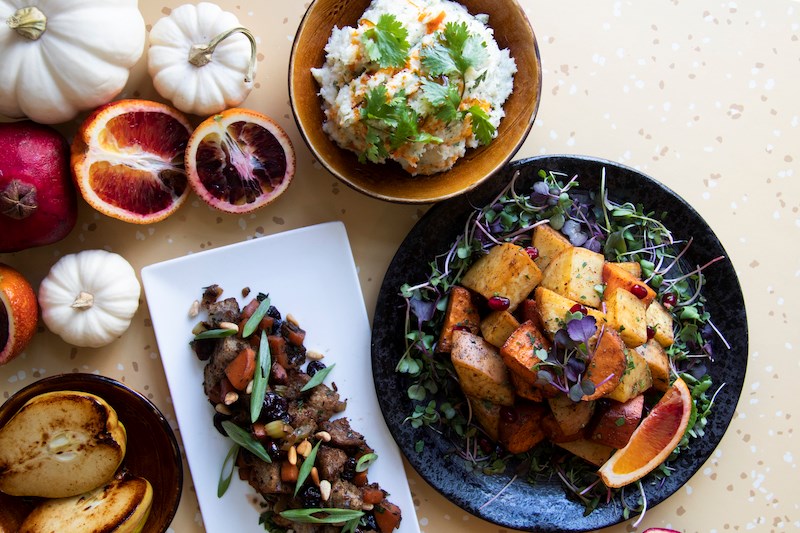 You focus on the main, and Nuba will handle the sides. The popular Lebanese restaurant has got its popular Thanksgiving sides package for $79, which includes Onion Walnut Bread, Zhatar Brussel Sprouts, Pomegranate-braised carrots, Mashed Parsnip, Pear and Feta Arugula Salad and Roasted Sweet Potatoes with Yam and Pumpkin. Orders are open now until 6 p.m. on Friday, October 8, and can be picked up from any of Nuba's four Vancouver restaurant locations on Oct. 9 or 10. Call your preferred Nuba location to get your order in.
Uva and Cibo: Thanksgiving in the Big City cocktail
Cheers to the fall harvest! The Thanksgiving in the Big City cocktail is available at both Uva and Cibo from Sunday, October 9 to Friday, October 15. Inspired by fall in Vancouver, this exclusive cocktail is made from fat washed buffalo trace, Cinzano sweet vermouth, punt e mes, lilet rose, Chambord and Orange Tree bitters.