When Hachiro opened up in 2019 in North Vancouver's busy mid-Lonsdale area, the ramen-centric 40-seater was powered by a brother-sister duo looking to offer a dynamic dining experience for an array of customers while showcasing their Japanese heritage.
Of course, these days when you ask any restaurateur how things have been going since you last saw them pre-pandemic you can likely expect them to draw a deep breath before answering. The last year and a half have for so many restaurants been a time of profound change and endless adjustments but for Brooke Naito-Campbell her experience as Hachiro's owner has changed significantly, and now she and her team are ushering in a new chapter, with some exciting new menu items to boot.
Naito-Campbell launched Hachiro with her brother, who trained in the Chiba region of Japan to perfect his ramen technique and flavours, and whose dishes comprised the restaurant's initial menu. Recently Campbell took full ownership of Hachiro, and brought on a new chef, Addy Gowe.
Gowe, whose previous local experience includes the kitchens of Bufala Edgemont, Torafuku, Quattro, and Wildebeest, had helped Hachiro out at the very beginning, says Campbell, who managed to luck out and nab the talented chef when the position opened up at her restaurant.
New chapter, new dishes and drinks
To lift Hachiro into its next era, Gowe has punched up the menu to feature new dishes perfect for sharing, izakaya-style, like tuna or beef tataki, an okonomiyaki-inspired dish of fried brussels sprouts and broccoli (with amazing housemade sauce), and their loaded "Dirty Fries," which come with juicy bits of fried chashu pork, tender cabbage, and Japanese mayo.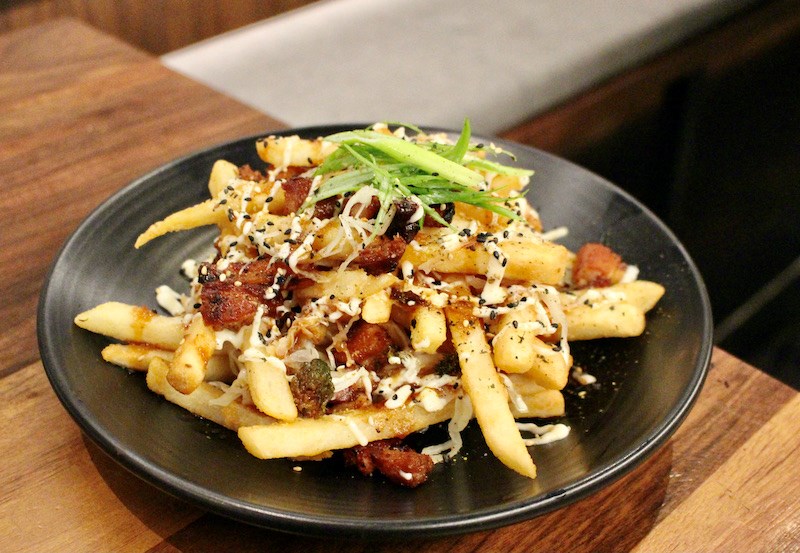 Additionally, Hachiro has rolled out a dim sum menu, with several classic bites, like BBQ pork buns, har gow (shrimp dumplings), and crispy spring rolls, among many selections. Dim sum is served for weekend brunch and late night Friday and Saturday, which means many North Vancouverites have another option for enjoying those lovely little plates without trekking too far from home.
Alongside the new dishes comes a refreshed drink menu, featuring cocktails designed to match up perfectly with the food - and one, like the Shmiso Caesar, even uses some of Hachiro's signature food in its recipe, like a bit of ramen broth and a dried chashu pork garnish, with an end result that makes for some dynamic sips with lots of great layered flavours.
Hachiro remains at its soul a ramen bar, so you will naturally still be able to slurp up their pork or vegetarian shoyu or miso bowls with snappy noodles. They're still doing kid-sized ramen bowls, too, which makes Hachiro so great for families.
And like great ramen broth, which takes so long to simmer in order to develop deep flavour, Hachiro has evolved through time. A key ingredient has been a lot of love from Naito-Campbell, who you'll see now moving with ease between the kitchen and floor, and continuing to put her heart into Hachiro. You can definitely taste the love.
Hachiro is located at 140 16th St West in North Vancouver