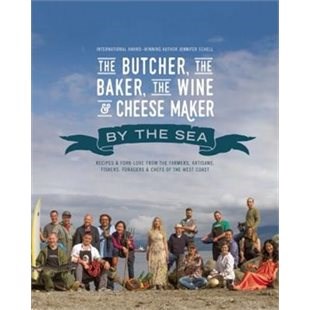 Jennifer Schell's second cookbook, The Butcher, the Baker, the Wine and Cheese Maker, By the Sea has racked up some serious awards including Gourmand's Best Culinary Travel World Cookbook as well as making the Canadian National Best-Seller's list. More than a cookbook, By the Sea is the holy grail of where to find the best local farmers, fishermen, foragers and food artisans as recommended by the West Coast's top chefs.
The Butcher, the Baker, the Wine and Cheese Maker By the Sea is carried at selected retailers and at Barbara-Jo's Books to Cooks, Vancouver's dedicated cookbook store. Retail price: $29.95
Celebrate Waffle Day on March 25th with this fab recipe featured in the cookbook with local gluten-free Nextjen flour and pairing with Sea Cider Farm.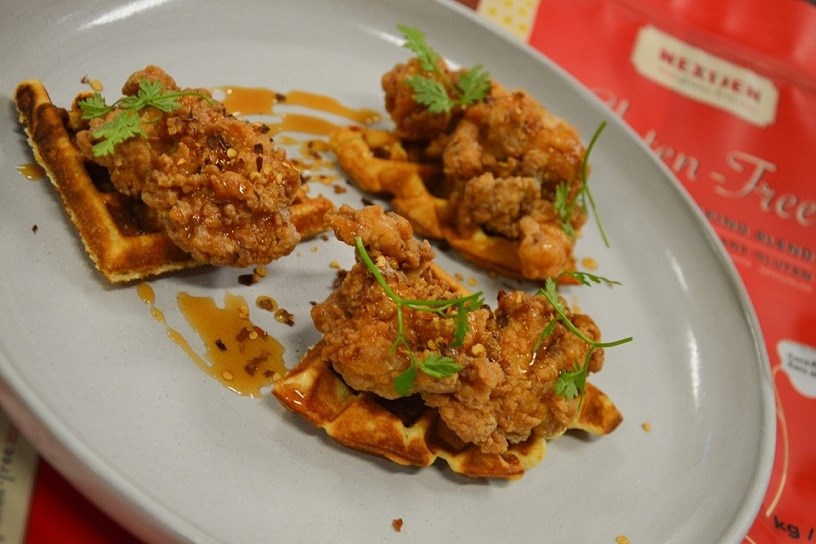 Chicken & Waffles from chef Hamid Salimian
If you have not had the pleasure of sinking your teeth into this old Southern combo, you are in for a treat. Relatively new on our west coast eat beat, its history goes way back, way down South and now has become a favourite in our local comfort food category. Great news for the gluten intolerant, Nextjen Gluten-Free's awesome flour blends allows you to jump back into the naughty world of deep-fried foods and delicious baked goods, like waffles. Bring it on.
Serves 4
8 Chicken Thighs, boneless with skin on
Brine
4 cups water
1 tsp salt
2 cloves of garlic crushed (optional)
Buttermilk Marinade
1 cups buttermilk
1/8-1/4 tsp cayenne pepper (adjust depending on how hot you like it)
1/4 Tsp sweet paprika
1 clove crushed garlic
For Dredging
1 & 1/2 cups Nextjen Fried Chicken Mix
enough to coat
Chili Honey Glaze
1/2 cup of your favourite local honey
1 tsp chili flakes
2 Tbsp sherry vinegar or apple cider vinegar
1 tsp fresh grated horseradish or Dijon mustard
salt and pepper to taste
Waffle Batter
3 eggs divided into yolks and whites
1 cup Nextjen sprouted Buckwheat Pancake and Waffle Mix
1/2 cup of milk
3 Tbsp melted butter
Directions:
For the chicken: Brine chicken in brine liquid overnight (12 hours) in the refrigerator.
Then drain and place in buttermilk marinade. Marinate for 6-8 hours in the refrigerator, the longer the better. Do not drain.
Dredge in Nexjen Fried Chicken Mix and for a really thick coating, dip in buttermilk marinade and dredge again.
Heat a large pot with fresh frying oil no more than 1/3 full (room for the hot oil to bubble to 350°F and carefully lower 4 chicken thighs into the pot and fry for 6-8 minutes or until golden brown, then repeat with the rest of the chicken. (Keep in oven at 200°F to keep warm while you make the waffles.)
Chili Honey Glaze-Mix together all of the ingredients.
For the Waffles-Separate eggs into yolks and whites. Whisk together pancake mix, egg yolks, milk, vanilla and melted butter. Whip the egg whites until they are at soft peaks. Fold into batter. Scoop onto preheated, lightly oiled waffle iron and cook until golden brown.
Top waffles with fried chicken and drizzle with Chili Honey Glaze.
Recommended BC Pairing:
Sea Cider Rumrunner ($13.70)

This recipe pairs wonderfully with Sea Cider Rumrunner. The secret to Rumrunner lies in the barrel. Rich, full-bodied and intriguing. Newfoundland Screech barrels were the inspiration for this semi-dry cider, which opens up to reveal complex notes of molasses, apples and rum. Raise a glass of Sea Cider and let your apples out of the barrel.
Sea Cider Farm House is a cidery located on the Saanich Peninsula on Vancouver Island. This wonderful 10 acre farm is a must visit for their award-winning cider tastings.
Recipe and photos shared with permission from The Butcher, The Baker, The Wine & Cheese Maker By the Sea by Jennifer Schell. All rights reserved.