Enjoy this delicious recipe for Empire cookies from Rosie Daykin's new cookbook, Butter Celebrates for Valentine's Day. They do take a little extra time in the kitchen but children love helping spread the delicious jam filling along with icing the cookies.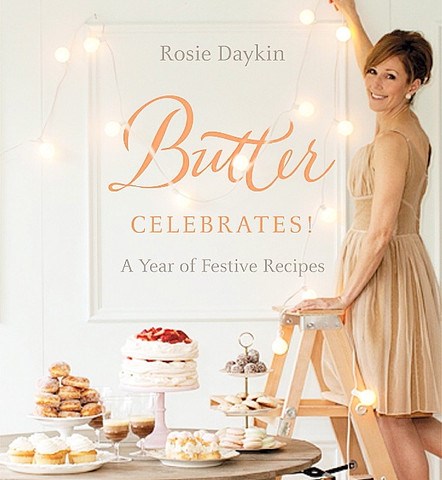 Empire Cookies
Makes 1 ½ dozen (2.5 x 2.75 inch) heart shaped cookies
Equipment:
Heart shaped 2.5 cookie cutter
2 (11- x 17- inch) rimmed cookie sheets lined with parchment paper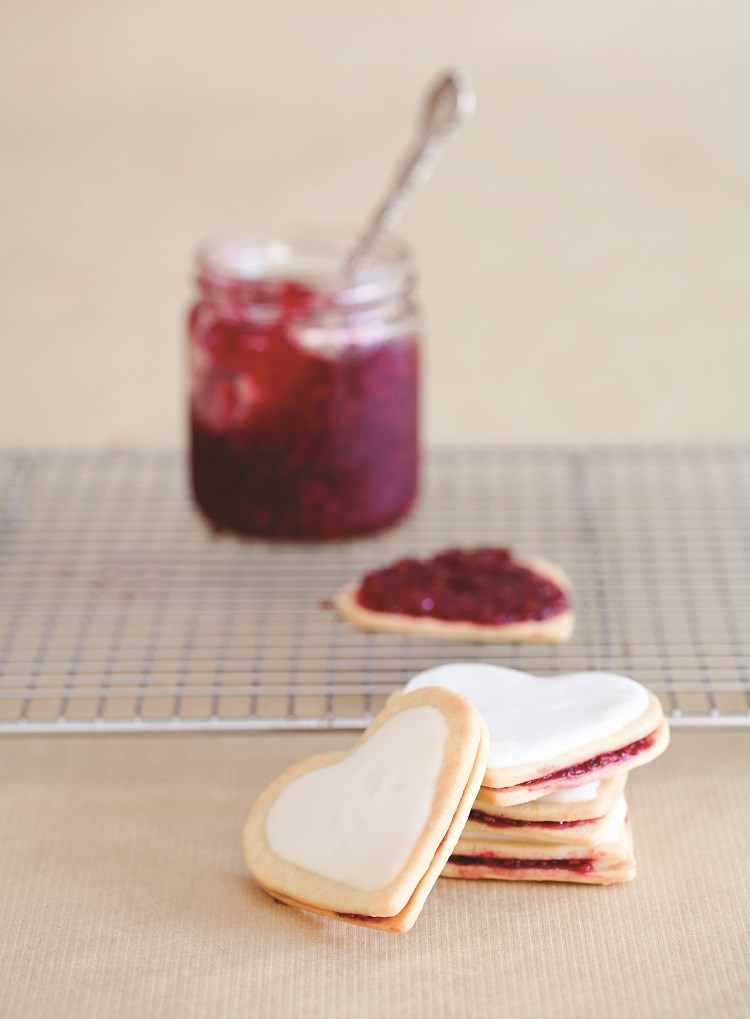 Ingredients:
¾ cup butter, room temperature
1 cup icing sugar
1 large egg
1 egg yolk
1 teaspoon pure vanilla
2 ¾ cups pastry flour
½ teaspoon salt
Finishing Touches
1 cup icing sugar
2 tablespoons hot water
1 teaspoon almond extract
¾ cup raspberry jam
Method
1. In a stand mixer fitter with a paddle attachment, cream the butter and icing sugar until light an fluffy. Scrape down the sides of the bowl.
2. Add the egg and the egg yolk and beat on medium speed until combined. Scrape down the sides of the bowl and add the vanilla. Beat again.
3. With the mixer running on low speed, slowly add the flour and salt until fully combined.
4. Shape the dough into a large disk and wrap it in plastic. Allow the dough to chill in the refrigerator for at least one hour.
5. Preheat the oven to 350°F.
6. On a well-floured work surface, roll the dough out with a rolling pin until it is approximately 1/8 inch thick. You don't want the cookies too thick as you will be sandwiching them together. Very carefully, using a metal spatula, transfer cookies to the prepared cookie sheets.
7. Bake for 10-12 minutes until the cookies are golden brown around the edges. Remove the cookies from the oven and allow them to cool slightly on the trays before transferring them to wire racks to cool completely.
8. Meanwhile, prepare the icing. In a small bowl, combine the icing sugar, hot water and almond extract. Using a whisk or spoon stir the icing until it is smooth and glossy.
9. Using a small teaspoon, place approximately 2 teaspoons of raspbery jam on the cookies. Using the back of the spoon gently spread the jam almost to the edges of the cookie.
10. Use a small offset spatula to top the other half of the cookies with the almond icing. Don't press too hard when doing this as they are delicate cookies and you don't want your tops breaking!
11. Place the iced cookies atop the raspberry-filled bottom and press gently to sandwich them together.
Happy Valentine's Day!
Photos and recipe with permission from Penguin Random House Canada.