Vancouver didn't actually put food carts on the map, but our milder temps and laid back west coast ways certainly put us at the forefront of the trend in Canada and the U.S.
From the humble early days of Japadog (launched in 2005) to the lower mainland's first Indigenous food truck rolling out in early 2018, street food on four wheels has being booming for the better part of a decade now.
We're taking a look at the food trucks and carts that are the core of what Vancouver has to offer. These are the 18 essential Vancouver food trucks and carts.
Let's start at the beginning. Japadog first appeared in 2005, but it was really when Anthony Bourdain visited the Japanese fusion hot dog cart for the first episode of his fourth season of No Reservations, which aired in January 2008, that the cart took off. They've expanded to operated multiple carts and brick-and-mortars in Vancouver and Richmond, and they've added a lot to their menu, too (like fries, and ice cream "bun" sandwiches).
Before they were rocking the modern Asian cuisine with wicked cocktails in an industrial chic space on Main Street, the team behind Torafuku dove in deep into the Vancouver food scene with their still-kicking kickass Le Tigre truck. You'll find big, bold, playful Asian fusion dishes here, like their Kick Ass Rice, Don't Order this Chicken, and "Crack" Salad. You'll be hooked.
Now, to be fair, Tacofino didn't start in Vancouver. The "fino" in their blend-word moniker is taken from its birthplace of Tofino. But Vancouverites fell hard for Tacofino's signature tacos and burritos, ordering up from the window of their truck. Tacofino has since added another truck to the fleet in Vancouver (they are called Blue and Pink, respectively; Pink is the makeover of their OG "White Lightening" truck), but they still rock those killer fish tacos. That can never change.
Vij's Railway Express is one of those instances where a food truck joins the roster of an existing restaurant empire. In this case, that empire is that of Vikram Vij, whose eponymous Vancouver restaurant is legendary for its contemporary Indian cuisine. His award-winning food truck changes up the menu regularly, though they often feature inventive curries, and fun fusion street eats, like Butter Chicken Schnitzel.
Fans of dairy-free desserts surely know Say Hello Sweets. The Say Hello Sweets truck hit the streets of Vancouver in the summer of 2016, scooping dairy-free flavours like the popular Cafe No-Lait. There's a unique backstory to this creative culinary venture, too: Owner Naomi Arnaut launched her ice cream biz as a way to fund medical care for her dog, Babycakes.
Why wait until the PNE to enjoy giant dough cones filled with ice cream? The Praguery truck brings the treats to the streets instead, specializing in Czech Chimney Cakes. The cones are filled with soft serve and your choice of toppings and add-ons, like Nutella and Lemon Curd.
Aussie Pie Guy
Classic beef-y Aussie Pie, along with Chook Pie (that's chicken to Canadians), Veggie Pie, specials (Kangaroo Pie!), and more are on the menu of the Aussie Pie Guy, who has been rolling out the dough and filling happy bellies in Vancouver since June 2013. Save room for dessert--they have Aussie's fave treat, Anzac cookies, too.
Burger $2.85--which rebranded a couple of years ago as Wakwak Burger--is definitely a Vancouver street food gem. From classic burgers with their special sauce to things like crispy chicken burgers and their sides of fries, it's no wonder Wakwak Burger always ends up on many a local's guide for the best cheap eats.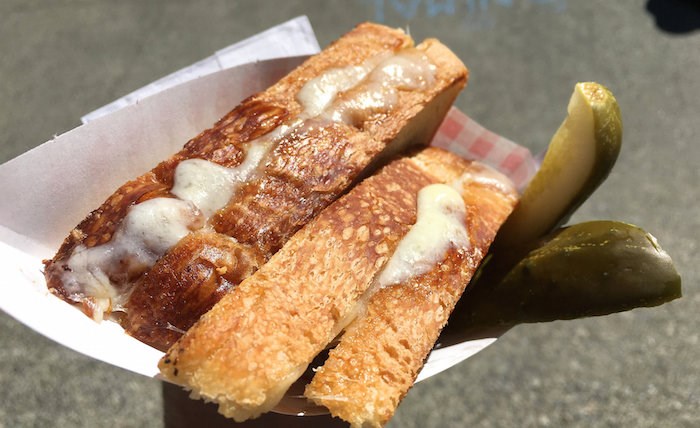 Grilled cheese sandwiches, hot and gooey, just like Mom used to make. Well, maybe not, unless your mom also put slabs of meatloaf in your grilled cheese. This classic truck has been serving up sammies to hungry Vancouverites for many years now, and they remain a popular favourite for a good reason.
Mr. Bannock
Mr. Bannock is the project of Squamish Nation member Paul Natrall. It's Vancouver's first food truck to showcase Indigenous cuisine, with some fusion twists. Bannock is a traditional quick bread that can be cut down or adapted into multiple forms; customers will find it as waffles, fried for a taco-style wrap, and in sweet mini bites on the Mr. Bannock food truck menu.
A fixture in the Vancouver food truck scene for several years now, Kaboom Box is known for their use of local seafood in approachable, crave-able, lunch-able street eats. They've got things like a stacked Oyster Po'Boy and salmon-topped salads. Kaboom!
Talk about old school! Roaming Dragon first hit the streets in Vancouver in June 2010--truly one of the OGs. Known for their "authentically unauthentic Pan-Asian" eats, Roaming Dragon serves up eats like loaded baos, noodle boxes, and sliders.
Chickpea is another one of those tales of a truck that turns into a restaurant. But even with the wildly successful launch of their Main Street eatery, Chickpea keeps on rolling with their vegan Mediterranean eats, including their pita, platters, and salads...and plenty of hummus.
The Juice Truck
The Juice Truck was one of Vancouver's cold-pressed juice pioneers, hitting the street with their reddish-pink truck and selection of juices and fresh smoothies. They've managed to remain a dominant force in the juice and plant-based eating game in town, with multiple store fronts and a best-selling book.
This small but mighty food cart hangs out in Yaletown, and has been slinging vegan burgers and chickpea fries for ages now.
You may love Via Tevere the restaurant for their Neapolitan-style pizza, but they've got a food truck that specializes in a Saltimbocca, a traditional wood-fired sandwich. Get 'em while they're hot.
Not much beats a handmade popsicle enjoyed while strolling around in the summer sun. Johnny's Pops and their little popsicle cart have been making sunny days even sweeter for a long time now, and their roster of flavours showcasing seasonal fruits and more are always something to look forward to.
Food truck eats tend to lean towards the decadent or gut-busting (hello, massive burgers and giant ice cream cones) but Culver City Salads is more than the exception to the rule. Hitting the streets in the spring and summer, their little green truck is packed with the good stuff: Veggies!