We try not to promote drug use here on VIA (with the exception of a Snoop concert), but for the well being of everyone I thought I'd share this one with you....personally....I don't mess with anything..... except this....Neo Citron.
The lemony night time drink which you take when you have a cold or flu... in my case though...I take it when I need a real good sleep.  The sleep is always so clean....the next morning...no grogginess...no cobwebs....God knows with this weather we've been having....catching your z's hasn't been easy.
Hot..the stuff is pretty horrid....but in the course of sorting out my obsession with falling asleep on really hot days...I've realized it's not bad iced....
Like any real Canadian, I take the generic brand....I usually pour just a bit of boiling water so the crystals melt...then put it over ice....if necessary I add a bit of water, a bit of sugar too.  The end result is a drink that tastes worse than Country Time but better than Crystal Lite, most importantly it knocks you on your ass!
Bottom's up!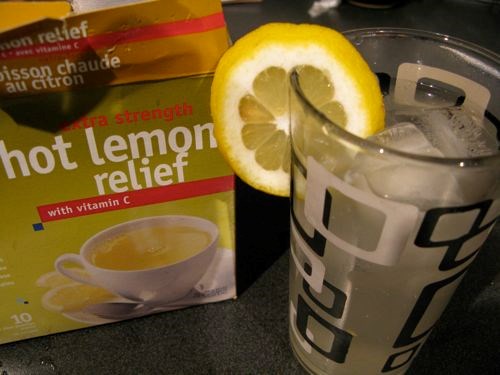 Bonus more chillin' ways to get a good nights sleep.
1) Ice Bath....I saw recently Brock Lesner does this....it makes you tough....but it also helps me sleep....I load up the bath with ice and turn the tap on so you just get the tiny cold stream.  I lie in there until I'm like Han Solo at the end of Empire Strikes Back....
2) The chillow....I got this thing, but it's pretty much for lightweights, it's not even that cold...I throw it in the freezer, which you'll soon find out I do with alot of things.  I'm going to patent the chill blanket.... it's going to be like that blanket you wear when you're getting x-rays at the dentist but super cold.
3) Sleep on the couch...I guess it's never a great sleep....but without fail...I can pass out on the couch....
4) Ice Packs....I usually just put one of these on my chest.  Ahhhh.....
5) Freeze the sheets.  This one actually doesn't work great.  Well it does, but it messes up your sheets.  OK back up....you know how lots of girls...really love their bed?  Sue Choy is like that to the point when we got married the only thing she really asked for was new bedding...no China...no cutlery....she just wanted some quality sheets....and we received them.  This was right around my experimentation phase of freezing the sheets...First I'd put 'em in a garbage back, then in the freezer.  Then I thought I'd increase the chill by first spraying the sheets down with water, then freezing them.  The result was our chocolate brown sheets (soooo 2005) looked like some weird tie die kind of like that crappy swirl ice cream like that dixie cup type stuff....no..no...HEAVENLY HASH!  The icing on the cake was me explaining what I had done to Sue's mom... She didn't share my excitement.