With seductive aromas of spice, musk and earth along with truffles, berries and vanilla, Pinot Noir has been called "sex in a glass". The hardest to grow of all the grape varietals due to it's temperamental nature and need for constant attention, many a winemaker has experienced heartbreak trying to make Pinot Noir. But like love when it flourishes, it is a wine of beauty, elegance, and depth. This Valentine's Day drink the wine of love, Pinot Noir. Here are some of the Okanagan's best: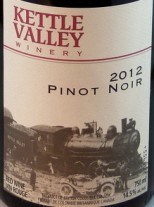 Kettle Valley Winery was one of the original wineries to open on the famed Naramata Bench and with a cult following that has remained loyal their wines quickly sell out. Often flying under the radar, they have remained true to their roots with their tasting room still located in the family garage. Serious wine drinkers can rejoice that many tourists drive up to the winery, see the garage and head out before even trying the wine. One of the Okanagan's best, the love is in the bottle and a must drink for Pinot Noir lovers.
Kettle Valley 2012 Pinot Noir. ($26.00) "An opulent red wine. Earthy light oak and a hint of tart berries."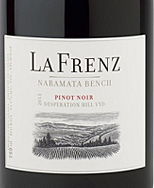 A small boutique winery located on the Naramata Beach, La Frenz Winery scored a monumental win and major upset in 2011 when their 2008 Reserve was named Best Pinot Noir of the Pacific Northwest. Their Pinot Noir remains one of the very best in Canada and offers outstanding value.
La Frenz 2013 Desperation Hill Pinot Noir. ($19.99) "Expresses the delicate beauty that is Pinot Noir. Aromas of violets and bright red fruits lead into silky seamless layers of raspberries and boysenberry supported by subtle French oak."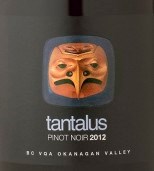 Tantalus Vineyards is known for their award-winning single vineyard Riesling and Pinot Noir. Their striking wine labels feature a series of masks made by Tahltan-Tlingit carver, Dempsy Bob. The wine like the artwork on the labels are recognized as a symbol of Canadian excellence.
Tantalus Vineyards 2012 Pinot Noir. ($26.00) "Aromas of violets and raspberry compote give way to a touch of earth and a hint of spice. Firm, yet forgiving tannins sculpt the mouth feel and offer a lingering finish."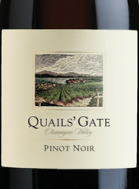 Quails Gate Winery which opened in 1989 is one of Canada's oldest and most loved wineries. Their award-winning flagship wines, Pinot Noir and Chardonnay have received international recognition. From humble beginnings, Quails' Gate has become one of the most visited wineries in Canada.
Quails Gate 2014 Pinot Noir. ($24.90) "An expressive combination of bright red berry fruit, sweet spices and subtle hints of forest floor and earth. Fine polished tannins and a long lingering finish."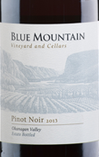 One of the original BC cult wineries, Blue Mountain Vineyards, a family run estate winery, opened in 1992 and set the standard for excellence in Canadian Pinot Noir. The only way to get your hands on their exclusive Pinot Noir, other than enjoying at a restaurant, is to join their wine club as upon release this wine is immediately sold-out. Treat your sweetheart, to a wine club membership and make Blue Mountain's Pinot Noir a Valentine's tradition.
Blue Mountain Pinot Noir 2013. ($24.90) "Light garnet colour with red and black fruit. Vanilla and toast complement cassis and cherry flavours and spicy velvety tannins."

Meyer Vineyards which opened in 2004, is a small boutique winery specializing in Chardonnay and Pinot Noir. Their wines have received critical acclaim and are now recognized as one of the Okanagan's top producers of Pinot Noir. Excitedly their 2014 Pinot Noir has just been released in time for Valentine's Day.
Meyer Family Vineyards 2014 Okanagan Valley Pinot Noir. ($25.00) "A complex Pinot Noir with tart black cherry, plum and vanilla aromas and a richly elegant freshness with violets and red fruit depth."