This year, Thanksgiving Day in Canada falls on Monday, October 11, but that doesn't mean you have to limit your eating to just one day. If you're looking to order in a catered or take-out feast at home restaurants across Vancouver are stepping up their game for the food-focused holiday.
For those who consider themselves traditionalists - at least when it comes to what's on the Thanksgiving table - turkey and all of the trimmings (with some liberties, of course) are front and centre - and these local restaurants and caterers definitely have the goods. (If you're looking for something left of centre or a fun spin on turkey day eats, take a bite out of this: Check out these non-traditional Thanksgiving eats and feasts in Vancouver this year.)
Thanksgiving Meals To-Go
Offering an elevated take on a traditional Thanksgiving spread, the complete holiday meal packages feature an array of chef-prepared fall favourites that reflect the delicious bounty of the harvest season. Take-home Thanksgiving feasts include a pre-carved 10 lb. turkey, crowd-pleasing accompaniments, and an autumnal pumpkin pie for dessert. All items are packaged in oven-safe containers and come with simple heating instructions. Designed to feed gatherings of up to six, Savoury City's Thanksgiving To-Go dinners are priced at $275 and will be available to pick-up on-site at the caterer's East Vancouver headquarters (3925 Fraser Street) on October 8 from 12 p.m. to 4 p.m. and on October 9 and 10 from 10 a.m. to 3 p.m. Additional items are available to order to supplement your feast including gravy, stuffing, mashed potatoes and pumpkin pies. Beer and wine can also be purchased on an à-la-carte basis.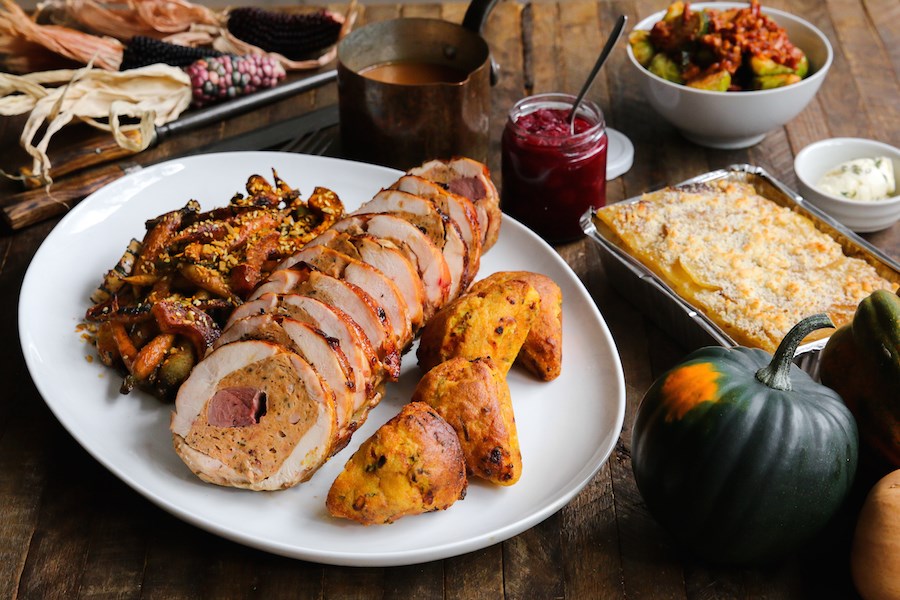 Juke's crowd-favourite Turducken Feast makes its triumphant return to the menu exclusively for Thanksgiving to help folks feed their flock with its Turducken Meal Kit available from Friday, October 8 to Sunday, October 10. Each Turducken feast is gluten-free, feeds four hungry adults and includes a full turducken — a three-in-one showstopper of a centrepiece featuring roasted turkey, duck and chicken — and an array of sides with detailed written and video instructions from Juke Chef and Co-Owner Bryan Satterford on how to get it all to your table. Packages can be picked up on Oct. 8-10. Early ordering is encouraged as there are only a very limited number of packages available, and they may sell out. Ordering is available now on Juke's website.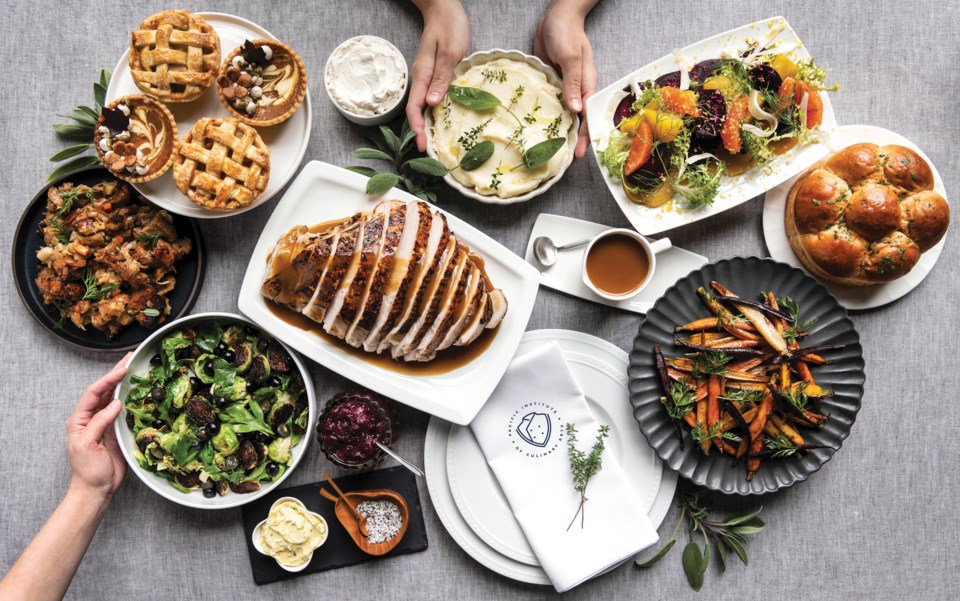 PICA's signature Thanksgiving Feast includes everything you need, including Apple and Thyme Brined Roasted Turkey Breast, Buttermilk Mashed Potatoes, Herb Stuffing with Cranberries, Brussel Sprouts with Concord Grapes, Roasted and Glazed Brown Sugar, Cinnamon Baby Carrots, Beets with Shaved Fennel and Orange plus Traditional Turkey Gravy, Orange-Bourbon Cranberry Sauce and Brioche Buns and Pumpkin & Apple Pie with Crème Anglaise. Pre-order before Wednesday, October 6. Orders will be available for pick up from Blue Hat Bakery-Café between 11 a.m. and 5 p.m. on October 9 and 10.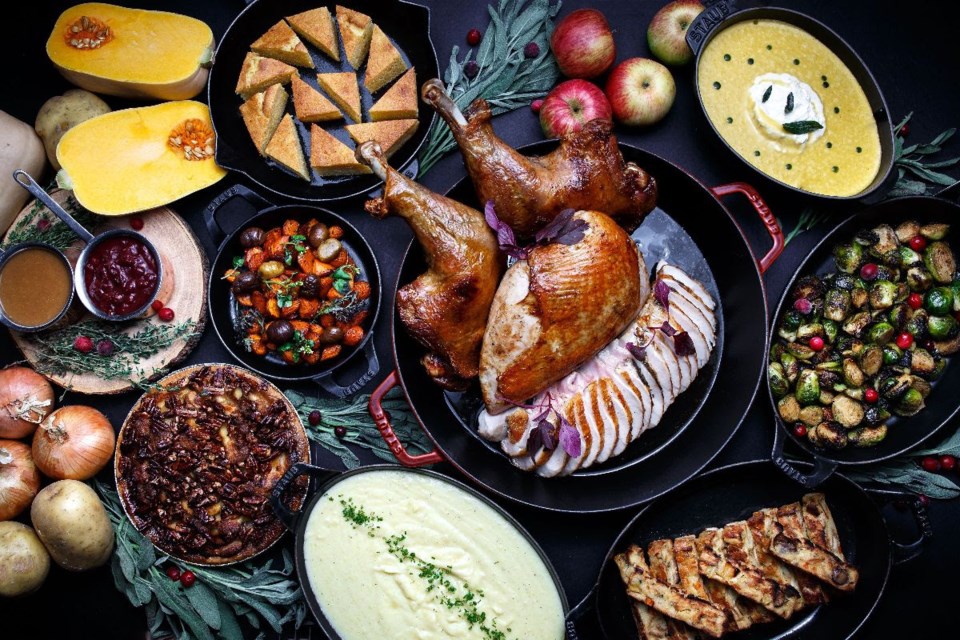 A heat-and-serve Thanksgiving To-Go package featuring all the festive favourites. A Sage-Roasted Turkey takes centre stage, accompanied with all the fixings and traditional sides prepared to perfection. Boulevard's much-loved cornbread appears alongside a starter of Spiced Butternut Squash Soup with apple cider and maple cream. For dessert, an elevated Pumpkin Tart complete with vanilla chantilly, milk chocolate, and spiced ice cream. Boulevard's Thanksgiving To-Go is available in two sizes (full pack for $375 feeds 10, and half pack for $230 feeds 5). These holiday sets are available for pickup from the restaurant on October 8-10 between 11 a.m. and 5 p.m. Orders must be received by October 6, and can be placed on TOCK. The full menu can be viewed here.
Turkey with all the fixin's for $300, serves 8 or more: Herb Roasted Fresh Rossdown Farms Turkey (16lb), Pan Gravy, Sourdough Stuffing, Whipped Potatoes, Klippers Organic Honey Roasted Carrots, Crispy Brussels, Mixed Greens, Butter Rolls and finish with Pumpkin Pie. Pre-order by October 7 by emailing hjain@parqvancouver.com or calling 778-370-8200 and pick up October 10 or 11 at Honey Salt from 10 a.m. to 5 p.m.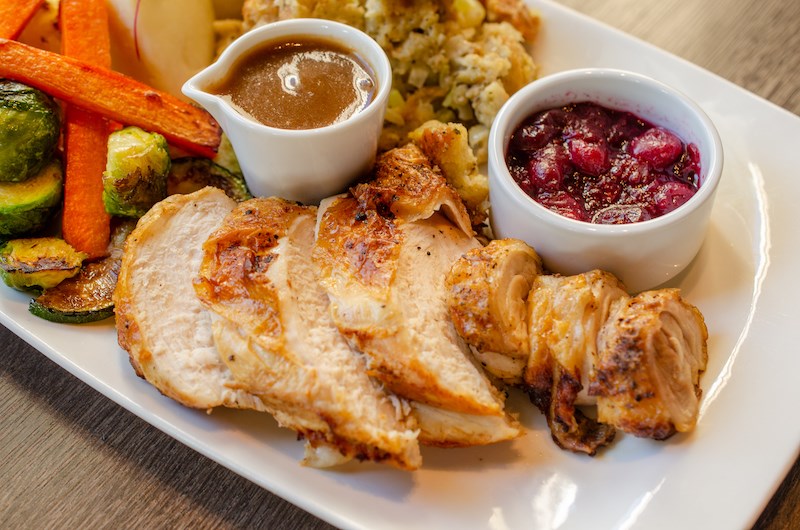 This Thanksgiving Provence Marinaside is offering its popular Turkey-To-Go. Priced at only $42 per person, each individual dinner is pre-cooked and only requires reheating to serve. The full meal includes: carved turkey meat; roasted vegetables; cranberry sauce; mashed potatoes; gravy; French baguette; and a mini pumpkin pie. The deadline for ordering Turkey-To-Go is October 6 and must be done online. Pick up on Friday, October 8 or Saturday, October 9 between noon and 5 p.m.
Forage is offering two options for take out, individual portions to go, or, a whole roast turkey and all the trimmings to serve 12-15 people. Pre-orders are now available online with pickup on October 9 and 10.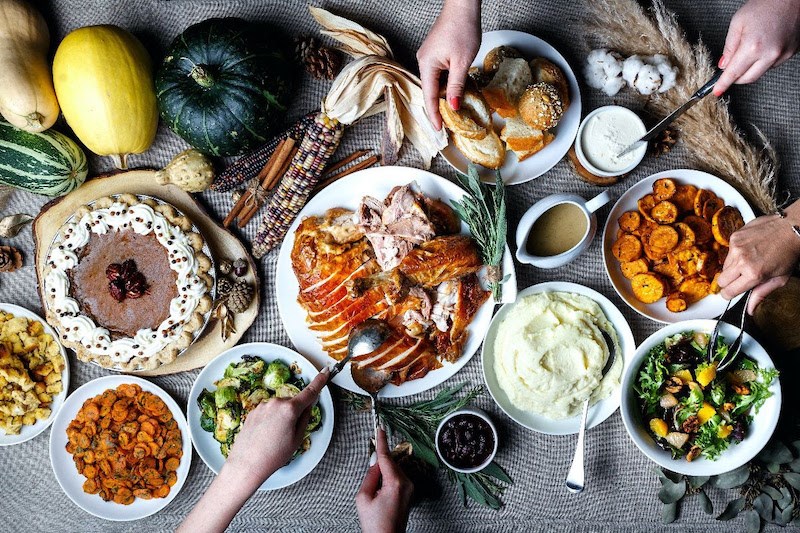 Railtown Catering's much-loved Turkey To-Go packages return this Thanksgiving, providing an elevated celebratory feast without any of the hassle. Back for the ninth year in a row, the heat-and-serve packages will be available for pickup and delivery October 9-11. Featuring a fragrant and tender to the bone Sage-Roasted Turkey complete with all the fixings, including Dried Apricot Chestnut and Brioche Bread Stuffing, Maple-Glazed Sweet Potatoes and an array of other traditional sides prepared to perfection. To finish, a house made pumpkin pie complete with piped Chantilly cream. Order online.
Impress a party of 6 to 8 guests with the Westin Bayshore restaurant's 5-kilogram full Turkey Takeout including all the trimmings. Or give thanks in an intimate setting with their Carvery To-Go option designed per person (for a minimum of two). The signature Thanksgiving spread evokes nostalgia and honours tradition with a slow-roasted Rossdown Farms free-range turkey, accompanied by apple and thyme stuffing, Bayshore honey-glazed root vegetables, roasted garlic and parmesan Brussels sprouts, and buttermilk and chive mashed potatoes. Drizzle sage pan gravy atop your plate and cleanse the palate with refreshing cranberry relish. End your Thanksgiving meal on a sweet note with a pumpkin pie topped with caramel whipped cream. Turkey Takeout: $300 + taxes. Carvery To-Go: $55 per person. Pick up your Turkey Takeout or Carvery To-Go order from 3 - 6 pm on October 10. Pre-order is available until October 6. Reserve online.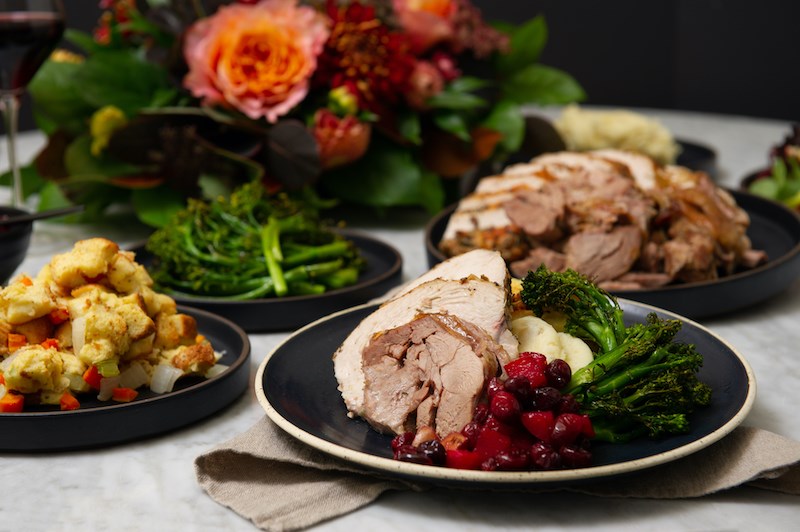 Vancouver's pioneering catering company has created a complete feast, fit for two or more, featuring a Classic Turkey or a Vegan Beet Wellington, accompanied by salads, buns, favourite fixings, and an assortment of desserts. Pre-orders are now available online for pick-up at 1545 West 3rd Avenue or delivery from October 7 to 10. Guests can choose between two main dishes to go with all the sides. The classic feature is a selection of white and dark turkey meat, consisting of brined turkey breast with confit turkey leg. Last year's popular Vegan Beet Wellington returns, complemented with mushroom duxelle and a spinach and tahini dressing. $42 per person. Orders can be made online, by calling 604-734-2507, or emailing catering@lazygourmet.ca by October 5 at noon. Both pick-up and delivery options are available.
Notch8 Restaurant's ever-popular turkey dinner to-go returns this Thanksgiving. Spend this holiday season with loved ones while Fairmont Hotel Vancouver's culinary team takes care of the rest. Priced at $499, this turkey dinner to-go serves a family of 10 and includes a whole roasted Fraser Valley turkey, all the traditional fixings and a number of optional add-ons. With a variety of scheduling times available and the ease of contactless pick-up through Fairmont Hotel Vancouver's main drive entrance, Notch8 Restaurant's turkey dinner to-go is here to make this Thanksgiving about spending time with family and not in the kitchen. Orders must be made online by 5 p.m. on Monday October 4, and it is recommended to order in advance as Notch8 Restaurant's turkey dinners to-go typically sell out.