Mulled wine, eggnog and rum, hot chocolate and baileys are all quintessential holiday beverages but these restaurants and bars in Vancouver are elevating the Christmas tipple with bold and innovative flavours that still capture the spirit of Christmas.
Once December 1 hits we want everything imbued with festive cheer and between cocktail crawls, thematic menus, and holiday specials the bar scene in Vancouver is offering lots to indulge in this season.
If you overindulge some of the bartenders behind these drinks have shared their hangover cures to temper the pain.
Here is the ultimate guide to sipping Christmas cocktails this year.
December 3 and 4 visitors to Yaletown's outdoor winter festival Candytown can stop in at seven different bars to enjoy a festive-themed cocktail. Hapa Izakaya, Opus hotel, Sushi Maro, Sciué Italian Bakery Caffé, Robba da Matti, MeeT, and WestOak are all participating. Found out what their drinks are here.
Glowbal has an entire 'Tis The Season cocktail list this year plus a Negroni flight.
The seasonal selections include the delicious Brandy Alexander which tastes like a Cadbury mini egg (brandy cognac, crème de cacao, single cream, nutmeg); Jingle Juice (bourbon, maple roasted apple, lime juice, ginger syrup, ginger beer, dehydrated apple); Gingerbread Eggnog made with in-house eggnog and rum and of course, mulled wine.
The negroni flight comes with a classic, white negroni and the absolute stand-out surprising Dark Chocolate Negroni.
Last year, H Tasting Lounge put together the '12 Cocktails of Christmas Movies' menu. This year they're shaking things ups with the '12 Guests of Christmas Dinner.'
Each drink represents a stereotypical family member you might find around the dinner table during the holidays. Drunk aunts, TikTok teens, and stressed-out moms are all represented. Plus there are even two bonus family members in the form of non-alcoholic drinks: the hyperactive child and the family dog.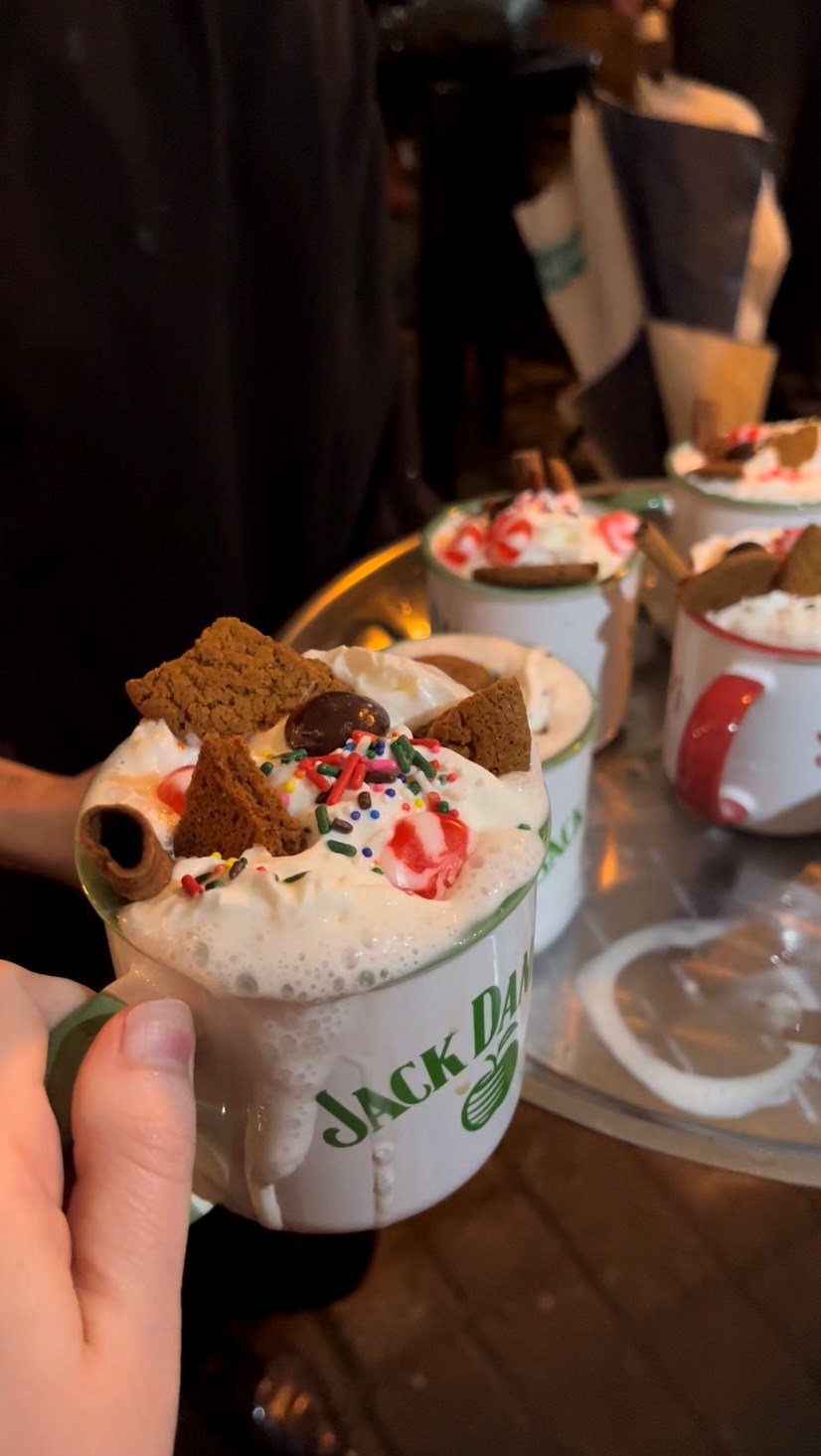 From December 1 to 23, revellers can book a Christmas Cocktail Story experience at Dalina on Main which takes the beloved classic movie and translates it into elevated Americana canapes and boozy winter warmers like the Christmas Stocking which takes spiked hot chocolate to the next level with rum and Tennessee whiskey, topped off with whipped cream, gingerbread cookies, peppermint candies, and sprinkles.
People have to book ahead of time and the cost ($36.50 per person) covers a Santa Jack punch welcome drink, one cocktail from the menu, and a full plate of six appetizers that include pizza-style pull-apart knots and cranberry chilli glazed pork and beef meatballs by Rosie's BBQ.
Each year, the rooftop patio at the Rosewood Hotel Georgia transforms into a winter wonderland and with it comes a cocktail list to match. There are ten Christmas cocktails on the festive menu (three hot, seven cold) and an option to order the Rosewood Christmas Tree which stacks five drinks in a tower. For those who don't want to commit to an entire drink but still want a hit of cheer, there are special Christmas drops too like the gingerbread shot of baileys, gingerbread syrup, and Jagermeister. See the full menu here.
The most obvious place to head for Christmas cocktails would be the bar "Where Everyday Is Christmas." On now until December 30, this ticketed pop-up under the Hidden Vancouver umbrella is totally decked out from top to bottom. Located inside the Alpen Club, everything is Christmas-themed. There's no menu posted so you'll have to go be surprised.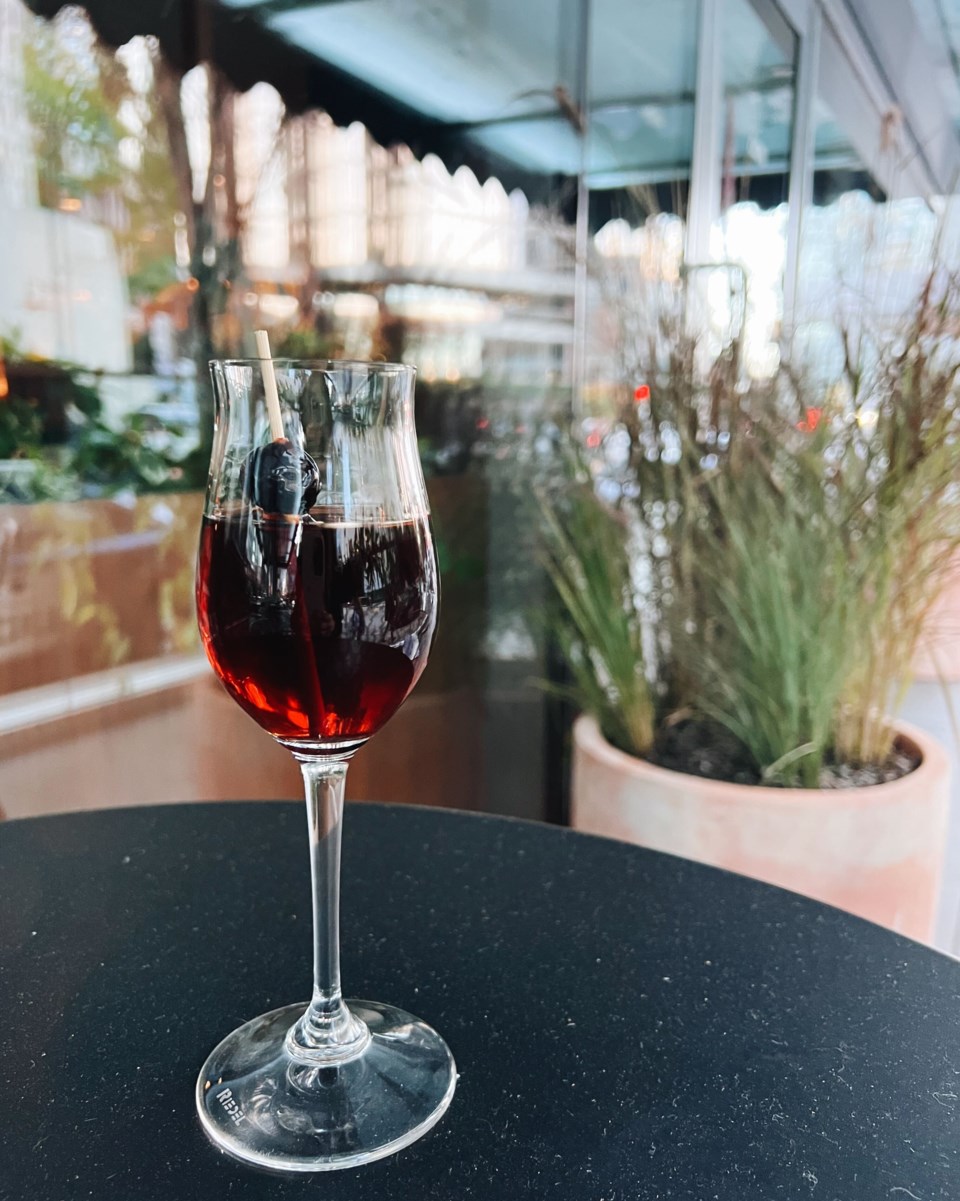 Bacaro, located inside the Fairmont Pacific Rim, is offering the San Gimignano for the month of December. The bittersweet cocktail is named for the hilly Tuscany town and contains Italian brandy, Vermouth Rosso, Rittenhouse Straight Rye, and Amaro Averna.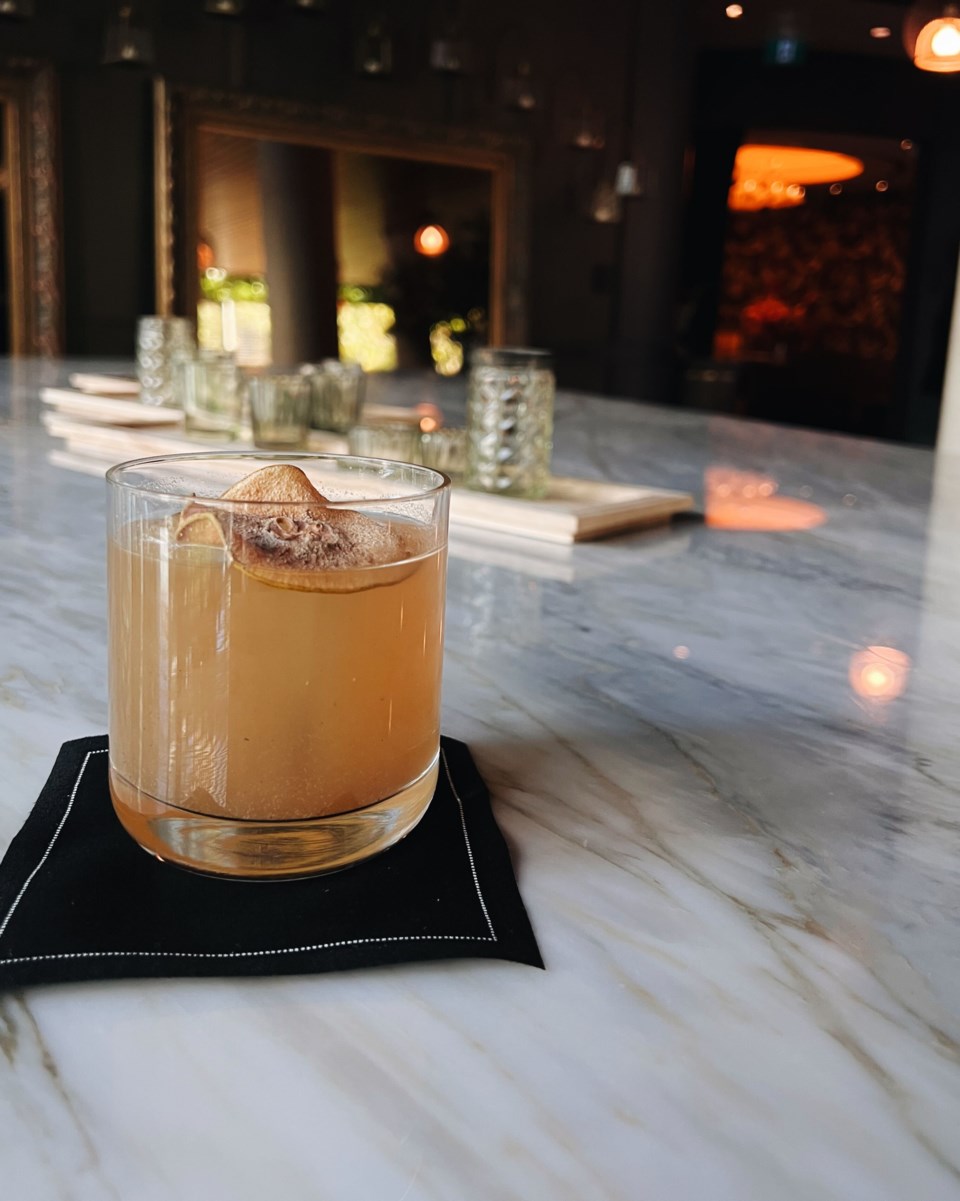 Visitors to Carlino during November may have already tasted the aromatic yet refreshing Pear Pressure holiday cocktail. It's a cinnamon, cardamom, and star anise spiced rye drink with Jamaican rum, oxidized blueberry leaves, and sous vide pears.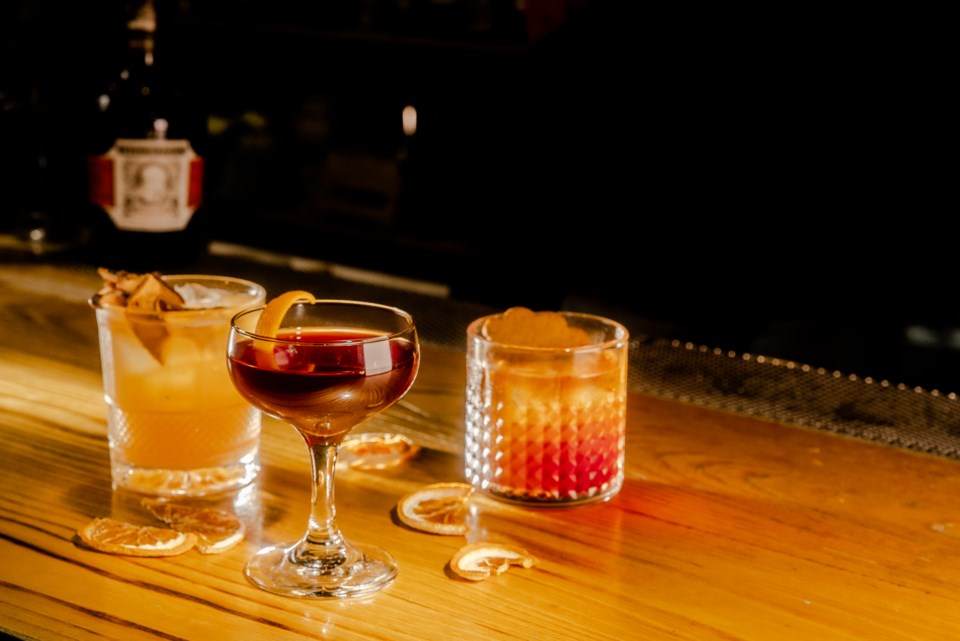 The Chickadee Room holds a monthly Cocktails with a Cause series where Sabrine Dhaliwal crafts a drink to benefit a charity. For December, $1 from the sale of one of three festive cocktails supports Heads Up Guys. They are the Yippee-Ki-Yay (rum, gingerbread spice, angostura and orange bitters), the Hungry for Apples (rum, Nigori Sake, apple, cinnamon and lime) and Redrum (rum, Campari, sherry, cherry, basil and chocolate bitters).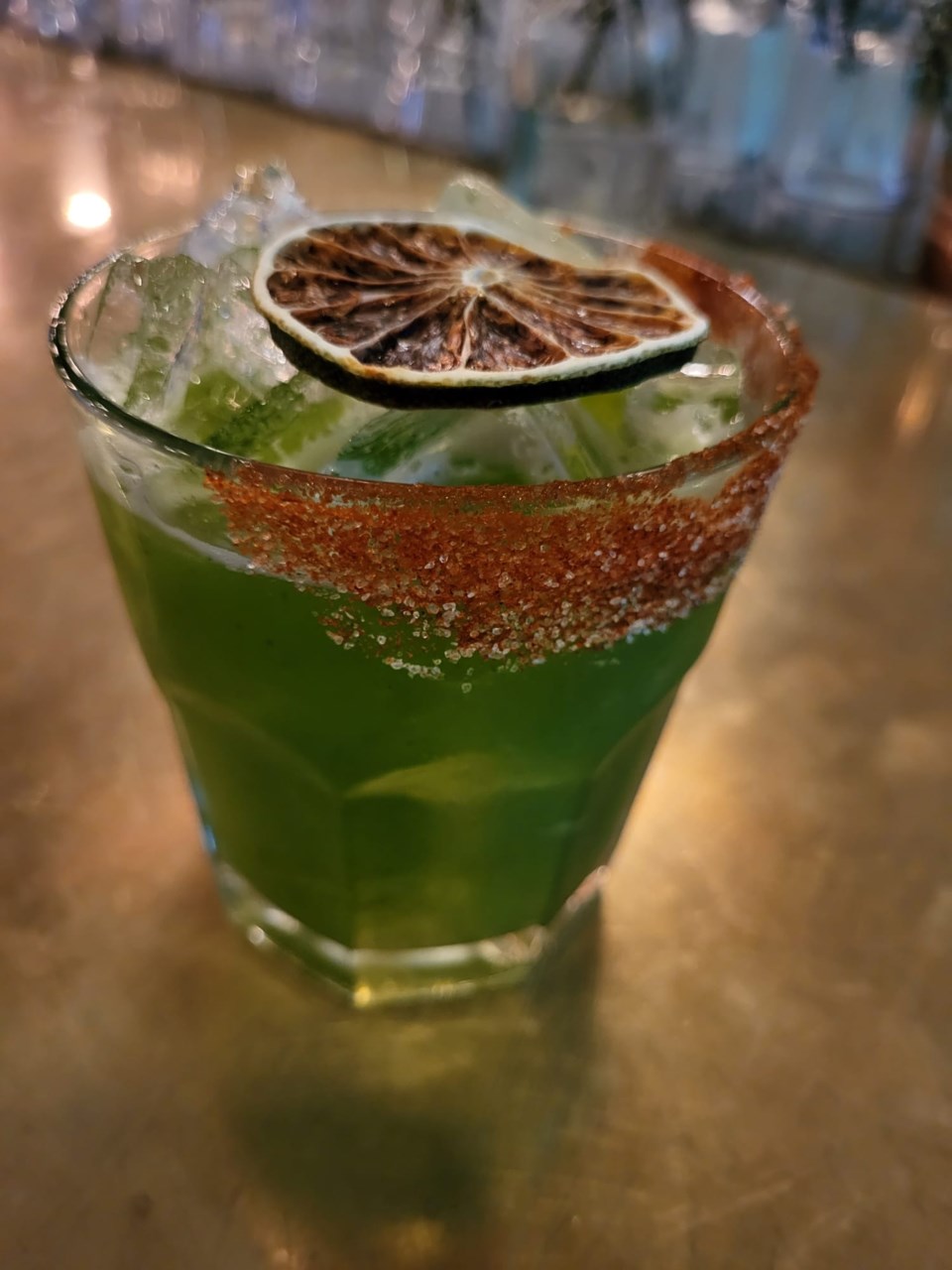 All the Whos down in Whoville like Christmas a lot. So much so that Smitty's Oyster House has created the Diablo Verde aka Whoville's Revenge. The tequila-based cocktail has, lime juice, jalapeño cilantro syrup, and paprika cayenne salted rim. It's as green and spicy as the Grinch.
Pourhouse is taking on the classics this December with mulled wine and egg nog made with port barrel-finished Kentucky bourbon plus they will be debuting a new cocktail every day from December 17 to New Year's Eve. Each drink of the 12 Days of Cocktails will be named for the "True Love's" gifts, starting with Partridge in a Pear Tree, which is a tall drink of Cointreau, sotol, lemon, and a dash of chocolate bitters with an orange twist and cherry on top.
Nox is introducing a trio of new festive cocktails for the holidays that cover all the basis. The Winter Old Fashioned warms from the inside out with Woodford reserve, cinnamon syrup, and chocolate bitters. The Bona Dea features prosecco, raspberry gin, simple syrup, and egg white for an occasion sipper and Heims is a moody mix of dark rum, Amaro, simple syrup, egg white and bitters.