You may know Robson Street's Holy Crab as one of those places where you roll up your sleeves and feast on seafood spread out on butcher paper across your table. Obviously that kind of eating doesn't work in the middle of the day for most of us who would prefer to head back to the office or to the grocery store not elbow deep in the aromatic remnants of an epic seafood boil.
Now The Holy Crab has launched a fresh new lunch menu that includes the biggest platter of fish & chips you've ever seen, a decadent lobster grilled cheese, sandwiches, pasta dishes, the salad you've been asking them for, and more.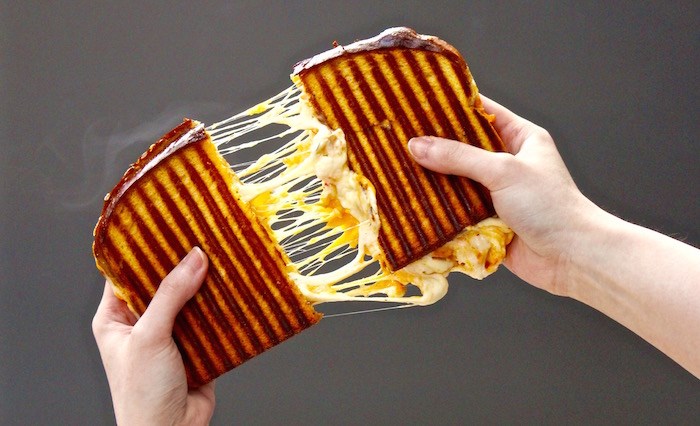 Lobster grilled cheese (Lindsay William-Ross/Vancouver Is Awesome)Available from 11 am to 4 pm daily, The Holy Crab is cooking up their new lunch with a lot of the Cajun flavours they're known for, though not everything has the spice dial cranked way up. You can tuck into a garlicky pasta topped with a wobbly 63-degree poached egg and tender shrimp--the dish uses the same garlic spice you can choose to have with the dinner time seafood boil, too.
Other offerings include a creamy Cajun pasta (this one does have a spicy pow!); a skilled heaped with "Dirty Rice" and clams, mussels, prawns, calamari, and catfish; Blackened Catfish with Étouffée on Rice (bring a friend to share this one); and a hash of shrimp, sausage, and potatoes, topped with a sunny fried egg.
If you're looking for some serious "wow factor" eats, though, the Lobster Grilled Cheese is an ooey-gooey delight. Save all your calories for this beast; it's full of fresh lobster meat, mozzarella, dill and cheddar Bechamel sauce, and lobster butter. Yes--lobster butter!
The fish and chips is also pretty impressive. The Holy Crab uses catfish, so you get a hefty portion of the light white fish, expertly battered. It comes with seasoned fries, slaw, and an addictive tartar sauce.
But if you have been yearning for something on the lighter side at Holy Crab, they have a seafood and avocado salad on offer now that fits the bill. It's an elegant stack served with arugula, corn, and tomato.
While you have this whole new menu to choose from at lunchtime, The Holy Crab still offers the seafood boil during lunchtime, too, so you can indeed go all out with your midday seafood feast.
The Holy Crab is located at 1588 Robson Street in Vancouver.