HOUSE OF DOSAS
1391 Kingsway (@ Knight), Vancouver
604-875-1283
You've probably driven past it a million times, that Indian restaurant on the NW corner of Kingsway & Knight - House of Dosas! Northern and Punjabi food is most well known for Indian food abroad but House of Dosas serves a staple South Indian food - dosas (dosas are also common in Sri Lanka, Malaysia, Singapore). A dosa is basically a combo of curried meat, veggies and potatoes but wrapped up in a long & thin crepe and is a staple South Indian dish for breakfast/lunch.
The dosas looks a lot bigger than it looks as the filling covers only about a 1/3 of the length (in the middle). The dosas are served with 2 types of chutney and I believe a tomatoey type sauce. Being Hopper Wednesdays when we went, we also tried hoppers for the first time (aka appams). These are rice breads that are thin but a bit thicker than the dosa crepe and comes with 3 sauces to fill inside the hopper (pictured below).
The plates are shaped and colored like banana leafs as banana leafs are traditional South Indian serving plates (again, also common in Sri Lanka, Malaysia - as we have the aptly named Banana Leaf restaurant as well, Singapore and Indonesia). In South India today, apparently, they are also used for formal meals, not so much for the everyday.
Dosa Mondays has all dosas for $5.99 (they are about $10 regular)
Thali Tuesdays has the Thali dish (below) that consists of Rasam, Raita, Pickle, papadam, Rice and Chapati bread for $10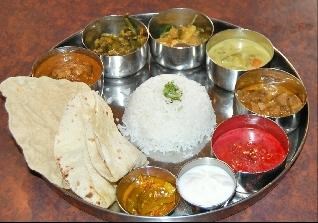 Chef Special Madras Dosa (they can obviously come triangle shaped as well)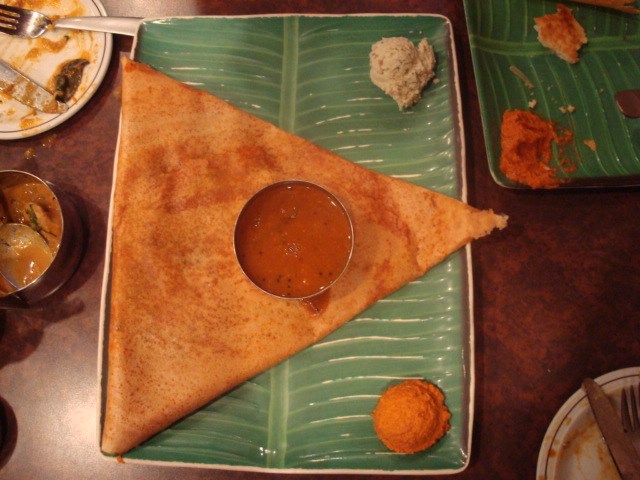 Hoppers/Appams (served on Wednesdays)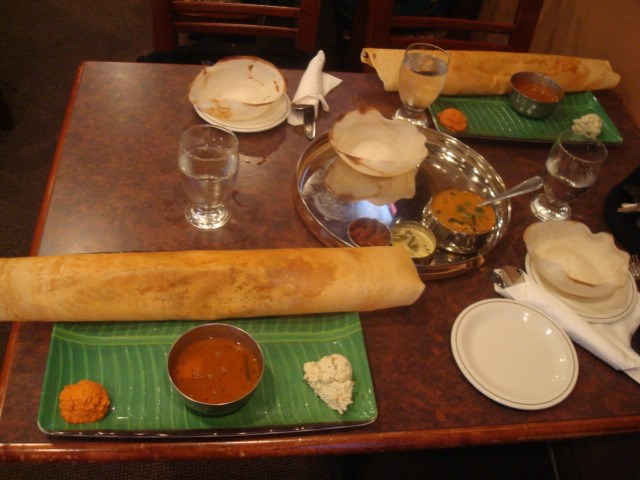 OTHER DOSA & SOUTH INDIAN RESTAURANTS IN LOWER MAINLAND
Excellent dosas but only veggie, also has South Indian buffet for lunch
955, West Broadway, (At Oak Street) Vancouver
147 Broadway East (NW corner of Broadway & Main), Vancouver
Not as good as they used to be
4354 Fraser St. (at 28th), Vancouver
7611 Edmonds St (SW corner of Edmonds & Canada Way), Burnaby
6030 No.3 Rd (@ Westminster), Richmond
604-303-0011