I'm not a vegan. Not even a vegetarian. What I am, though, is in awe of how not being able to use meats and dairy in the kitchen allows for more culinary creativity.
As a former vegetable hater with a life-long dairy addiction, I had been completely in the dark about how delicious vegan food could be up until the time I took a bite out of my first vegan burger two years ago. I think a lot of people are in the same boat and often assume the lack of meat and dairy products will result in a more restrictive, bland diet. Wrong! I went to three of the best vegan eateries in town and I dare you to go to one, or all three of these places and not enjoy what they have to offer.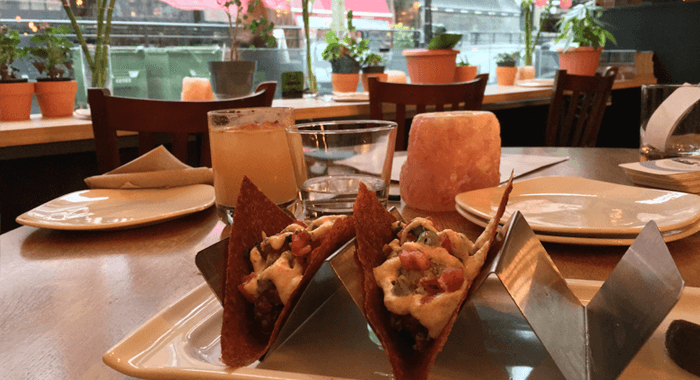 I started my restaurant hopping with what I predict will be one of the most frequented eateries in Yaletown: a new non-profit vegan restaurant that offers an unparalleled food experience in a stunningly Zen--as the name suggests-- and cozy atmosphere with extremely comfortable seats. Their menu is entirely vegan and consists mostly of shareables and signature elixirs. You also have the option of ordering their weekly Three-Course Set Menu, featuring their special weekly entree and your choice of starter and dessert (trust me and get the Triple Chocolate Torte).
I started with a shot of Kava, an elixir made with the indigenous crop of the Western Pacific called Kava-Kava that has relaxing properties without affecting your mental clarity. Tastes a bit astringent but has a sweet, tropical aroma to it. Then I was swept off my feet with the Spiced Corn and "Defried" Bean Tacos with guacamole, queso fresco, and Pico de gallo. Never had I thought meatless tacos could be so scrumptious. I also highly recommend the South East Asian Rice Rolls with house-made sauerkraut and spicy peanut sauce. By the end of the meal, my friend and I were so impressed --and relaxed because of the Kava-- that we instantly made plans to come back to Zend for brunch. And not just to try the 5-layer dip.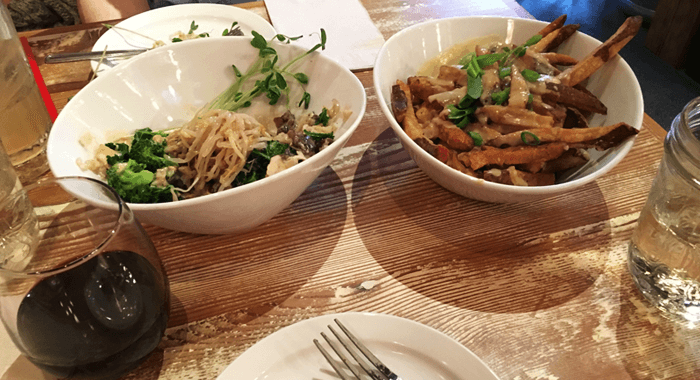 I was initially going to check out MeeT on Main as I had never been, but I ended up going to the newest location of MeeT in Gastown. It is a beautifully designed and decorated space with communal tables and old public school chairs. It was a Saturday and the place was packed; after I had my first bite of The Macro, a bowl filled with organic tofu, brown rice, mushrooms, chili flakes, and steamed vegetables in cashew gravy, I could understand why. Was it a salad? A rice dish? Who could tell? All I know is I scarfed it down like it was my last supper.
I may have also inadvertently found the best tasting french fries in the city; again, served with cashew gravy. I don't know why it took me so long to find out that cashew gravy is better than regular gravy. We also tried the Sweet-Chili Cauliflower; beer-battered cauliflower pieces with tamarind chili-ginger glaze, finished with scallions and sesame seeds. Welcome to Downtown Vancouver, MeeT; we are so happy to have you.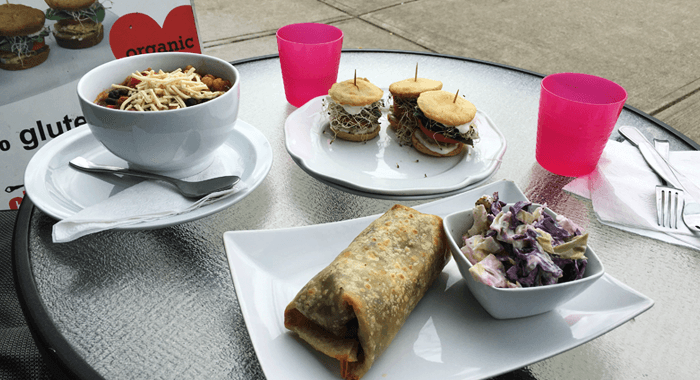 This charming little space shared by Chomp Vegan and Fairy Cakes with an incredibly friendly staff on Fraser Street was my last stop. They not only focus on vegan and gluten-free marvels, but I am certain their cupcakes, both gluten-free and gluten-full, are some of the best I have ever tasted in the city. Of course, I didn't get to try everything on the menu, but the sweet potato pesto wrap was very delicious and so juicy that it helped me hide the fact that I was salivating from my friend. The Chomp Sliders were life-altering; white bean patties, Roma tomato, spinach, alfalfa sprouts, avocado, and Chomp sauce on a sweet potato bun. I am intent on trying the Chomp Pizza and Kale Galore Salad next time I am there.
I recommend you try the Toffee Chocolate Ganache Tart to finish off your heart-healthy meal; what a tiny, delicious treat that was. I can say, without hesitation, that Chomp is an unbelievable experience for your taste buds regardless of your dietary preferences.
Chomp is a great place to grab some light lunch on a beautiful day. MeeT in Gastown and Zend are equally fantastic and singular dining experiences in terms of the food; the only significant difference is that Zend does not serve alcohol but serves delicious, health-promoting elixirs instead, which makes Zend the perfect place to have dinner after long and stressful days. MeeT in Gastown, however, has a more upbeat, weekend vibe.
If you have misconceptions about vegan food like I used to, try these places out and you'll realize that meat and dairy, as it turns out, can be rendered unnecessary if need be. Now if you'll excuse me, I am going to put on Cowspiracy on Netflix and go down on some vegan cupcakes.