Minami is considered one of Vancouver's premiere spots for elegant sushi and sashimi and seasonally-driven contemporary Japanese dishes, and to mark its milestone tenth anniversary, the restaurant is leaning into the surf and the turf on a refreshed menu that launched Aug. 16.
Now, firstly, do not panic: Nothing, and I mean nothing, is going to take away Minami's signature aburi sushi selections.
The torched, pressed sushi pieces first served up by big sibling Miku when it debuted in Vancouver back in 2008 will remain a cornerstone of the Minami menu, as will several premium sushi and sashimi dishes.
In fact, since sushi is so quintessentially Minami, the restaurant is making sure sushi remains a star offering. Playing to its strengths, Minami has dialled up the sushi menu with bold new options. Among the new rolls are the Yaletown Roll with hamachi (Japanese amberjack), octopus, cucumber, tobiko, and basil and a Mosaic Futomaki with chutoro (medium-fatty tuna), radish, kanpyo, avocado, mushroom, cucumber, salmon roe, and shiso leaf.
There are also new Tokyo-style sushi platters, featuring edomae nigiri sets and premium sashimi sets with both local, Ocean Wise fish and fish imported straight from Japan. To say the premium sashimi set is a showstopper is the understatement of the decade; Minami's gorgeous presentation ensures a wow factor on the table and the beautiful pieces of sashimi please not only the eyes but the palate.

Emblematic of Vancouver and Japan's shared geographical traits of offering bounty by land and sea, Minami's new menu is dialling in on wagyu, Japanese beef. Specifically, Minami is carving out a niche for itself as a premiere destination in Vancouver for tasting Iwate A5 Wagyu, the most award-winning Japanese beef. The high-end meat is also being flown in and sold to ambitious home cooks at Aburi Market, the Japanese specialty marketplace concept that got its pandemic-era start in Minami's very own private dining room (and has since expanded to include a flagship standalone store in West Vancouver's Ambleside.
Where's the beef? Iwate A5 Wagyu in the spotlight
Back in the dining room at Minami, guests can now order from what the restaurant says is one of the largest wagyu menus in the city. Minami Chef de Cuisine Woo Jin Kim is behind the selection of cuts and dishes with tantalizing accompaniments. Look for a melt-in-your-mouth carpaccio made of slices of Iwate wagyu loin and served with pickled wasabi, capers, arugula, grana padano, and shallot. An additional preparation available is Iwate wagyu sushi, served nigiri-style. You can also have the Iwate wagyu striploin or tenderloin cooked to your liking and served with a whiskey peppercorn jus and seasonal veggies; the meat is fork-tender and absolutely luscious.
While sushi and wagyu have become points of emphasis for Minami, the menu continues to boast an array of plates that showcase other seafood preparations (like the Aburi Lobster truffle Miku sauce) and veggies (like the Baked Cauliflower with hacho miso and yuzu tofu sauce that will make you want to scrape every last drop from the dish).
As always, the cocktails and beverage options as well as the desserts (thanks to Pastry Chef Nikki Tam) make adding those delicious extras onto a meal at Minami always worth it. It's hard to not get the restaurant's rightfully-cherished Green Tea Opera dessert, however, Tam's seasonal offerings make the most of what's best with fleeting availability.
What's also so great about Minami is that you can settle in for a feast fit for a special occasion - and the bill to match - or show up at Happy Hour to experience the same top-tier quality with more approachable prices. In that regard, Minami's excellent lunch sets and dinnertime chef's tasting menu accord guests more ways to taste a curated range of what the restaurant can do.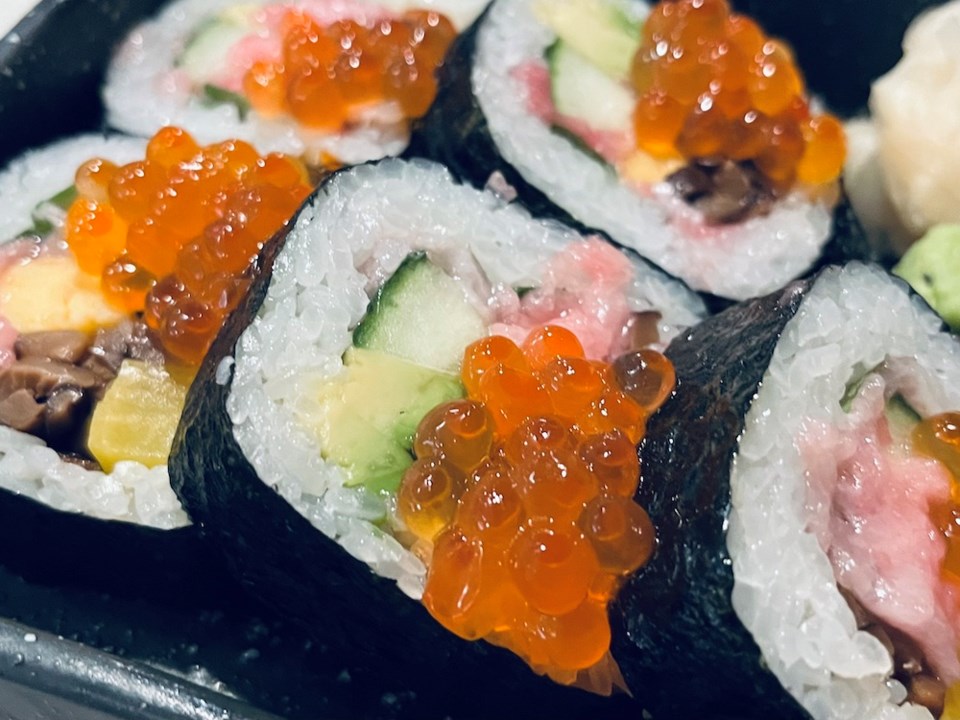 "This new menu is Minami's biggest change since a decade ago. Our guests love our sushi and they also love our steaks, so we enhanced both categories with the best of ingredients," explained Seigo Nakamura, Founder and CEO of Aburi Restaurants Canada. "The team has worked hard on this new menu for a couple months now, and I can't wait for our guests to give it a try and let us know what they think."
Minami is located at 1118 Mainland St and is open Tuesday to Sunday, for lunch, cocktail hour, and dinner service. Guests can make reservations online or by calling 604-685-8080.