I think I have to preface this post with the fact that I am not a Trekkie... but as far as I can tell from the press release below, and based on Ben's post about the last Star Trek screening at the Rio, this is going to be incredible.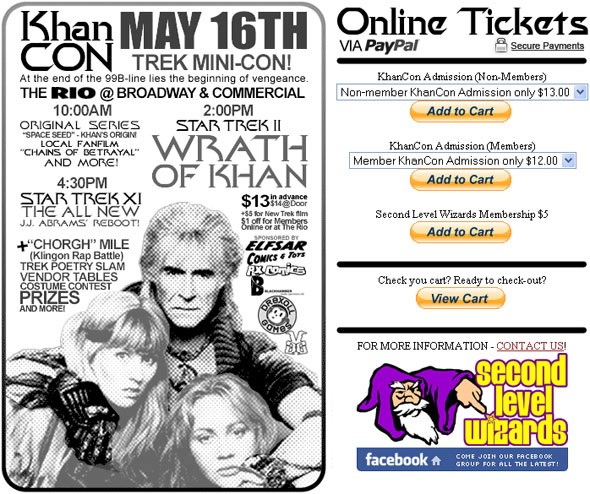 Here's the official:
Second Level Wizards Awesome Events Society is the group of nerds responsible for bringing you Cthulhupalooza and the Hayao Miyazaki Film Festival.
KhanCon--May 16th @ the Rio Theatre--is Vancouver's only Star Trek convention in decades. It features an episode of the Trek animated series, a "Chorgh Mile" Klingon rap battle open to all with prizes, fan film "Chains of Betrayal" with creators in attendance, a Star Trek poetry slam open to all with prizes, the classic Trek episode "Space Seed" which introduces Khan Noonien Singh, a costume contest with prizes, Star Trek II: The Wrath of Khan, and the new Trek film by JJ Abrams. Doors at 10am. Prizes supplied by Drexoll Games, RX Comics, Elfsar Comics, Cheeky Monkey Games, Videomatica, Hothead Games, Arc Dream, The Vancouver Gaming Guild, and The Darkest of the Hillside Thickets.
****
You had me at "Klingon rap battle".
.