Though the Vietnamese steez of pho would def have the largest number of eateries around town within the noodle & soup scene, KINTARO RAMEN has made quite an establishment of itself on Denman (and its apparently been around for a decade now). Ive been there and its def dope but like ANTON'S and STEPHO'S, there's always a huge lineup all the time. I love ramen and though I was bred on it (Moms is from Sapporo, mecca of miso ramen), Im never opposed to going out for it but just never seem to make it down to that neck of the woods to eat for some reason. So when I heard of MOTOMACHI SHOKUDO and seeing that it ranked #1 on Vancouver Slop's ramen chain, I had to get myself out there and try the place...
Motomachi Shokudo
740 Denman St (NE of Robson & Denman)
Tel: 604-609-0310
SHIO (SALT) RAMEN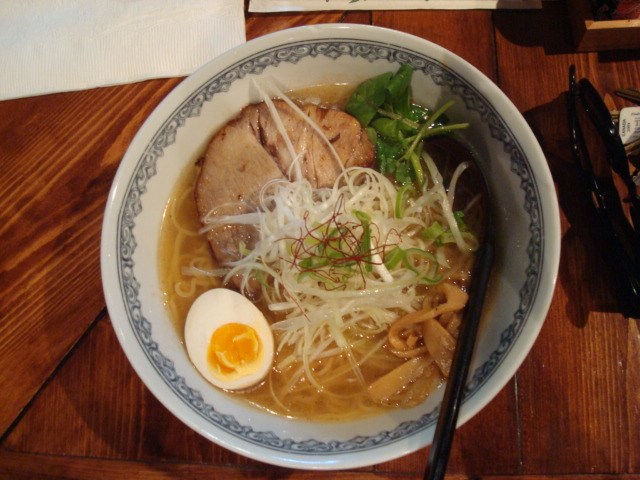 SPICY MISO RAMEN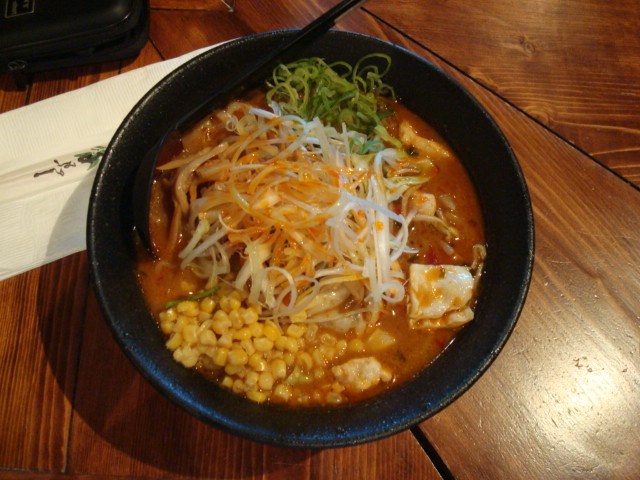 Well, its been so long that Ive been to Kintaro and being sure that I didnt have the same thing when I was there, I cant say if one was better than the other on ramen alone. Motomachi has the more stylin decor though its smaller but doesnt have that lineup outside either.
I can just say both spots are def real good though. Being weened on miso ramen, I opted to try a spin on that with the spicy miso ramen. It was good, real good, what more can I really say? My GF had the shio (salt flavoured) ramen which has a thinner and more simple taste to the broth. The spicy miso was def better though.
There's this Korean run ramen joint closer to my place in Burnaby (Kingsway & Griffiths, cant remember the name) thats alright and they do have some spicy broths as well. For the spicy type broth, Im all about the LAKSA though the spicy miso was a cool new find as well. And though I'll always love pho (had it tonight actually), call me biased but the after-feel after a bowl of ramen beats that after pho. Laksa (like anything Malay/Singaporean), I absolutely love too but not something I can eat all the time.
The Taiwanese style beef noodle joints are popping up more around town these days too. For that I go to LAO SHAN on Kingsway & Nelson.
The best Laksa ive tried so far in town was at BANANA LEAF though its should be just as good at TAMARIND HILL in New West.