The duo behind a popular Coal Harbour breakfast spot is expanding their reach with the addition of an exciting regionally-fuelled restaurant coming to Vancouver's bustling Alberni Street.
Archer is setting up at 1152 Alberni St, taking over the space that had previously been Pink Elephant Thai.
Karen Ho and Iain Bell of 6 Degrees Eatery were thrilled when the 2,400-square-foot restaurant space became available, as they'd been looking for a while for a suitable home for their second concept.
They've tapped some top talent for the culinary team at Archer, which will be headed up by Clement Chan, who is best known for being the original Le Tigre food truck co-founder; the boundary-pushing mobile concept led Chan to co-found the award-winning Torafuku. Chan has since moved on to work largely in a consultant capacity (pre-pandemic we caught up with Chan at Brass Fish Tavern, which he helped launch), but will now take the lead for Archer.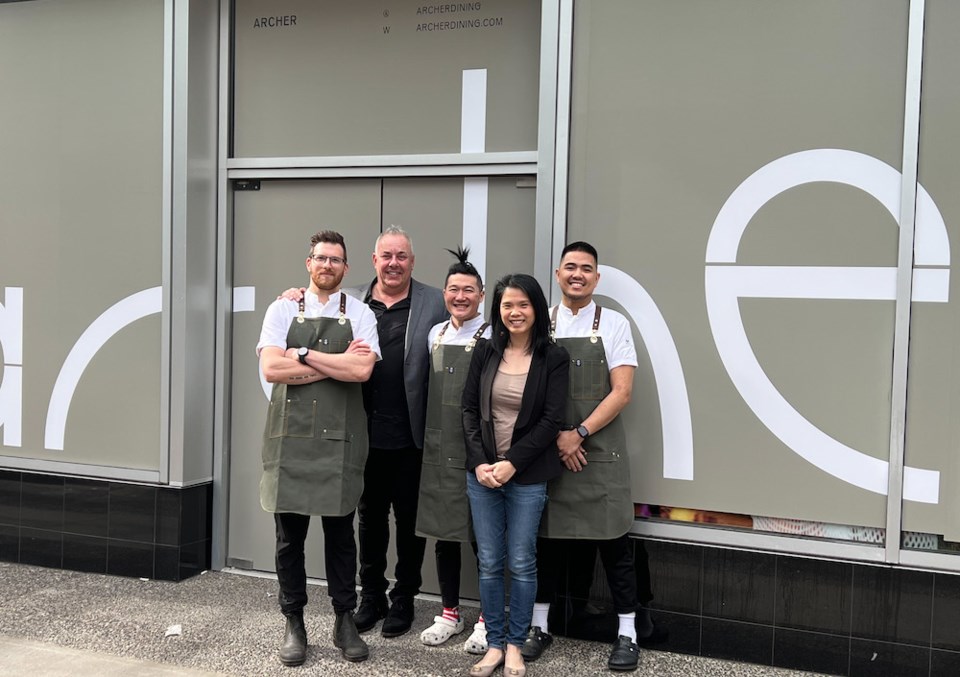 Supporting Chan at Archer will be restaurant chef Mike Linshits and sous chef Fermin Colasi Jr.
Diners are promised "a journey through the coasts and waters of the Pacific Northwest, highlighting the bounty of the region's talented farmers, fisherfolk, and producers" with the Archer menu, which will pay tribute to "the diverse cultures and flavours of Canada," according to a media release.
Those dishes will be served up in a room designed by Western Canada's Little Giant Studio.
"As the food is an expression of the Pacific Northwest, so too, the space seeks to be an embodiment of the landscape. The goal is to both capture the quiet of the forest and the raw power of the ocean. The space is designed to be soft, bright and textural - fit for a long and raucous brunch as well as for a beautifully moody and dramatic evening meal," said Little Giant founder Mark Burkart.
Alberni Street is, of course, a hallmark Vancouver destination for luxury shopping, which Ho and Bell acknowledge, adding: "As independent operators, our goal is to offer quality, elevated brunch and dinner fare to the neighbourhood, all while bringing a sense of place when you step through the doors with the ambience and design."
Look for Archer to open up in early summer. You can follow them on Instagram @archerdining.