Calling all ghouls and goblins who like to gobble goodies: Halloween season is in full swing in and around Vancouver, and that means tons of tempting eats and treats. We're talking devilishly decadent delights like mummy-themed souffle pancakes or exclusive one-day only treats, like a monster of a fried chicken sandwich. You'll even find a few local spots that have been inspired by the Netflix hit Squid Game scaring up some fun things for you to eat this Halloween.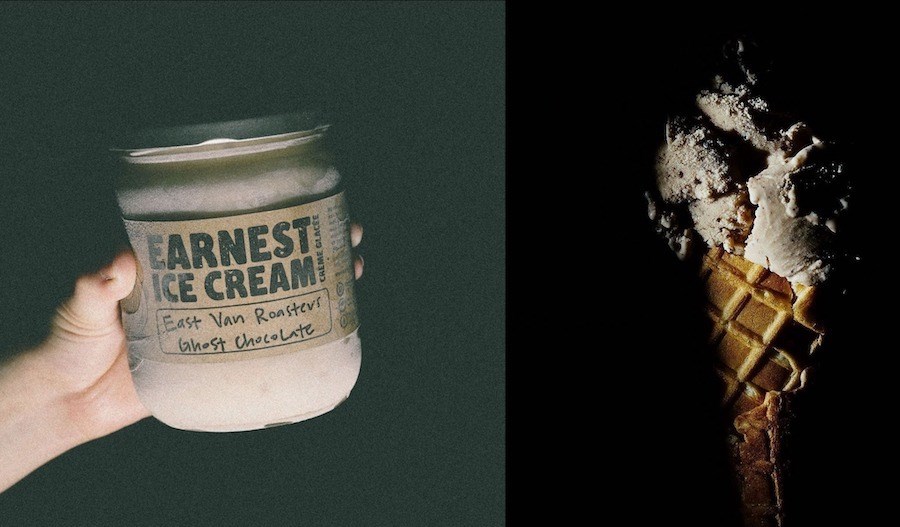 To bring their "frighteningly delicious" Ghost Chocolate flavour to life, the Vancouver ice cream shop has partnered with East Van Roasters to gather a few intriguing ingredients this spooky season. Use their daily flavour roster to see where it's scooping.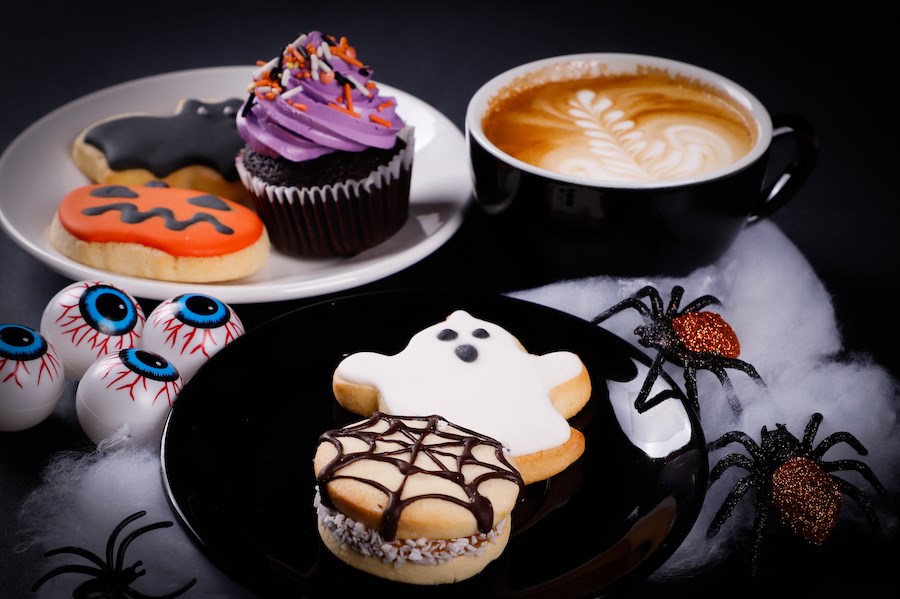 Devilish dessert preparations are in full swing at Kafka's. In-house pastry chef Adi Kesslemen is up to her sweet tricks, conjuring up tantalizing treats that will leave you spellbound. Satisfy wicked cravings this Halloween with otherworldly chocolate cupcakes filled with salted caramel and smothered in sinful Swiss meringue buttercream; charming sugar cookies disguised as bats, pumpkins, and ghosts; and alarmingly delicious Alfajores draped in dark chocolate cobwebs. Stake your claim on these spooky sweets before they disappear at any one of Kafka's three locations (Main, Great Northern Way, and Gastown); they're available October 25 through 31.
Burnaby's Mon Paris has a Halloween line-up that includes a charming milk chocolate jack-o-lantern as well as cute pumpkin chocolate lollipops.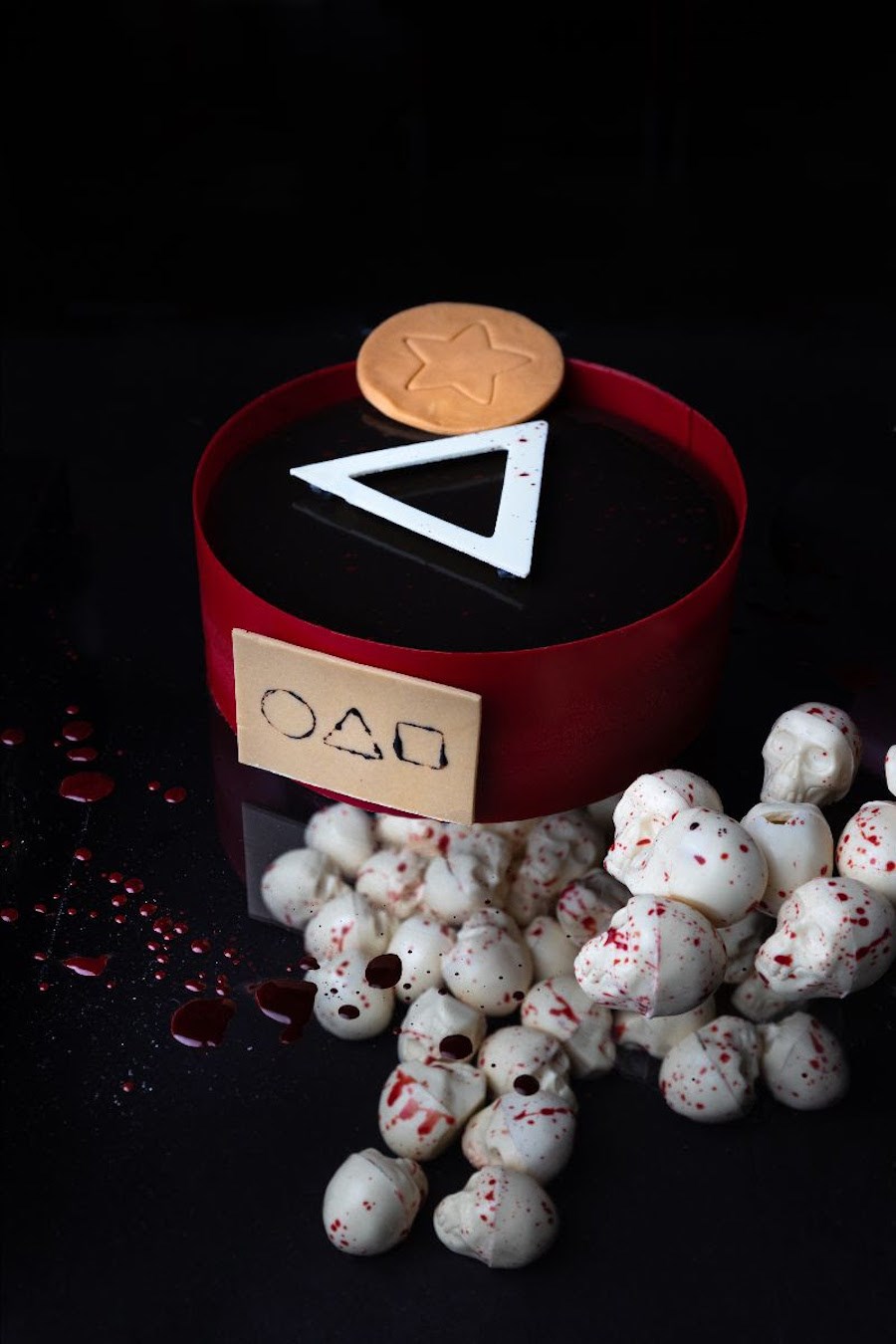 At this wickedly creative patisserie, Team Spooky mini set returns this year with the Wicked Witch (sesame and cherry compote hazelnut praline); the Mummy (made with caramelized apple, chestnut cream and vanilla biscuit); the Pumpkin (pumpkin cheesecake with pineapple compote and chocolate sablé); and Darkness (Ovaltine and raspberry compote choux with sesame streusel). Plus, Buttermere has also created two cakes designed after the recent popular Netflix series, Squid Game. Both unmistakably visual representations of the gripping series, The Masked cake, a sesame hazelnut praline cake, features the shapes presented on the players' invitations and the game guard masks while the Player's Casket cake, a twisted take on a traditional tiramisu, directly displays the eventual fate of all but one player – death. Buttermere's Halloween treats are available for pre-order on Buttermere's website for delivery or pick up on October 29, 30, and 31. Delivery is available within the Greater Vancouver Regional District and pick-up can be arranged at either Buttermere Café or Torafuku during regular business hours.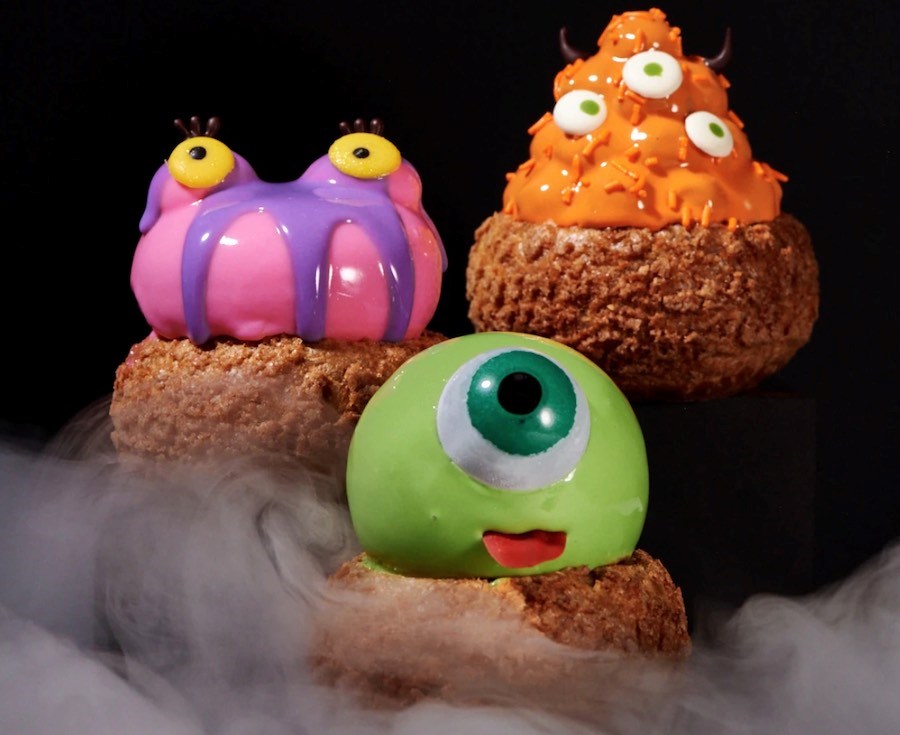 Meet the Monster Squad! That's Beta5's Halloween crew of "scream" puffs (aka cream puffs) and other Halloween-themed treats. There's Pumpkin Pete, Kandi Corn, and Matcha Mo ready to roll, along with adorable monster chocolate lollipops and a bar called "Strange Things." To score those cream puffs, though, you'll need to get an order in; they're available as a pre-assembled pack of three, for pickup or delivery, now through Sunday, October 31.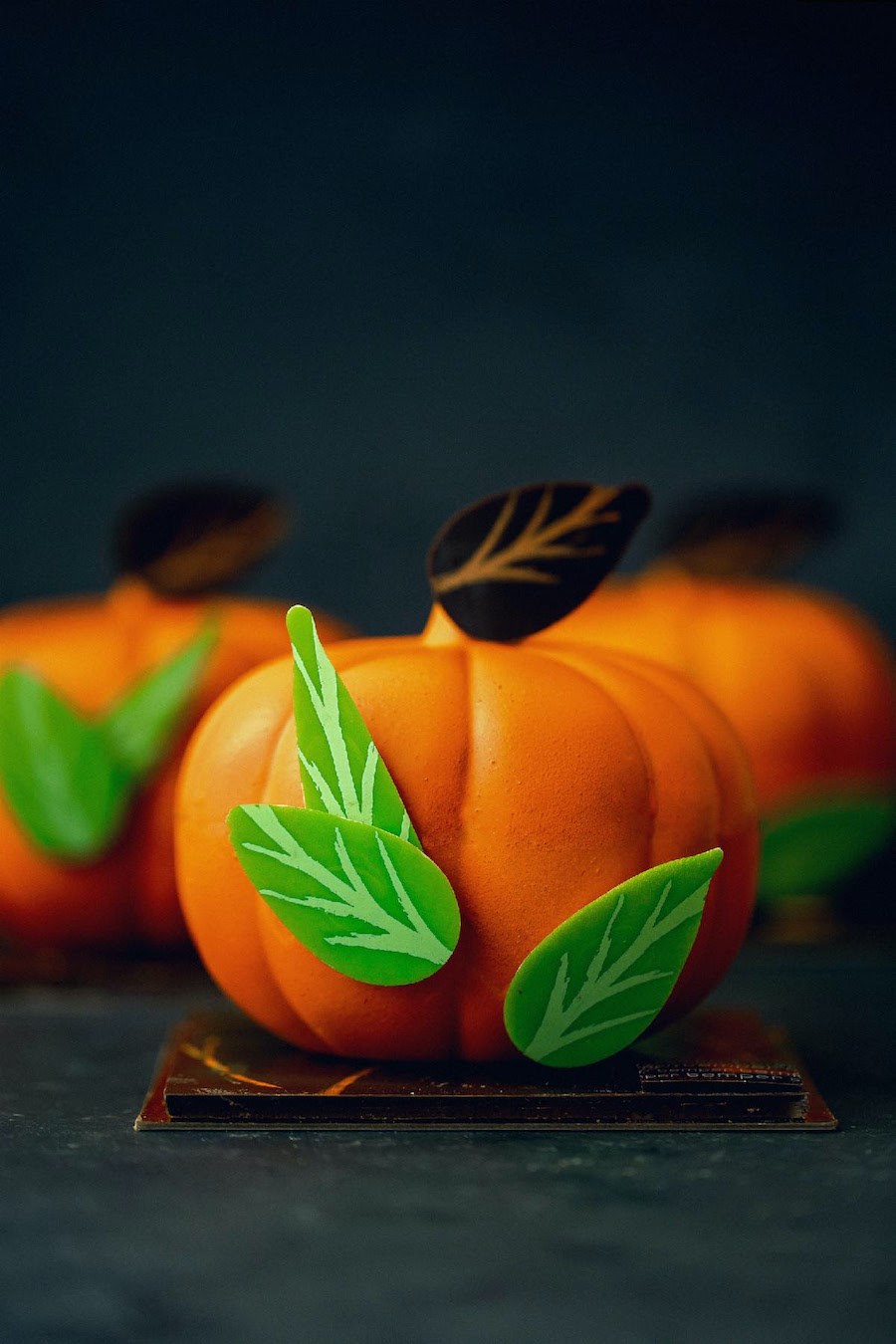 The popular European-inspired West Vancouver boutique and café are unveiling a new collection of decadent confections that will keep costumed kids and pumpkin fans alike smiling this season. For Halloween, Temper's signature lineup includes an array of milk and dark chocolate lollipops, bags of assorted, bite-sized 'frictures' in a variety of shapes and larger showpieces filled with delectable sweets. Throughout the autumn season, the Temper team will also be serving up a variety of fall-forward desserts and baked goods and specialty drinks that include: Pumpkin Scones; Pumpkin-Spiced Lattes; a Pumpkin Cheesecake infused with pumpkin and fall spices over top of a chocolate cookie crumble crust; and a traditional Pumpkin Pie, topped with light and airy Chantilly cream. Temper's signature Halloween treats will be available exclusively for purchase in-store at the Dundarave shop from now until Sunday, October 31 or while quantities last. As this year's Spooktacular confections are being handcrafted in limited supply, guests are encouraged to pick up their sweets for the trick-or-treat crowd early to avoid disappointment.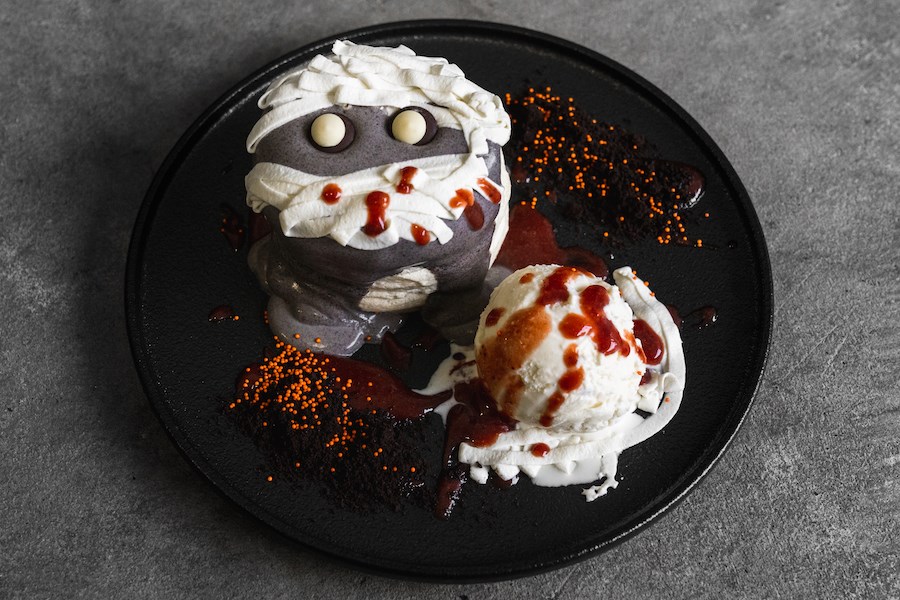 Every year Fufu Pancake Cafe makes a cookies n' cream souffle pancake special just for Halloween. This year the feature pancake will be called Mummy n' Scream Souffle Pancake. The dish features three stacked soufflé pancakes, Oreo cookie whipped cream, cream cheese whipped cream, dark chocolate Spookie eyes, house-made strawberry sauce, Oreo crumbs, vanilla ice cream, and orange sprinkles. It's available now through Oct. 31.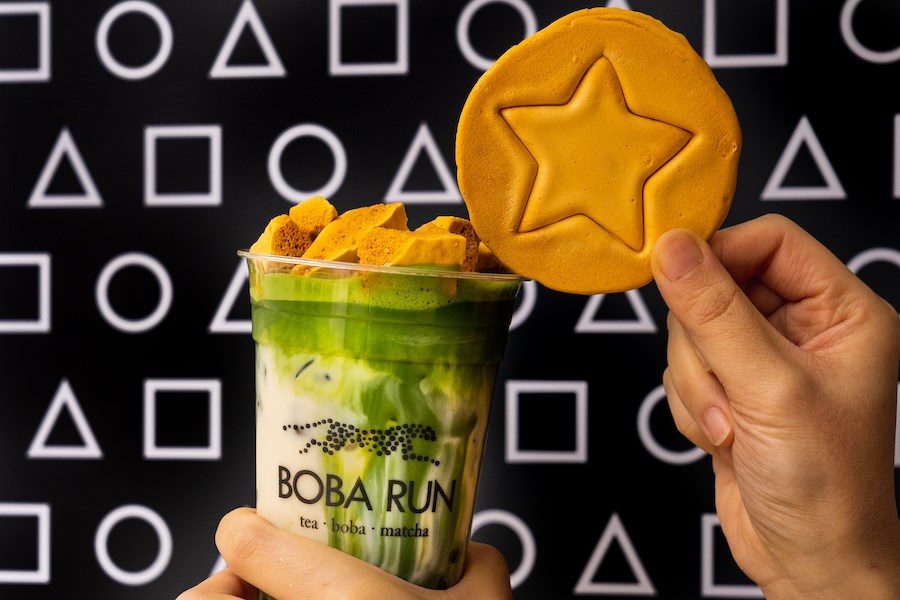 Boba Run will be going full Squid Game this year. On Oct 30 and 31 every customer that purchases a dalgona (aka Honeycomb) beverage will get a free Squid Game-themed dalgona cookie, while quantities last. The staff will also be dressed up as Squid Game authority figures and encourage customers to come dressed up and ready to take some selfies. Boba Run's Honeycomb Dalgona Latte features Korean honeycomb toffee crumbs served over your choice of milk. The toffee melts and oozes into your drink creating a rich "caramelly" flavour. You can also add a shot of Espresso, Matcha, Hojicha and Genmaicha for that extra caffeine kick.
The Vancouver-born chocolate legend always scares up some tasty Halloween-themed treats each year, and 2021 is no exception. They've got chocolate-loaded "Survive the Night" kits, haunted house-themed boxes, and ogre and zombie eyeballs for some scary sweets. More autumnal items include fall leaves chocolates, or a gilded chocolate pumpkin, and more.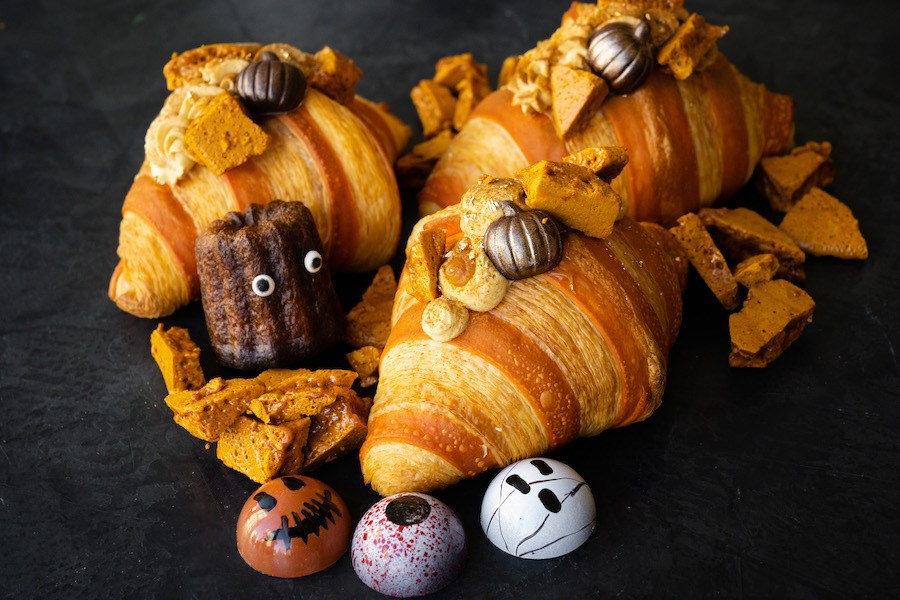 Get spooky this Halloween with sweet treats from Beaucoup Bakery. These include: Monster Bonbons in three flavours (chewy pumpkin caramel with pecan praliné crunch, apple cider pâte de fruit with lime marshmallow, and chestnut with whiskey ganache); Spooky Canelé (spiced pumpkin custard with a crispy exterior and creamy interior); and the Bone Appetit Croissant (bi-colour croissant filled with a spiced pumpkin mascarpone cream, topped with honeycomb pieces). Trick-or-treaters can pre-order online now for pick-up Oct. 25 to 31. Limited quantities available for walk-ins as well.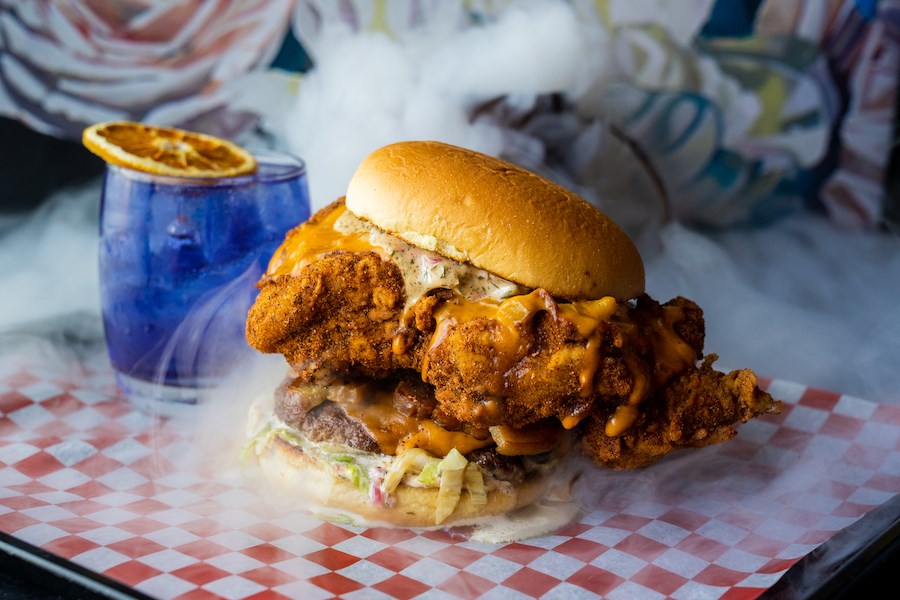 For one day only on Halloween (Oct. 31) , Downlow Burgers' popular Monster Mash makes a return, featuring a dry-aged beef patty, boneless fried chicken thigh (spiced medium), slabs of crispy fried pork belly, house jalapeño ranch, Canadian cheddar, lettuce and tomato. Available first-come, first-serve at The American (926 Main Street).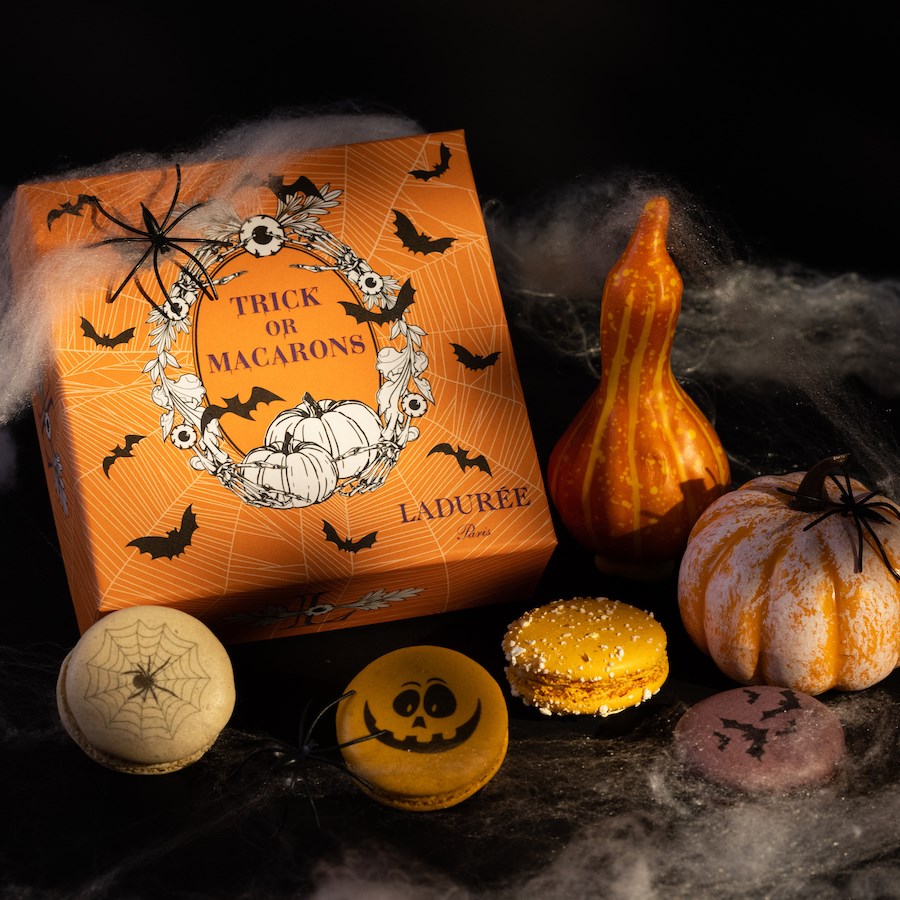 This limited-edition Ladurée Halloween gift box is the ultimate Halloween treat. Fill it with a variety of macaron flavours, from passionfruit, matcha, to pistachio, salted caramel, and chocolate. Available for delivery, pick-up, in-person at Laduree's Robson Boutique and carriage pop-up at Holt Renfrew.
The new Halloween feature drink from Chatime in collaboration with Red Bull Canada is now available to liven up your spooky season. Peachy Hollow is an infusion of peach and blood orange green tea energized with Red Bull The Peach Edition™ and activated charcoal for extra fun. Peachy Hollow will be available in-store and via Chatime Online Ordering now until November 3 or while supplies last at participating locations across British Columbia.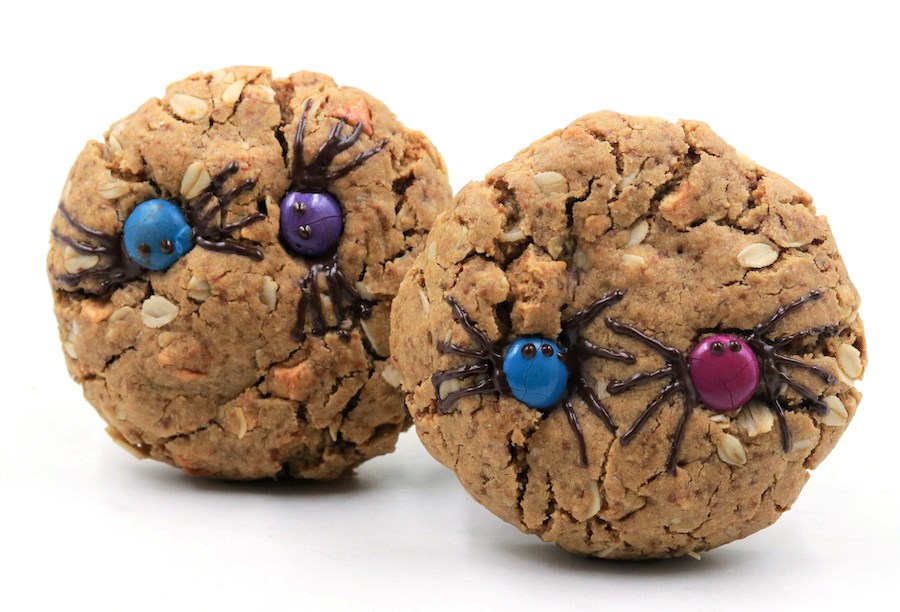 Have some fun this Halloween with a vegan "spider" cookie from Panela Lemon. The vanilla oatmeal cookie is mixed with natural dehydrated apples and stuffed with a creamy cinnamon spread, decorated with two "spiders" on each with chocolate quinoa gems and dark chocolate. Available first come, first serve at Coho Coffee (1370 E Georgia Street).