Enjoy this delicious Pad Thai recipe from Pailin "Pai" Chongchitnant's cookbook, Hot Thai Kitchen: Demystifying Thai Cuisine with Authentic Recipes to Make at Home.
Born and raised in Thailand, Pai attended the University of British Columbia and dreamed of one day hosting a TV food cooking show. After graduating from UBC with a degree in Food Nutrition, she attended San Francisco's Cordon Bleu where she trained as a professional chef before returning to Vancouver. At the suggestion of her brother, she created her own Youtube show, Pailin's Kitchen in 2009 and quickly gathered a following from around the world. Today her cooking show has received over 12 million views and includes over 150,000 loyal subscribers.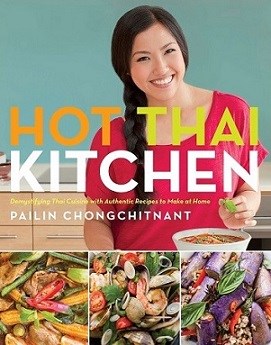 Excitedly, this self-made Youtube food show star has just released her first cookbook. Beautifully photographed, Hot Thai Kitchen begins with a trip to Thailand to explore the culinary culture along with showcasing key ingredients, flavours, and equipment used in Thai cooking. The cookbook also features QVR codes that allow you to link directly to Pai's on-line food videos. Watching Pai is liking being over at a friend's house while she shows you how to cook the food of her native Thailand. Pai's step by step instructions along with helpful tips will have you cooking Thai food from curries to desserts at home with confidence.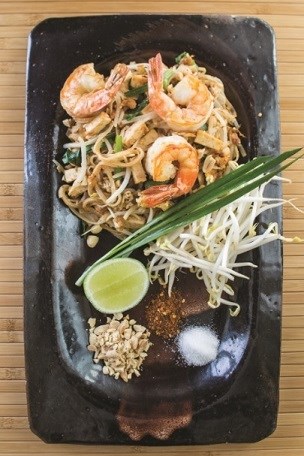 Pad Thai
Pad Thai was created after the country had just changed its name from Pratet Siam to Pratet Thai. It seems ironic that the one dish whose name was honoured with "Thai"- a buzzword at the time-uses noodles, a Chinese ingredient. But that was the point: around the time of World War II, Chinese immigrants had made noodle dishes wildly popular among Thai people. The Prime Minister, known for his Thai patriotism, tried to fight the spread of Chinese culinary influence by creating a noodle dish that used Thai ingredients and flavours. This is why pad thai contains no ingredients common to other noodle dishes such as soy sauce and oyster sauce.
Serves 2-3
Cooking time: 15 minutes + 1 hour to soak noodles.
Do-ahead Tips: Make the sauce in advance and store in the fridge, soak the noodles in advance, drain and store in fridge in a sealed container.
The Sauce
3 Tbsp Palm sugar, finely chopped packed
3 Tbsp Water
1/4 cup Tamarind juice. (Note: each brand of Tamarind juice varies in acidity, so you may need to adjust this amount.)
2 Tbsp Fish sauce (Note: It is important to use good-quality fish sauce and a fresh bottle)
The Rest
4oz Dry rice noodles, medium size.
4oz piece Pressed tofu, cut into small pieces, about 3/4 cup.
1/4 cup Sweet preserved daikon radish. (chai po waan) finely chopped
3 cloves Garlic, chopped
1 Shallot, peeled and chopped
1 Tbsp Dried shrimp, rinsed and finely chopped
1/2 -1 tsp Chili flakes
2 1/2cups Bean sprouts
1 cup Garlic chives cut into 2 inch pieces
1/4 cup Roasted peanuts, chopped.
2 Eggs
2-3 Tbsp Vegetable Oil
8-12 Shrimp, peeled and deveined
1 Lime
Soak the noodles in room temperature water for about 1 hour, until the noodles turn white and are pliable.
Make the sauce by combing the palm sugar and water in a heat-proof bowl and then microwaving for 30-45 seconds or until hot, stir to dissolve most of the sugar. Stir in the tamarind and fish sauce.
Organize your prep by combining the tofu, preserved radish, garlic, shallot, dried shrimp, and chili flakes in one bowl. In another bowl, combine the bean sprouts, garlic chives, and half of the peanuts. Crack your eggs into a small bowl, so you avoid having to fish egg shells out of a hot pan.
Heat 2 Tbsp of the oil in a wok or large saute pan over medium-high heat until hot. Add the shrimp and let them cook without moving them until they are halfway done. Flip the shrimp and cook the other side. Remove and set aside.
To the same wok, add everything in the tofu bowl. Cook, stirring constantly until the garlic starts to turn golden brown, adding more oil if it seems dry.
Add the noodles and pour the sauce over the noodles, keep tossing until all the liquid is absored and the noodles are cooked. When the sauce is all absorbed, push the noddles over to one side and add the eggs into the empty space. Scramble the eggs slightly and swirl the pan to spread the eggs wide. Once the egg is 50% set, put the noodles on top of the egg and let is sit for 10-15 seconds to set the eggs.
Flip the noodles so the eggs are now on top; stir to break up the eggs. Ad everything in the bean sprouts bowl and toss to incorporate into the noodles.
To serve, transfer the noodles onto a plate, making sure to distribute the tofu evenly, as it tends to slip off the noodles and stay in the wok. Arrange the shrimp on top of the noodles and sprinkle on the remaining peanuts. Serve immediately with a piece of lime. You can also serve extra bean sprouts, peanuts, chili flakes and garlic chives on the side. Be sure to squeeze the lime over the noodles before you eat them!
Pai's Pad Thai video can be seen here.
Recommended BC Wine Pairing:

Culmina Family Estate Winery 2014 Decora ($20.00)
"An intensely focused and bright Riesling, Decora is characterized by distinct chalk and grapefruit aromas, accented with delicate spice, stone fruit, and white flower notes. Whetting the appetite with lively acidity, Decora first hits the mouth with wonderful nectarine flavours, followed by an integrated palate of mineral and citrus, and a dry, energizing finish."
Culmina Family Estate Winery is owned by one of Canada's most noted wine families, the Triggs. Instead of retiring, Don and his wife Elaine along with their daughter Sara decided to continue their passion for the Canadian wine industry and after extensive research chose the Okanagan's prestigious Golden Mile Bench to locate their winery.
With unprecedented demand for the release of their first vintage, Culmina which opened in 2013 had already become a cult winery. Their wines did not disappoint impressing even the toughest critics. From the opening of their doors, Culmina has been recognized as one of Canada's best wineries.
Recipe and photos printed with permission from Appetite by Random House.