LE PETIT SAIGON
2783 E Hastings St (@ Kaslo)
Vancouver
Pho joints in Vancouver are pretty much as ubiquitous as Chinese restaurants, sushi spots, Starbucks, etc (esp along Kingsway in East Van where it seems a pho spot pops up everytime another restaurant or cafe closes down). LE PETIT SAIGON is actually beside a Starbucks on Hastings and Kaslo. Its a few doors down from BAO CHAU, a long time Pho spot in that neighborhood and beside the Open 365 Days a Year until 11pm liquor shop. I dunno if its just me but most of the pho spots in Burnaby that I usually frequent dont seem to as good as they used to be. They arent bad but seem to be not as good either (plus many dont seem to offer the combo of briskets, tripe and tendon like they used to). I havent been to PHO VAN lately, one of the consensus top Pho spots in the city amongst my crew because its a bit more outta my way. Le petit Saigon seems to have been around for a few years already but I didnt try it until this summer.
I can know count it in additon to Bao Chau where the broth is a bit distinct from the standard bowls round town....
The broth seems a little thicker and richer. The decor is also a tad neater and the bowls, plates, etc are a bit more modern, nothing fancy in the slightest but its a decent noticeable touch. They also have a grilled beef salad roll which I dont see (or maybe notice) at the other spots (though the Cambodian roll I tried at GREEN LEMONGRASS in Richmond is still the bombest). This is all at similar prices to the other places so pretty solid spot overall in the Phogedaboutit crawl.
Oh, and they have freshly made chilli sauce too which you can see and taste the difference. And another thing they have that I like (that my friend claims is quite common, I disagree) is they serve cold tea as well. Something else this same friend had this day was chicken pho, which ive never tried, which has chicken broth and chicken meat instead of the beef slices.
For those who sometimes feel like Vietnamese cuisine in a more posh setting with a modern menu to boot, there is also the new CHAU KITCHEN & BAR on Robson.
COLD TEA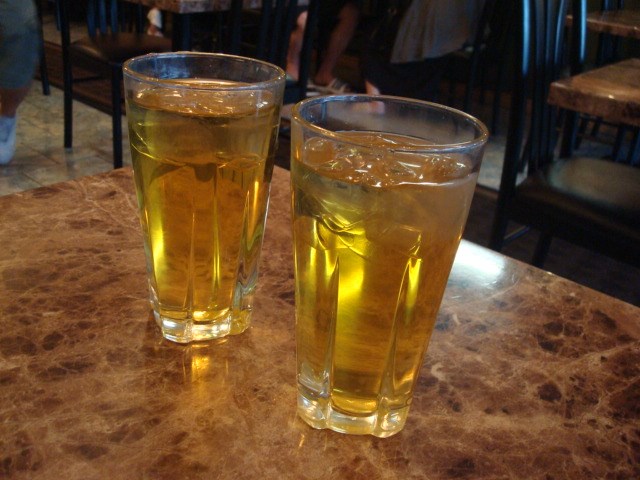 GRILLED BEEF SALAD ROLL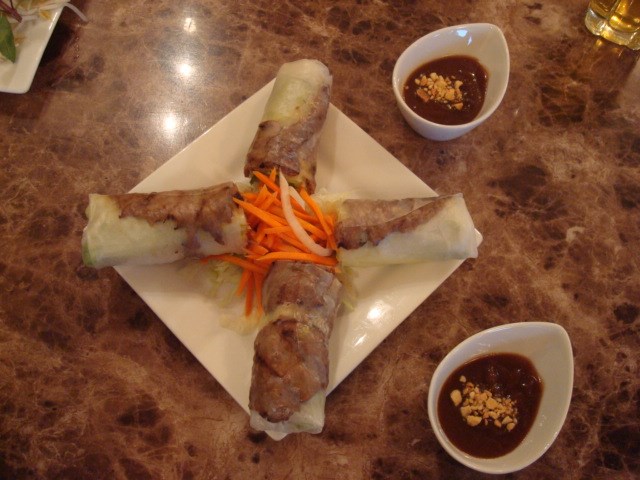 WITH TRIPE, TENDON & BRISKET and the FRESH CHILLI SAUCE (on the left)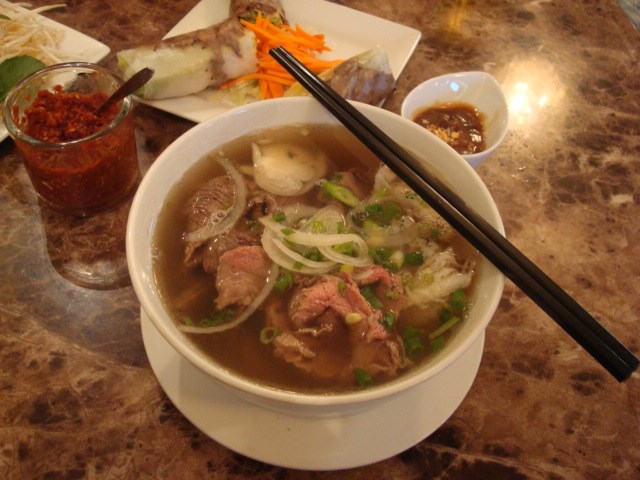 CHICKEN PHO