There are so many ramen restaurants in the West End on Robson Street that the area has earned the nickname "Ramen Row." While you might think our collective bowls are full to the brim with options for Japanese's beloved noodle soup with all the fixings, more ramen joints keep opening up, often bringing something new to the table.
Ramen Taka, which opened up recently on Bidwell Street right off Robson, is one such venture. Short for Ramen Taka notsume, the name comes from the hometown of owner Hideki Sasaki, Takasu in Hokkaido, Japan. In Ainu, an aboriginal Hokkaido language, Takasu essentially means "eagle resides," and so, to play on this meaning, and the notion of drawing customers in, Sasaki's ramen shops are named for the "eagle's claw."
This is the first location of Ramen Taka outside of Japan, and Vancouver was a natural choice thanks to some existing relationships with local business people, as well as the city's near-obsession with ramen.
But Hokkaido-style ramen is different from many of the others we are more familiar with here in Vancouver, and those subtle differences--along with some uniquely Vancouver twists--mean Ramen Taka offers diners a ramen experience they most likely have not encountered elsewhere.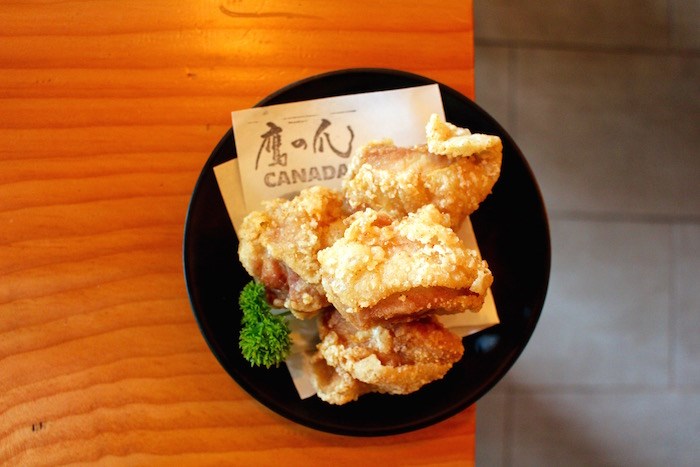 Chicken Karaage (Lindsay William-Ross/Vancouver Is Awesome)The soul of any bowl of ramen is its broth, and Sasaki has perfected his rich, fatty, porky broth. While other ramen style call for a broth base that uses both chicken and pork (with a faster cook time), this long-simmering flavour-extracting process of using pork bones and seafood means an intense depth of flavour in their signature Dragon's Dewdrop Shoyu Ramen.
Their Miso ramen, also a popular choice, uses a special blend of miso along with the addition of fruit, for an extra tart-sweet note. Rather than either broth come out muddled, the end results are surprisingly clear and harmonious broths.
To keep with the Hokkaido tradition, your broth at Ramen Taka can be punctuated with the addition of lard (or a non-animal oil for their special vegan broth). This is because in Hokkaido, locals prefer to slurp from extremely hot bowls of soup; the extra fat seals in the heat.
Knowing that Vancouver is home to a vast population of ramen lovers who also prefer not to eat animal products, Sasaki took a bold step in creating a vegan ramen that is only served at Ramen Taka in Vancouver. Made with kombu, and enriched with olive oil, many customers who have been happily slurping up plant-based ramen dishes around town are already proclaiming Ramen Taka's their new favourite rendition.
What's helpful is that Ramen Taka's noodles, which are made by a company chef in Los Angeles, do not use eggs, and their flour is sourced from right here in B.C. from a Chilliwack wheat farmer. This gives the noodles a unique texture and stiff snap, too, and they are easily suited to a vegan ramen.
For the ramen selections that are pork-based, Ramen Taka's piece of chashu (pork slice) is thinner and broader than the typical ramen style. It is cut from the pig's thigh, and is meant to be fully submerged in the hot broth to soak up all the richness of the soup. The optional addition of the lard to the broth compensates for the lack of fattiness in the chashu (so go ahead and order that lard--it won't come in the raft of meat you may be used to).
Other items on Ramen Taka's menu include gyoza, griddled with extra starch to create a crackly "skin" of sorts, and prepared to order. They've got Hokkaido-style chicken karaage, with a crispy, salty skin and a juicy interior. B.C. wines are on the menu, as are several sake selections. They offer a happy hour with appetizer and drink specials, too.
One other standout: You can pre-order your ramen to take home to enjoy later in a charming microwave kit. While other ramen spots won't serve their soup to-go, this is one way to have your ramen at home...and heat it, too. Directions for preparing are included with the clever kit.
Ramen Taka is located at 841 Bidwell Street.