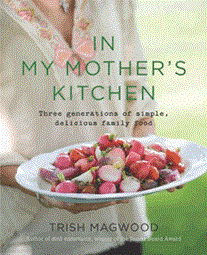 This wonderful Canadian recipe comes from the national best-selling cookbook, In My Mother's Kitchen, by Trish Magwood. Perfect for a family meal, this is also a great entertaining dish because of it's beautiful presentation and ease to prepare. Serve with homemade apple sauce and roasted potatoes.
Ode to BC Pork Tenderloin
*While the recipe is actually called, Ode to Ontario Pork Tenderloin, the title has been changed to support our local BC Pork farmers. Make sure to buy your pork tenderloin from a reputable butcher shop to ensure the highest quality. This recipe works well with local craft beer: Strange Fellows Brewing Talisman.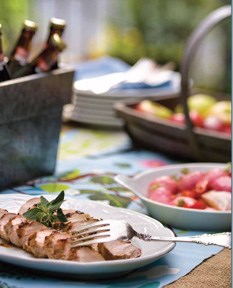 1 cup (250 mL) beer
1/4 cup (60 mL) maple syrup
1/4 cup (60 mL) soy sauce
1/4 Vidalia onion, finely chopped
1 tart apple (such as McIntosh), peeled and finely chopped
2 tsp (10 mL) chopped fresh thyme
2 pork tenderloins (each about 3/4 lb/375 g)
Salt and pepper to taste
Preheat oven to 400°F (200°C).
In a small saucepan, combine beer, maple syrup, soy sauce, onion, apple and thyme.
Bring to a boil, reduce heat and simmer for 15 minutes or until slightly thickened.
Season pork with salt and pepper and put in a shallow roasting pan.
Tuck thin "tail" under so each tenderloin is a uniform thickness. Pour sauce over pork.
Roast uncovered, basting with sauce a few times, 40 minutes or until a meat thermometer reads 160°F (70°C). Let rest 5 minutes before carving. Slice into thick medallions and spoon sauce over top.
Recommended BC wine pairing: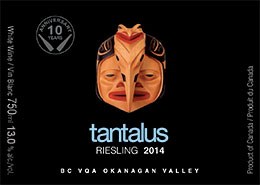 Tantalus Vineyards 2014 Riesling ($23.00) "Nose of fresh lemon zest and orange oil with top notes of wild flowers and an undercurrent of guava and green pineapple. On the palate the wine is intense with granny smith and gala apples, peach skin and pineapple."
Tantalus Vineyards is an award-winning winery located in Kelowna and are known as one of Canada's best producers of Riesling.
Recipe and photos shared with permission from In My Mother's Kitchen by Trish Magwood © 2011. Photography by Brandon Barré © 2011. Published by HarperCollins Publishers Ltd. All rights reserved.