Saj & Co Lebanese Eatery- A Neighbourhood Gem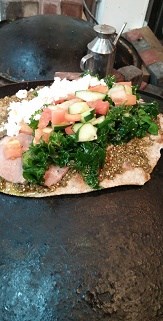 Most North Americans have never heard of a saj, which is a round domed grill heated from underneath, that has been used for cooking flatbreads and sandwiches for over a century across the Middle East. Saj's are found at roadside stands and cafés where sandwich wraps are made by first cooking a piece of flatbread dough on top of the saj. When the flatbread is cooked, one side is spread with toppings which are warmed and then the sandwich is folded up and ready to be served.
Vancouver excitedly has an authentic saj eatery, which began in 2014 in a shared space at 813 Davie Street and in 2015 became solely the Saj & Co. café.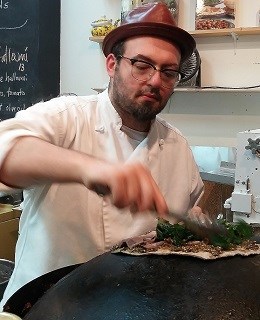 Owner and chef, Malek Anouti is originally from Lebanon where he worked as a designer. After moving to Vancouver, his wife's desire for mana'eesh, a Lebanese herbed flatbread along with his love of cooking inspired Malek to open his own café. This charming and small eatery serves up neighbourhood warmth, and everyone who enters is greeted by Malek, who stands at the open kitchen, cooking up delicious handmade wraps on an authentic saj.
Traditional Lebanese dishes are found including hummus, zaatar, tabbouleh and spinach fatayer. The hummus is one of the best in the city. However, it is the enormous wraps that draws line-ups over the busy lunch and dinner hours, mostly for take-out as there is limited seating. Malek originally began with traditional Lebanese wraps but when customers began asking for other ingredients to be included, he agreed with his wife's advice to give the customers what they wanted and began to make his own delicious creations cooked in the old world tradition but with a Vancouver twist.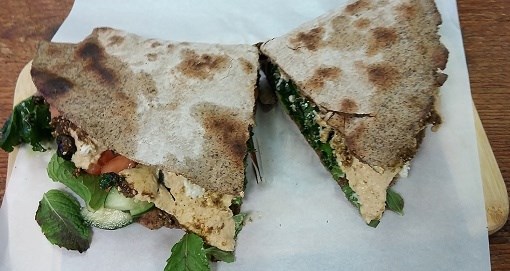 For carnivores, the Cunningham wrap served up on Malak's own flatbread recipe of organic rye and buckwheat dough, along with premium roast beef, feta, olives, tomato, kale, pickles, spinach and the in-house made from scratch hummus, is simply outstanding.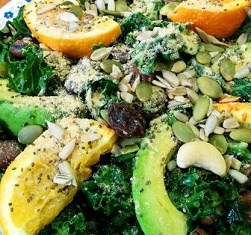 For both vegetarians and vegans, there are plenty of options including the Anton the Great wrap (organic rye and buckwheat dough, zaatar paste with cold press olive oil, roasted kale, fresh vegetables, olives, pomegranate molasses, mint and hummus) along with salads including the excellent tabbouleh and popular Greens, Beans & Seeds Salad. The grilled halloumi cheese wrap with fresh mint, tomatoes, cucumber and olives is a local favourite.
The menu is priced from $6.50 to $12.00 along with Lebanese coffee and tea. Middle Eastern desserts from $6.00 are also available including Tahini-Marmalade with Lebanese villager's whole fig marmalade and the Halawah Special of melted halawa and fine chocolate spread with crushed nuts and lemon zest.
Saj & Co. showcases excellent Lebanese food and an old world charm of a tiny authentic neighborhood eatery. It is these owner operated hidden gems that are worth seeking out and make Vancouver truly a city for food-lovers.
Saj&Co-Authentic Lebanese Food Express
813 Davie Street. (604)-559-2447
Mon-Sat. 11:30am-9:00pm. Closed Sundays.
Eat-in, delivery or pick-up.