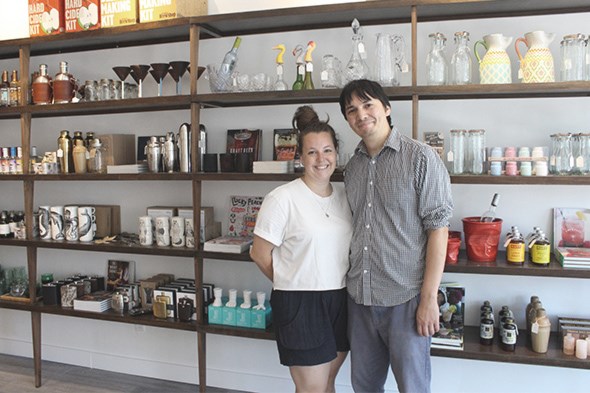 Sips Cocktail Emporium is the magical name for the latest addition to the Mount Pleasant neighbourhood. Owned by the adorable couple and cocktail enthusiasts Darcy Broatch and Jordie Yow, "Sips is a store for the home bartender." Their collection of carefully curated pieces, publications (including one of my favourites Lucky Peach!), and ingredients will inspire anyone to try their hand at their very own cocktail concoction.
After taking a peek at their newly opened location, I asked the couple more about their store and what inspired them to make their hobby a business.
Tell us about Sips Cocktail Emporium.
When we were visiting Toronto for a friends wedding, we became enamoured with a store called BYOB. At first we started joking about opening a similar store in Vancouver, but we became serious about the idea once we realized how well a store like this would do here. So we decided that instead of saving to buy a house, we'd save up to start a business that we'd have fun running and here we are!
In a city that seems to be ever expanding with craft breweries, what made you want to focus on cocktails?
We don't think the two are mutually exclusive. We love a good beer, but sometimes you also want a tasty cocktail. Vancouver is very well served for beer, but much less so in the home bartending department. We saw a hole in Vancouver's liquor scene and decided to fill it. We also want to help provide an alternative to the $14 drink for cocktail lovers. Vancouver has some great cocktail bars, but if you can learn to make a good drink at home, you can enjoy more for less!
Have you always been cocktail aficionados or was there someone/somewhere you stumbled on that inspired you?
For me (Jordie) it was reading Brad Parson's book 'Bitters' that sent him down the rabbit hole. I'd always enjoyed cocktails, but reading that book really got me experimenting with cocktails. For me (Darcy) it was when I started dating Jordie. When I met him, he had a good starter home bar and he would make different drinks for me. Since then, I've been passionate about trying and creating new drinks.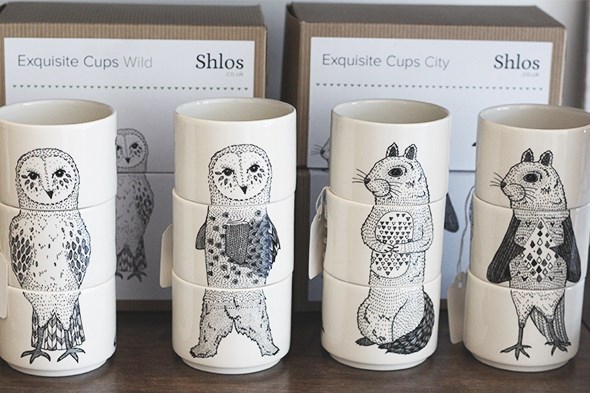 What's the most satisfying part about making your own drink?
The first sip when you taste it and you know you did it correctly because it's delicious!
What's your favourite cocktail to make?
Jordie's current favourite is a version of a Boulevardier (2 parts rye, 1 part sweet vermouth, 1 part aperol, dash of orange bitters) because he's really craving one. He uses Odd Society's bittersweet vermouth and aperol instead of campari because aperol is slightly lower in alcohol content and bitterness. My favourite (Darcy) is a cocktail I made a few months ago called The Blorange. It's a take in a Martinez, but with a citrusy twist! (1 oz gin, 1/2 sweet vermouth, 1/2 blood orange juiced, 1 lime wedge juiced, splash of club soda and a slice of blood orange as garnish).
Can you share a tip for those of us just starting to try our hand at being home bartenders?
If you find a flavour or liquor you love, experiment with it. Try it with all sorts of things so you can see what works with it. Half the fun is discovering something that is new to you. Also, having one of two liqueurs in your home bar will open up so many drink possibilities for you to make. Instead of just having spirits and some mix, get some popular liqueurs like St. Germaine, Galliano or Cointreu so you can make so many more drinks.
What are a couple items in the store that you're really excited to be carrying?
We love the exquisite cups because they're a lot of fun! We're also really excited about all the products from local companies like Thirsty Whale, Cahoots, Bittered Sling, Graveley & Sons, and Greff. When we sell their stuff we know the money is going into making Vancouver's liquor scene more successful.
Where's your go-to bar in the city for a solid drink?
Though we love places like Alibi Room, Doans Craft Brewing and Brassneck for beer, we love Diamond and The Cascade for a great cocktail!
As for our opening, were planning on having a grand opening party sometime in August. We'd say stay tuned for now and we'll announce exactly when that will be. For now, we're open so people can certainly come by and shop!
Sips Cocktail Emporium
339 E Broadway
Follow them on Instagram and Facebook for the latest updates!