One of the things I hate the most of going to the dentist is not them picking away at my teeth, or the fact I always think the flouride is actually going to taste like bubblegum (it will one day!), it's listening to my dentist....my god it's the most boring stuff EVER!  I'm forced to listen to it, and not say anything....I feel so helpless....Anyhow, the other day while I was sitting there trying to think of anything but what her and the dental assistant were talking about, I couldn't help but overhear them talking about one of my favourite things....takoyaki.
Takoyaki is sort of like a Japanese fritter, they use a pancake like batter and pour it into a small round mold which acts sort of like a waffle iron, and then octopus is added.  They are then flavoured w. mayo and a teriyaki type sauce.  
The most common place to get it is at the night market or the Powell Street festival.  There are a few restaurants which serve it but I think most places they are previously frozen, Zippang on Main I think is one of the few that serves it fresh.  
So finding takoyaki is no easy feat in Vancouver, although I'm sure in most of North America it's non-existent, but to hear my dentist talk about it like it was a kiwi fruit or something had me going.  
Of course I couldn't say anything, so I had to patiently wait, until she was done, nope...flouride tasted like someone puked up a bunch of bubble gum and the popped it in my mouth so I could suck on it for 5 minutes....
 To my surprise she said the place was in the adjacent parking lot, in a trailer?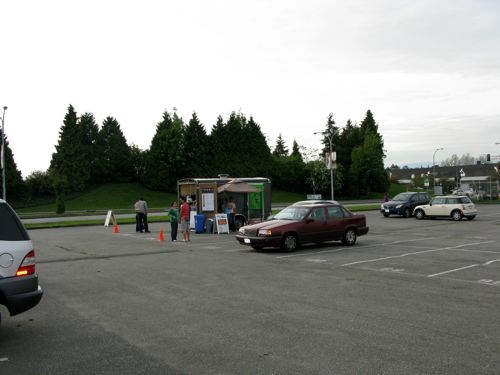 Now in Vancouver, unless it's a fair or a festival or a movie catering service, you pretty much can't run anything out of a truck or a trailer, Richmond however is obviously more lax.  Somewhere between Rona, the hospital, Worker's Comp and the number 2 road bridge lies a  completely useless parking lot, until now.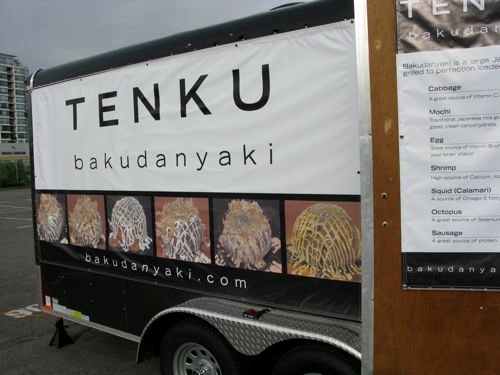 Now what I found is that this is not quite takoyaki, it's next level type stuff, it's actually called Bakudanyaki which means "Bomb"-yaki.  Instead of serving up  4 to 6 little balls as usual, this place serves one big honking one.  Also instead of just octopus, there's a bit of everything in it, octopus, shrimp, mochi, cabbage, sausage, and quail's egg.  You do get a choice of toppings but yeah, other than that, it's all the above.  Which weirded me out at first but ultimately I'm glad it has all that stuff in it, I actually quite liked the quail's egg.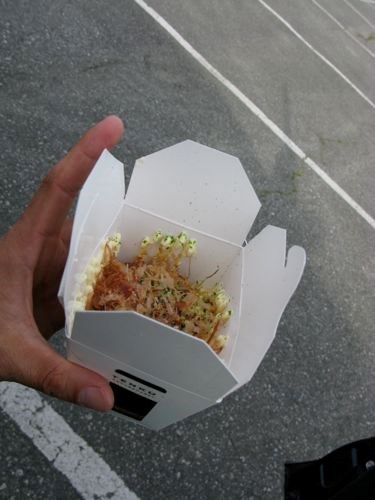 I was glad to see it was pretty steady and I think it does a decent lunch crowd with all those places nearby, I hope it becomes Richmond's Japa-dog.