Born and raised on the West Coast of B.C., Brian Skinner was fired from his first kitchen job at MacDonald's when he was fifteen years old. After partying too hard with his friends he called in sick to work. Unfortunately when his manager called home to see how he was doing, Brian's Mom told her he was hungover. It was for the best – Macdonald's was not to be the gastronomic experience that would inspire eighteen years in the kitchen. That came through working at award winning restaurants like Bin 941 through the 90's in Vancouver, and later in Europe with chefs like Pierre Gagniere at Sketch in London England and Rene Redzepi at Noma in Copenhagen. Brian loves kitchens because in small sweaty spaces where everyone wears the same uniform; there's no time for bullshit. He loves vegetables primarily because they taste good, but also (although he's hesitant to politicize his food so he'll likely never admit this in person) because he believes that animals are his friends and in the words or Sir Bernard Shaw, he doesn't like to eat his friends. Unless maybe they steal his bike or don't load the dishwasher in an efficient and precise manner in which case he may very well eat them so they better watch out. When he's not cooking in the kitchen, Brian likes sleeping, hanging with his eighteen-month-old son Jonah Frank, riding his bike, kissing his wife, and eating samosas.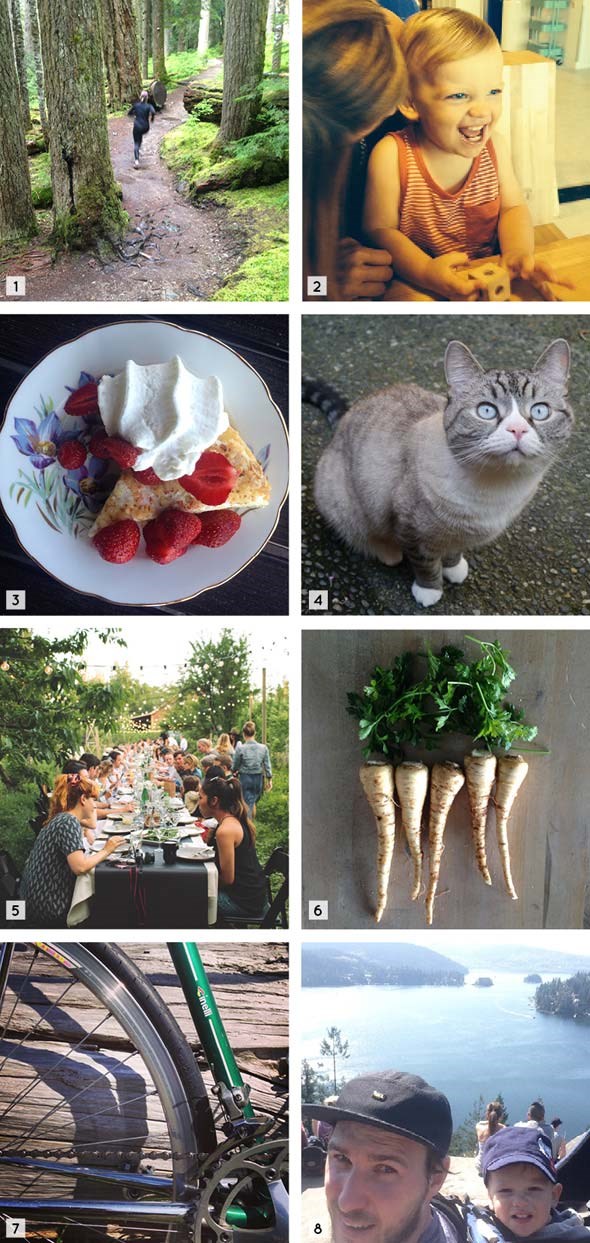 THE PROOF
1. Wifey and I in Whistler training for our upcoming half marathon. Attempting to run off my "stress fat" I gained as a wired and tired chef.
2. Best move of the year: take a year off from "the grind" to build a loving relationship with my little man, Jonah Frank.
3. No one cooks like mom cooks. Blitzen cake with strawberries she grew herself. Gotta love that plate!
4. Haruki, named after one of the greatest cat-loving authors of all time. He is half snow bear, half raccoon, yet thinks he is human?
5. Long table dinners are so last month. Get on my mailing list for what I feel is the next big thing. Think summer vibes!
6. When nose to tail has neither a nose nor a tail. "Seed to stalk" of parsley and roots.
7. Bikes, glorious bikes.
8. Oh and Vancouver is Awesome!
THE QUESTIONS
1. What neighborhood do you live in?
Victoria Drive/Trout Lake. Main Street native for years, and loving the community vibes further out in East Van. On a related note, you can't beat the Trout Lake Farmers Market. It's a two-minute walk from my house. Win!
2. What do you do and where?
I cook. I like to make food to make happy people that make happy moments. I organized a pop-up series through the winter months and had an amazing time working with Vancouverites that I love and respect. As a Chef it seems like you never have the time to get out of the kitchen. Until you sell your restaurant and make it happen!
3. What are you working on? Where can we find out more about your dinner events?
I'm working on a new restaurant. All of the pieces are in place and I'm currently scouting the perfect location. After selling The Acorn, I've had the opportunity to reflect on how a restaurant can impact the community, how to be more inclusive, and how to allow time for collaboration and creativity to keep Vancouvers' food scene heading in the right direction.
Sign up for the mailing list at www.chefskinner.com to find out more about upcoming projects – both pop-ups and brick and mortar related. Also follow me on instagram @chefskinner as I post event info there too.
4. What is your favourite style of cooking?
I like cooking food that I love to eat, food that I feed my friends and family, and make at home. That involves many different 'styles', but I most love cooking vegetables in a way that surprises, excites, and challenges diners especially meat-centric diners who may not have been exposed to how versatile vegetables can be. I look up to chefs who spin familiar dishes in new and unfamiliar ways. Hiram Camillo and my buddy Wolvesmouth in LA are great examples.
5. Why do you choose to cook only vegetarian dishes?
Because vegetables are nice. They are far more interesting, challenging, and inspiring to me than animal based foods. Also, there seems to be a definite shift with vegetables taking center stage in some restaurants that are steeped in classic protein based cooking, which is very exciting. I want to shift diners' perspectives to consider vegetable driven food as equally as enjoyable as the latest nose to tail dish. Also, I've been vegetarian at home since I was 21.
6. Do you have a favourite recipe?
I like the recipes my mom sends me. I've put more than one of them on my menu. I'm not telling you which ones though. I can't give away all my secrets. Love you Mom!
7. What is your definition of a perfect meal?
More than a few people have been intimidated to feed me because I'm a chef. I don't really care about how good it tastes; just serve it up and be proud that you made it. That's what I like. I also love eating outside during the summer with great wine and even better friends. Not having to wake up the next morning at the crack of dawn to scrub vegetables is a definite plus.
8. What advice do you wish someone would have given you when you were young?
We spend more time at work than we do anywhere else in life. Choose wisely. Surround yourself with people you love and respect, and who love and respect you. They will be your every day.