Last week I launched On the BC Beer Stump, a series where I feature and rate British Columbia craft beers available in bottles and cans. I'm refining the process a bit so instead of pitting 3 beers head to head (like I did in the FIRST ONE) I'm featuring one at a time and will crown a "winner" every few months or so. I'm also changing the scoring so that there's a possible 10 points for Quality/Taste and 10 for Packaging/Branding/Story.
Today on the BC beer stump we've got Fernie Brewing Company's What the Huck, a wheat ale which won 3rd place in the Fruit Beer category at the 2013 BC Beer Awards.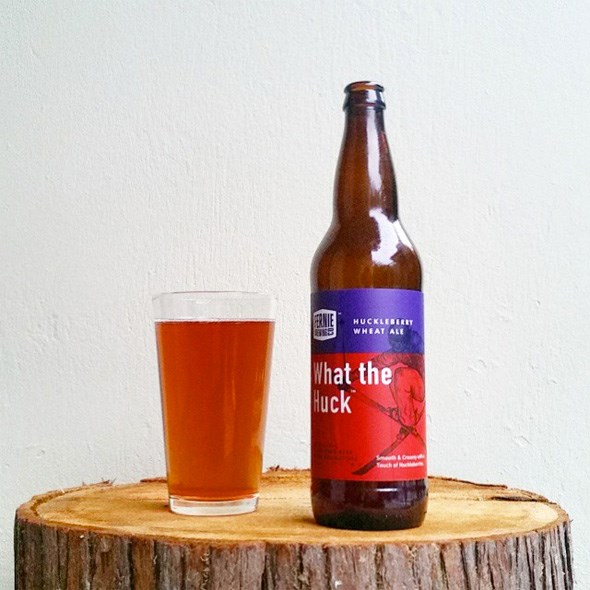 Fernie Brewing Company's What the Huck – 5% ABV | IBU 15
QUALITY/TASTE: 9.5/10
PACKAGING/BRANDING/STORY: 8.5/10
TOTAL SCORE: 18/20
I should start this by letting you know that this has been one of my favourite beers for a few months now. A wheat ale with hucklerberry, it's not one of those fruit beers that slaps you across the face with sweetness but instead stands on its own as a wheat while offering just a subtle hint of berry. Most of these types of brews are only available during the summer but Fernie has made this one available year round, which should tell you something about its versatility; it's a fruit beer for all seasons.
Previously the packaging had an image of a guy doing a stunt on a bicycle but was refreshed very recently (so recently that the bottle here doesn't yet appear on their WEBSITE) by the folks at Also Known As. Like the huckleberry flavour in it, the re-branding of it is subtle; the same colours are used and some people might not even notice a difference, but have a nagging feeling that maybe it might have been different? Maybe a skier makes more sense as Fernie is known as a ski town? Clearly, from a design perspective, a marked improvement has been made and all around this one scores high.
****************************
Bob Kronbauer is the founder and editor-in-chief of Vancouver Is Awesome and loves everything about the craft beer movement in BC. In his former life he worked as a creative director and graphic designer on projects for companies such as Nike, Threadless Select, Stussy, Livestock, Girl Skateboards, Electronic Arts, Palm Pictures, and others. This series is meant to encourage excellence in packaging design and branding as well as the production of the beers themselves.
If you work with a BC beer company and would like to be featured on the stump email bobk@vancouverisawesome.com to arrange shipping. Please note that if he really doesn't like it, he won't write about it.
http://beta.quiet.ly/list/share/4b805-best-craft-breweries-in-greater-vancouver?width=590&height=0&heightAuto=true&showGradient=true&showMapView=true&showAuthor=true&showLogo=true&showListTitle=true&showListDescription=true&showTitles=true&showDescriptions=true&showWeblinks=true&makeClickable=true&sharePage=true&showEmbedCode=true&showIcons=true&embedTheme=dark&titleSize=18&titleType=quietly&descriptionSize=14&descriptionType=quietly&useOriginalImages=false&lastSlide=default&lastSlideMsg=&lastSlideUrl=https%3A%2F%2Fwww.facebook.com%2FVancouverIsAwesome
http://beta.quiet.ly/list/share/f161b-7-more-vancouver-craft-breweries?width=590&height=0&heightAuto=true&showGradient=true&showMapView=true&showAuthor=true&showLogo=true&showListTitle=true&showListDescription=true&showTitles=true&showDescriptions=true&showWeblinks=true&makeClickable=true&sharePage=true&showEmbedCode=true&showIcons=true&embedTheme=dark&titleSize=18&titleType=quietly&descriptionSize=14&descriptionType=quietly&useOriginalImages=false&lastSlide=default&lastSlideMsg=&lastSlideUrl=https%3A%2F%2Fwww.facebook.com%2FVancouverIsAwesome