It's Tuesday! Day number two. Today is when things really get interesting.
Breakfast & Coffee
First stop of the morning, Bean Around the World at Main and 20th (@BeanonMain20th). These guys are amazing! They will be letting me surprise the person behind me with coffee every morning and keep me fueled! This morning, I got my coffee from the lovely Julia, and got to surprise Eric behind me! He was having a tired morning and was so happy to kick his day off to a great start. Plus, what a cutie! Don't you agree, ladies?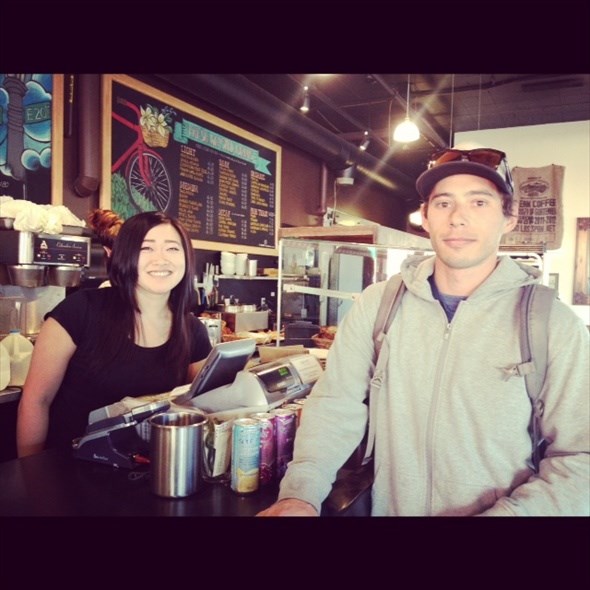 Lunch
Today I decided to take some of the veggies from @KmKrebs and some of the great food that @Deedls made me and bring that for my lunch. I also grabbed an apple that I got from my @MetropolisatMet gift card.
Dinner
Having a potluck thrown in my honour is pretty special! I was really excited to meet up with @MegKuziw, her husband & her friends. I was still feeling pretty ill when I arrived, but was greeted by such friendly faces that my cold magically retreated slightly for the evening. Check out those walls (below). My personal favourite was "Never Kick A Fresh Turd on a Hot Day". Megz and Rory met back in grade 9! They fell in love and got married at the age of 21 and are currently both doing amazing things! Megz volunteers twice a week in the DTES working with women in need and also volunteers at the SPCA and all of her pets are rescued. Rory is a plumber who has his own business that is doing really well. These two are only 24 years old! I was blown away by both of them.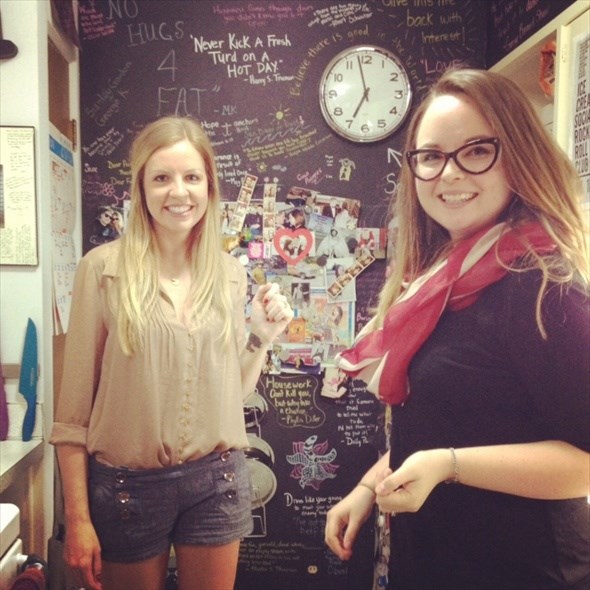 Megz made some unbelievably great, and spicy chilli (and homemade cornbread! WHOA) which led to several "bathroom" related jokes. Her husband Rory entertained us while she was in the kitchen as did their three gorgeous cats and hilarious English Bulldog named Sophie. SO much good food from their friends Catherine and Brea too! Catherine brought a killer stir fry and Brea brought some great pasta salad, green salad and a HUGE chocolate cake!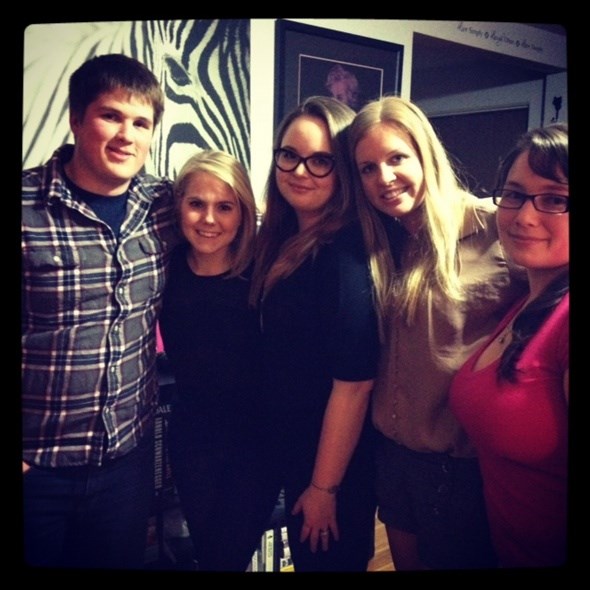 We also had Nicole, @nicreinert filming for her BCIT project! She joined us for dinner and joined in on the laughs.
I left this day feeling like I was truly given another day, and another gift. Not only did I get an amazing meal but I feel like I walked away with 5 new friends! Thank you to Megz and Rory for inviting me in to their home, thank you for your generosity, your honesty and for keeping me alive for another day.
Looking forward to seeing what new adventures tomorrow brings.
Keep up with all the action by following me @VancityAmy or by following the hashtag #TweettoEat
Wondering what this whole #TweettoEat thing is about? Check out this blog post.